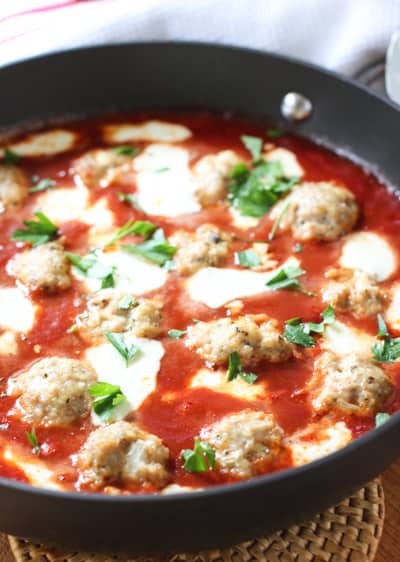 Meatballs are beautiful things.  I don't know why I go so long before I make them.  I love them.  Portable, stuffable…like stuff them in your mouth stuffable.  You could make a meatloaf with the exact same ingredients but it won't taste as good as a meatball…why is that?  Life is full of food mysteries my friends….
I baked the meatballs in the oven, opposed to browning them on the stovetop,  because, well, I am a lazy cook.  I love good food but the easier the better for me.  The sauce is super easy too.  A large can of crushed tomatoes, a spot of cream…a clove or two of garlic and you have a really fresh tasting sauce.
Bake it all together with a bit of fresh mozz and it's out of this world!  We had this for dinner for three days. We are empty nesters and food lasts a really long time around here.  You could easily serve this over pasta or zoodles (not a fan of zoodles, I have yet to figure out how to keep them from being watery), or spaghetti squash (again, not a fan…just want a noodle).  We just ate them as is.  Meatballs, sauce and a salad…it was perfect the first, second and third time!
NOTE:  Recipe adapted from Annie's Eats.  Well actually it is her recipe…I only changed the cooking method and a few ingredients based on availability.  Thank you Annie, this will be in my favorite dinner file for years to come!
Chicken Parmesan Meatballs with Creamy Tomato Sauce
Ingredients
Meatballs

1 1/2

pounds

ground chicken

1

egg

1

clove

garlic

minced

1/3

cup

onion

minced

1/2

cup

grated parmesan cheese

1/2

cup

panko crumbs

2

teaspoons

dried basil

1/2

teaspoon

salt

1/2

teaspoon

pepper

Sauce

2

tablespoons

butter

1/3

cup

onion

finely chopped

2

cloves

garlic

finely chopped

1 28

oz

can crushed tomatoes

pinch of chili flakes

1/3

cup

cream

salt and pepper and pepper to taste

6

oz

fresh mozzarella

Fresh basil for garnish
Instructions
Preheat oven to 400.

Line a large sheet pan with foil for easy clean up.

In mixing bowl, combine all meatball ingredients together. Careful not to over mix as it make the chicken tough.

Shape in 1 1/2 inch balls and place on prepared baking sheet.

Bake for about 12-15 minutes - Don't worry if slightly undercooked they will finish off in the sauce.

While meatballs are cooking.

Melt butter in large oven proof skillet. (if you don't have one, use a regular skillet and transfer to baking dish when sauce is done).

Cook onion until translucent. About 5 minutes.

Add garlic, cook for one minute until fragrant and slightly soft.

Add crushed tomatoes, chili flakes, salt and pepper to taste.

Bring to simmer. Cook for about 5 minutes.

Remove from heat and stir in cream.

Add cooked meatballs to sauce. Top with mozzarella.

Bake for about 20 minutes until all bubbly and cheese has melted.

Other stuff thats yummy: