This post brought to you by Sargento® Cheese. The content and opinions expressed below are that of Laughing Spatula.
Wanna know how to turn a simple store bought loaf of french bread into something spectacular?  Follow me!
First you buy a fresh loaf of french bread from your favorite store.  Slice it almost all the way through, leaving each piece intact.  Then mix together butter, fresh garlic and basil.
Slather it on both sides of the sliced bread.  (I love the word slather….).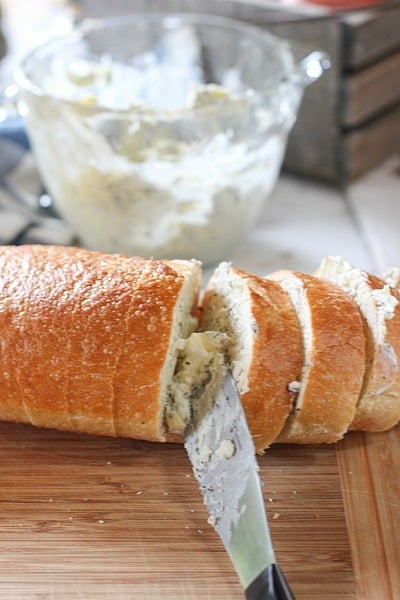 And for the most important part… stuff it full of Sargento® Slices! 100% real, natural cheese!  I used Provolone but you can use any variety. Just pick your favorite!  All of Sargento® Sliced Cheese are 100% real, natural cheese, not like some processed cheeses that are only required to contain 51% cheese.
Now wrap up your cheesy stuffed bread in foil, leaving the top exposed.  Slather with mo'  butta' so it gets all crispy and stuff.  I love crispy and stuff!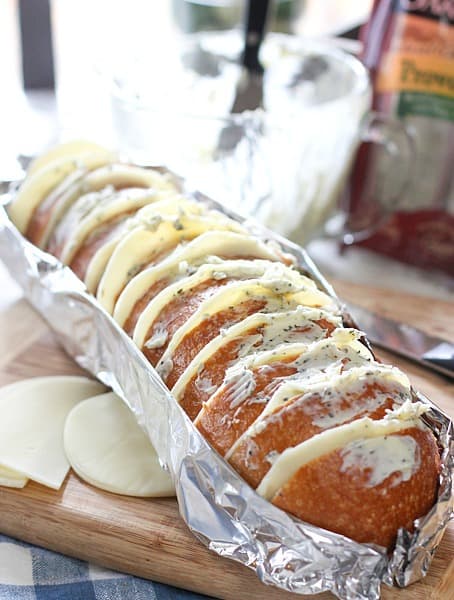 Bake for 20 minutes and everyone is your friend!
NOTES:
Don't sweat it if you accidentally cut all the way through the bread a time or two…nobody will know.  It's just easier to stuff the bread when it's intact but not a deal breaker.
I used a sourdough baguette but any kind will do.  The big soft loaves of french bread now available in most store bakeries are great as well!
Switch it up!  How about a stuffed cheddar loaf or even a ham and swiss loaf!  The directions are the same…stuff, stuff, and stuff some more!
Follow Sargento® on Instagram and Facebook!

Cheesy Stuffed Garlic French Bread
Author:
Kathi @ LaughingSpatula
Ingredients
1 loaf french bread or baguette - any variety
1 cup real butter (2 cubes) - softened
4 cloves garlic, minced
2 teaspoons dried basil
½ teaspoon salt
1 package Sargento® 100% real, natural cheese slices - Provolone
Instructions
Preheat oven to 350 degrees.
Combine softened butter, garlic, basil, and salt until well combined.
Slice bread almost all the way through, leaving each slice slightly intact.
Spread both sides of bread with butter mixture. (depending on the size of your bread you may have butter left over).
Stuff a half slice of Provolone into each slice.
Slather a tablespoon or two more butter on top of bread.
Wrap up in foil halfway, leaving top exposed.
Bake for about 20 minutes or until cheese in center of bread is melted through.
Serve immediately!

Other stuff thats yummy: