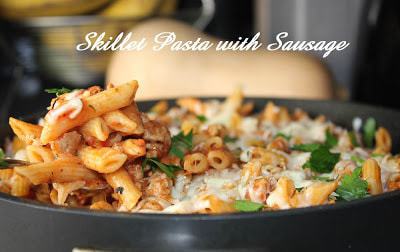 Another Skillet Dish recipe!  The working girl (and guy) has gotta love these.  One pan, a few common ingredients and dinner is on the table.
I adapted this dish from Country Cooks magazine.   A subscription I sometimes love.  Not all their recipes works for me, which is a bit bizarre since the entire premise of the show and magazine is that each recipe be honed to perfection…tried and retried, using every method possible until they reach recipe perfection! So why don't they work for me?  and why do I keep up my subscription and why do I continue to cook from it?
I guess I keep hoping that one day, that nice man in the round glasses and bow tie will put out something that cooks up just the way he says!  I'll certainly let ya know if that ever happens…but in the meantime, I've performed my own 'test kitchen' on this recipe and it's pretty close to perfect!
You could certainly change this up a hundred different ways by using different pasta, meat and sauce but keep the liquid measurements the same or you might get some underdone pasta.
Ingredients
1 pound Turkey Sausage
1 onion chopped
3 garlic cloves, minced
3 cups low sodium chicken broth
1 14.5 ounce can diced tomatoes – undrained
1/2 cup heavy cream or half and half
12 ounces pasta (I used Barilla Mini Penne)
2 cups shredded mozzarella cheese
4 green onions – sliced thin (optional)
Salt and Pepper to taste
In large skillet cook sausage and onion until lightly browned, about 8 minutes.  Add garlic and cook until fragrant.
Stir in broth, tomatoes, cream,  salt and pepper, bring to a simmer and add pasta. Cover pan and reduce heat to medium-low.  Simmer, stirring frequently until pasta is tender.  About 15 minutes.
Top with remaining cheese, serve when cheese is melted.
Cheesy Spedieni Bread would make a perfect addition!