This Crispy Pork Tenderloin dinner will get you out of your chicken rut!  It takes just a few minute to prepare with just a few ingredients that result in a huge flavor!  Just the way we like it around here!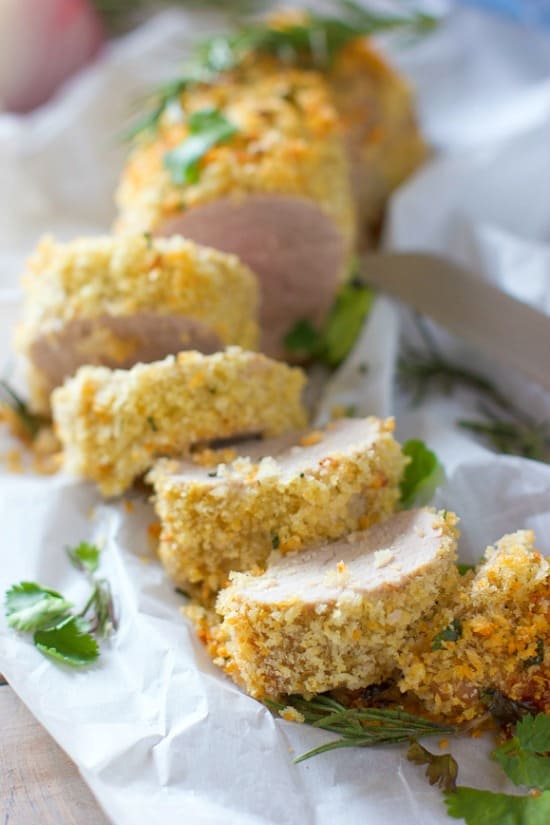 What I love about this Crispy Pork Tenderloin Recipe:
1.)  It isn't chicken.
2.)  There are only four simple ingredients.
3.) IT TASTES FABULOUS!  Crispy on the outside and tender on the inside.
4.) It takes 10 minutes to prep and in the oven it goes!
Have I sold you yet?   If your looking for a new recipe to add to your weeknight rotation, pick this one!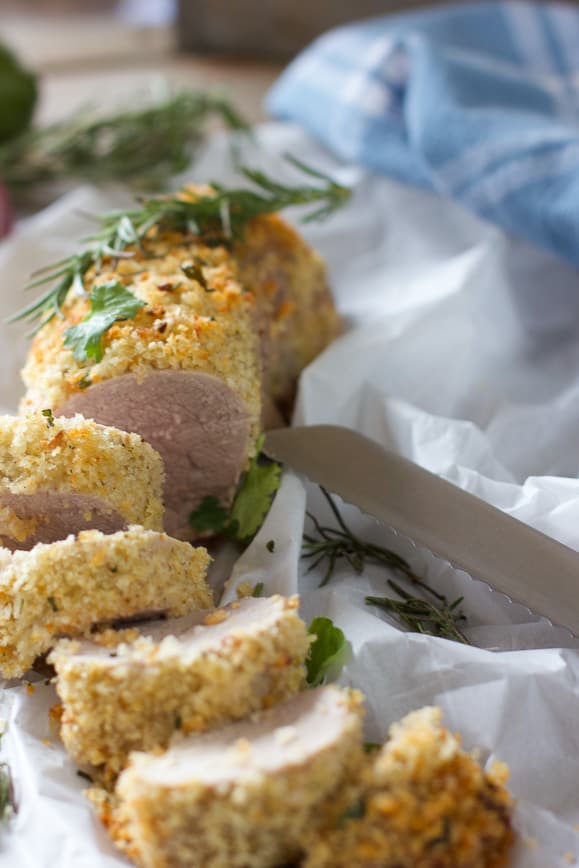 I like to serve this with a side of honey mustard.  Sorry no pic of that…ya see, the thing is…we are in Maui right now.  I know…life of a food blogger is a tough one :).  But I was so eager to share this recipe with ya, that you will just have to trust me that the dip is fabulous!  I have included the simple recipe in the recipe card.
I like to pour the seasoned panko on a sheet of parchment.  Slather the pork loin with the dijon and roll roll roll!  (yes, it looks like a trout…note to self:  take photography class!).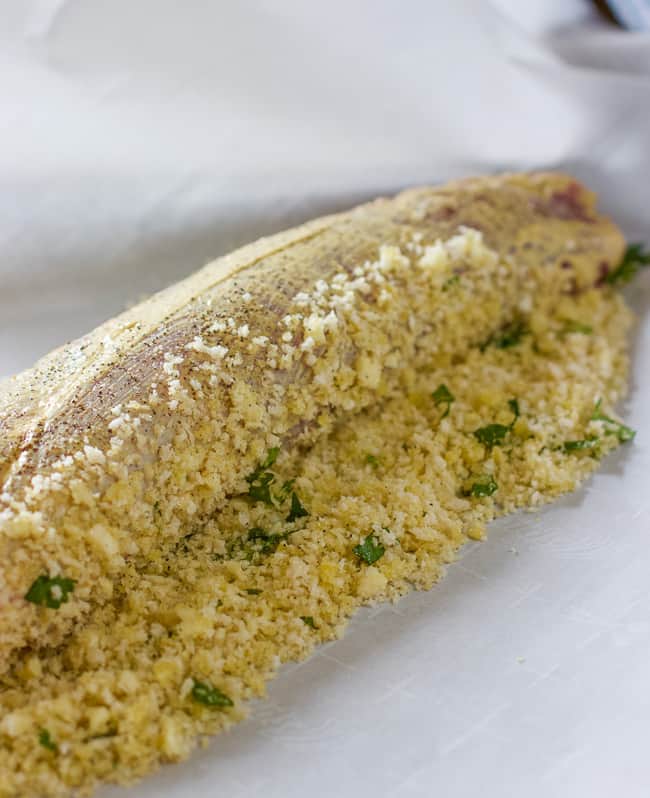 A few helpful hints to make Crispy Pork Tenderloin:
I used plain, not marinated pork loin.  I am not a fan of the pre-marinated pork.  Too salty.  But, if you have a marinated pork that you love, by all means use it!
Tenderloins vary in thickness.    This guy was a big old boy and took 50 minutes.  Use a meat thermometer.  145 degrees in the thickest part of the loin should do it.  An average cook time is closer to 30 minutes.  But it just goes to show ya, even us seasoned cooks need that thermometer!
I used fresh rosemary but just about any herb will work.  Fresh or dried.  Depends on what you and your family like.  Thyme or oregano would be good.  Or just go herb-free.  That's okay too!  The garlic does most of the work, the herbs just add nice flavor.
You can use the panko recipe on most any protein. We love it on Mahi and chicken.
Serve this with a side of rice or baked potatoes with steamed broccoli for a perfect meal cooked and on the table is less than an hour!
To fast and fresh dinners!
Clink!
Kathi
You can see all of our fast and fresh meals HERE.
Two of our favorite weeknight dinners are 30 Minute Shrimp and Orzo and Prosciutto Wrapped Chicken Breasts.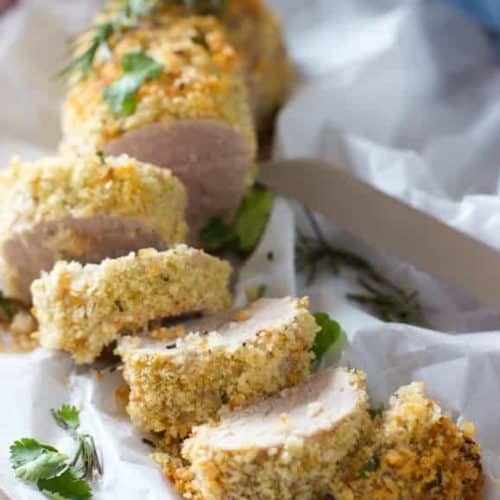 Crispy Pork Tenderloin
This Crispy Pork Tenderloin comes together in a flash! Rolled in panko crumbs, garlic and herbs it takes less than 10 minutes to prep and in the oven it goes!
Course:
Dinner, Main Course
Ingredients
1

2 pound

pork tenderloin

2

tablespoons

dijon mustard

1

cup

panko crumbs

3

tablespoons

olive oil

3

large

garlic cloves, minced

1

tablespoon

fresh rosemary, minced

1/2

teaspoon

salt

1/4

teaspoon

pepper
Honey Mustard Dipping Sauce
1/4

cup

yellow mustard

or dijon mustard

1/4

cup

mayonnaise or greek yogurt

2

tablespoons

honey

pinch of salt
Instructions
Preheat oven to 400 degrees. Line a baking sheet with foil or parchment for easy clean up.

In small bowl. Combine panko, olive oil, garlic and rosemary.

Brush dijon mustard onto pork loin. Pour crumb mixture onto parchment paper or foil and roll pork loin into it. Covering all the entire loin.

Place on prepared baking sheet.

Bake for 25-30 minutes (will vary based on size of pork loin).  When meat thermometer reaches 145 degrees, remove from oven and let rest 5 minutes before slicing.

Serve with honey mustard dipping sauce.
Nutrition Facts
Crispy Pork Tenderloin
Amount Per Serving
Calories 137
Calories from Fat 81
% Daily Value*
Fat 9g14%
Sodium 486mg20%
Potassium 37mg1%
Carbohydrates 12g4%
Protein 1g2%
Vitamin A 10IU0%
Vitamin C 0.4mg0%
Calcium 22mg2%
Iron 0.6mg3%
* Percent Daily Values are based on a 2000 calorie diet.