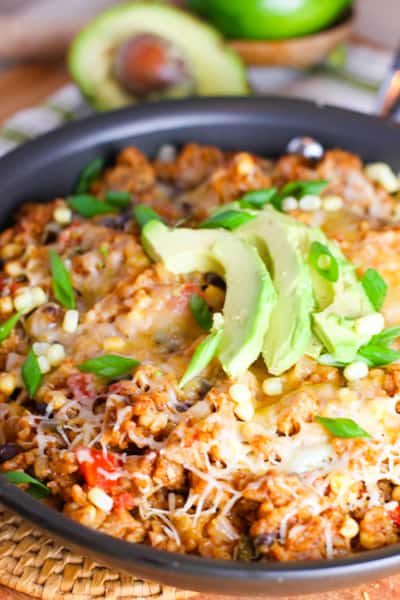 I am truly in love with Southwest flavors lately and this whole skillet thing is just up my alley!  Throw it all together in one pan and dinner is done!
You can make this with fresh chicken that you sauté in the skillet or a precooked version like store bought rotisserie chicken or even ground chicken or turkey.  They are all good and will work great!
We are still  getting used to our 'empty nest' around here.  It's just me and Mr. Spatula these days and it sure has changed the way I cook.  For years it was our daughter, and her now fiancé, most every night.  I've gone from 4 to 2 and Mr. Spatula and I don't eat much these days.   I've  noticed that I am always adding notes to my blog posts like:  'makes tons',  'enough to feed your friends', 'great for lunch the next day', however, I do believe I have lost my perspective on exactly what 'tons' is….but can I say… this makes tons!  Ha!  Really it does!
We topped salads, put it in tortillas and ate it just on it's own for 3 days before we finally put it out to pasture.  If I wouldn't have picked all the good stuff out, I would have used it as a dip for tortilla chips!  I'd say thats a pretty versatile dish!
You can get fairly creative with this as well.  Add more heat with a fresh jalapeño or hot sauce.  Maybe sneak a few more veggies in.  The kids will never know what hit 'em.   I wouldn't hesitate to add a carrot or two or even spinach.  Top with sour cream, salsa or avocado!
NOTES: If using precooked chicken: Omit steps 1-3.  Just toss in your precooked chicken following the directions when rice is done.
Looking for more fresh and fast recipe ideas?  Check out my Pinterest Board for Fast, Fresh and Healthy meals here.
You can also try my Easy Skillet Mushroom and Pork Chop dinner!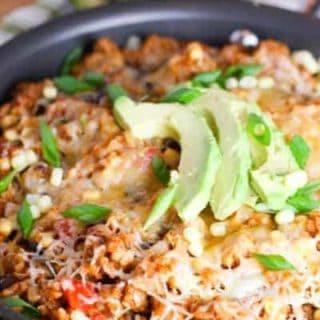 Southwest Chicken and Rice Skillet
Ingredients
1

pound

chicken cut into bite sized pieces

breasts or thighs or both will work. See notes above when using precooked chicken

1

poblano pepper

seeded and chopped

1

red pepper

seeded and chopped

1

can black beans

drained and rinsed

1

cup

fresh or frozen corn

1 14

oz

can chopped

diced tomatoes

1

tablespoon

chili powder

1

tablespoon

cumin

Pinch of chili pepper flakes .

more if you like it spicy

salt and pepper

1

cup

rice

2

cups

chicken broth

1

cup

grated cheese

1/3

cup

sliced green onions
Instructions
Heat skillet to medium high.

Add cut up chicken breasts and sauté for about 5 minutes until cooked through.

Remove chicken and set aside.

Saute, poblano and red pepper until just soft.

Add beans, corn and tomatoes,chicken broth and spices.

Heat to a simmer.

Add rice.

Put lid on skillet and cook for about 15 minutes, stirring occasionally until liquid has been absorbed and rice is tender.

Add chicken and combine.

Top with grated cheese and sliced green onions.

Other stuff thats yummy: