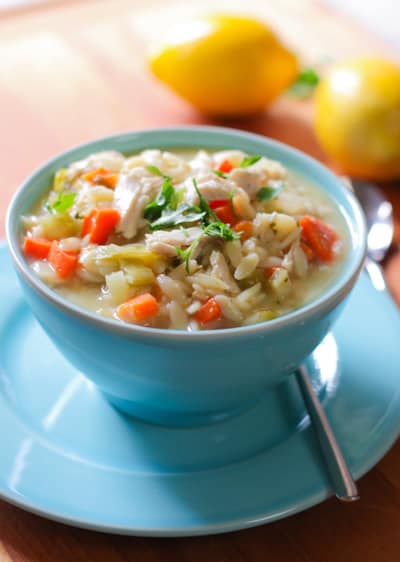 I've always loved lemon flavored anything…savory or sweet, doesn't matter.  I have been stalking this recipe for quite some time and finally made it and am so glad I did!  It's light and fresh..I mean look at that photo?  It looks like summer time!
This recipe is perfect for a store bought rotisserie chicken and I'll just bet, if you look, you most likely have the ingredients in your pantry.  It makes quite a large batch.  After my family tore through it, I took the remainder and put in individual servings in the freezer for lunch, and won't that be a treat!
So here I am on week 3 of my Anti Inflammatory Diet. I started off with a bang and I am limping to the finish line.  The Seahawks are going to the Super Bowl and Seattle is in the throws of a pizza and chicken wing induced frenzy!  This city is going crazy, I've never seen anything like it.  It is just so dang fun, I lost myself there for awhile…but I'm back in the game (little sports humor there),  and adding 30 minutes of cardio everyday to make up for my lack of self-control during the play off's.
But at least I have light and healthy soup for the upcoming work week!  Soup will fix it…it fixes everything!   Yay Soup!
Adopted from: The Girl Who Ate Everything.  A super cute blog that I recently ran across and plan on visiting frequently!

Lemon Chicken Orzo Soup
A super easy, light soup with a hint of lemon.
Ingredients
9 cups chicken stock
2 teaspoons olive oil
1 cup carrots, chopped
1 cup onions, chopped finely
1 cup celery, chopped
1 garlic clove, minced
1 teaspoon fresh thyme
2 teaspoons lemon rind (2 lemons)
2 Lemons - juiced
2 teaspoons salt
3 cups shredded chicken (Rotisserie Chicken works great!)
8 ounces uncooked orzo pasta - 2½ cups
¼ cup fresh flat-leaf parsley, chopped
¼ cup fresh lemon juice
Instructions
Heat the olive oil in a large Dutch oven or large pot.
Add the carrot, onion, celery, garlic, thyme, lemon rind and salt. Saute ingredients over medium heat until vegetables begin to soften.
Add the chicken stock and lemon juice. Bring to a boil.
Add the chicken and orzo. Simmer until orzo is cooked through.
Just before serving add parsley. Serve with a little grated parmesan if desired.

Other stuff thats yummy: