Crunchy Mediterranean Couscous Salad!  – My favorite salad…because it doesn't taste like your having salad!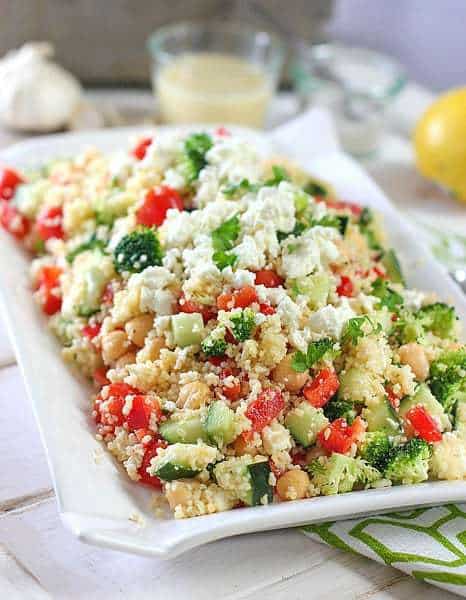 Full of  chickpeas, feta, cucumbrss and a plethora of crunchy veggies.  All tossed in a a 3 minute Lemon Dijon Vinaigrette!
I thought after last weeks post of Double Chocolate Whisky Cake, I should probably introduce some veggies back in my diet.  I tossed this together this morning, had it for lunch and can't wait for another scoop with my grilled chicken for dinner! Makes a big old batch and it will keep for about a week in your fridge. Crunch on!
A perfect lunchbox salad and so nice to have something already put together to just grab and go.  (Why do I always  bring up the leftover lunchbox thing?  I don't even go to work.  It's just me and my Phyllis Diller hair padding around my kitchen all day…).
I used the veggies I love the most but you could switch out to accommodate your faves or what ever you have on hand.  I am a broccoli fanatic…I rarely go a day without it.  Most nights my house smells like old socks from microwaving or roasting that stuff.
Me, my Phyllis Diller hair and the smell of old socks..kinda makes you wanna be me, doesnt it?
This is my favorite Vinaigrette!  I have a bottle of it in my fridge at all times.  It's a simple blend of lemon, dijon, light olive oil and vinegar, but when you blend it all up, it gets a creamy consistency that is really good!  Makes a nice marinade for chicken and pork as well!
 How to make the couscous for Crunchy Mediterranean Salad!
I make my couscous in the microwave.  It's incredibly easy!
1 cup whole wheat or plain couscous
3/4 cup water
1/4 teaspoon salt
Combine in microwave bowl.  Cover.  Micro for 3 minutes on high.  Let sit for 2-3 minutes covered. Fluff with fork.  Add 1 tablespoon olive oil, season with salt and pepper and fluff again.  Perfect couscous every time!.   
NOTE:   You can substitute chilled quinoa for the couscous.  Here is a super easy way to prepare your quinoa!  Oven Baked Quinoa.
If you  are still looking to get your crunchy veggies on.  Check out my Crunchy Thai Chicken Salad with Peanut Dressing!
To the crunch!
Clink!
Kathi
Crunchy Mediterranean Couscous Salad
An easy and healthy salad that comes together quickly and has tons of flavor! Combining cooked and cooled couscous with fresh chopped veggies and feta. All tossed together with a simple vinaigrette!
Ingredients
2

cups

cooked coucous - cooled

one cup uncooked

1

cup

chopped broccoli florets

1

cup

seeded

chopped english cucumber

1

cup

chopped red bell pepper

1

cup

chopped fresh tomato

1

cup

chickpeas

drained and rinsed, also knows as garbanzo

1/2

cup

crumbled feta cheese

Other suggested add ins: kalamata olives

pepperoncini, red onion, roasted red pepper

Lemon Vinaigrette: https://laughingspatula.com/3-minute-lemon-dijon-vinaigrette/
Instructions
Prepare coucous and cool to at least room temperature. (see my instructions above on how I prepare my perfect couscous !)

Toss cooled couscous, chopped veggies and feta.

Season with salt and pepper to taste.

Toss in desired amount of dressing a few tablespoons at a time. You will have dressing left. You can find my fave dressing here : https://laughingspatula.com/3-minute-lemon-dijon-vinaigrette/

After the next day, you may want to add a bit more dressing
Nutrition Facts
Crunchy Mediterranean Couscous Salad
Amount Per Serving
Calories 314
Calories from Fat 27
% Daily Value*
Total Fat 3g 5%
Cholesterol 11mg 4%
Sodium 154mg 6%
Potassium 372mg 11%
Total Carbohydrates 56g 19%
Protein 12g 24%
* Percent Daily Values are based on a 2000 calorie diet.

Other stuff thats yummy: