My mom is an amazing cook…I know, everyone says that about their mom, but my mom can beat up your mom!  She has a remarkable ability to pick out recipes that might go unnoticed by others.  She throws lavish parties with tables full of Paella or some other exotic dish.  She spends hours in the kitchen perfecting a recipe until it is flawless.  Her house is a safe place to land for everyone, she always has something on the stove and plates full of love spread out upon your arrival.
My mom has made her living in the theatre for the last 25 years…she is an acclaimed actress and recently added set design to her resume.  Needless to say, this is a woman who is pretty savoy when it comes to trends. She seems to have the edge on what's new in the culinary world and nothing is too much work, me?… I usually take a short cut, but then again, I have to clean the kitchen afterwards. My Mom doesn't even know how to turn on the dishwasher. Her husband happily cleans up after her saying "If this is all I have to do to get that (pointing to her latest culinary perfection), then I'm happy to do it!"  I have to agree..
This is one of many recipes I have posted that starts with my Mom.  You can use the same recipe and add crab, different cheeses, or just about anything you got hanging in your cupboard.  This particular recipe calls for egg  substitute…not sure why, but it works!  You could easily use regular eggs.  As a bonus, these are only about 35 calories a piece.
p.s.  I have two sisters…after our mom reads this, I get to be favorite again…neener, neener, neener!
Add 1 tablespoon chopped artichoke, and 1 heaping teaspoon Gorgonzola cheese.
Pour egg mixture on top.
Bake for about 20 minutes or until edges are brown and filling is set.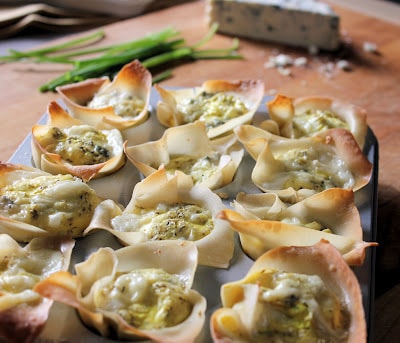 Serve warm or chilled.
Artichoke Gorgonzola Appetizers
Little bites made with won ton wrappers and simple ingredients!
Ingredients
4

eggs

1/2

cup

artichokes, chopped

use canned or thawed frozen

1/3

cup

gorganzola cheese, crumbled

12

square won ton wrappers

2

tablespoons

chopped chives

1

tablespoon

melted butter

2

teaspoons

flour

1/4

teaspoon

dried thyme

1/2

teaspoon

salt

1/4

teaspoon

ground pepper
Instructions
Preheat oven to 325 degrees

Brush each muffin tin with melted butter and press two won ton wrappers into each.

Sprinkle artichoke and cheese inside each cup.

Combine eggs and spices and pour into each wonton wrapper

Bake for 20 minutes or until cooked through.
Nutrition Facts
Artichoke Gorgonzola Appetizers
Amount Per Serving
Calories 68
Calories from Fat 27
% Daily Value*
Fat 3g5%
Cholesterol 60mg20%
Sodium 218mg9%
Potassium 61mg2%
Carbohydrates 6g2%
Protein 4g8%
Vitamin A 149IU3%
Vitamin C 1mg1%
Calcium 30mg3%
Iron 1mg6%
* Percent Daily Values are based on a 2000 calorie diet.