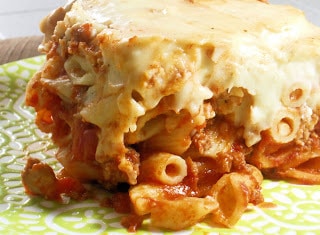 Cooked ziti pasta  mixed with sausage, marinara sauce and topped with a creamy bechamel. I love me some tomato and cream flavors and this made my heart go zing!    Don't be intimidated by the bechamel, it's just a simple white sauce…and if you have never made white sauce before, this is going to improve your cooking skills by about 100 percent.  You will be able to make Alfredo, saucy chicken, creamy shrimp…the sky is the limit once you master this simple sauce!
This recipe is a real crowd pleaser too.  Feeds about 8-10 hearty appetites.   Add salad and bread and it's a perfect buffet dinner.
For Ziti
1 pound sausage – (I used Isnerio's chicken sausage but pork is fine too)
1 pound ziti pasta
2 – 26 oz jars pasta sauce (I like to use marinara. Avoid beef or sausage flavored variety's, they tend to be really salty and have an 'odd flavor'…not good).
Salt and pepper to taste
Bring a large pot of lightly salted water to a boil. Add ziti pasta, and cook until al dente, about 8 minutes; drain.
In a large skillet, brown sausage over medium heat. Add spaghetti sauce, and simmer 15 minutes.
Preheat the oven to 350 degrees F
Nonstick spray a 9×13 inch baking dish.
While sauce is simmering, prepare the bechmel.
For Bechamel
1 cup butter
1 1/4 cup flour
2 quarts whole milk
2 cup grated Parmesan
1/2 teaspoon ground nutmeg (trust me, this really brings out the flavor of the sauce)
Salt and pepper to taste
In a 2 quart saucepan, melt the butter over medium heat. Add the flour and whisk until smooth, about 2 minutes. Always stirring, gradually add the milk and continue to whisk until the sauce is smooth and creamy. Simmer until it is thick enough to coat the back of a spoon. This will take approximately 10 minutes. Remove from heat and stir in nutmeg, Parmesan, salt and pepper.
Toss ziti with sauce and sausage mixture.  Pour into prepared 9×13 baking dish.  Pour bechamel over pasta and smooth out with the back of a spoon.
Bake for about 45 minutes or until bubbly and hot in the center.