Homemade pizza can be tricky.   I am not sure  you can make a perfect one without a brick oven that's about 550 degrees.  I've tried a pizza stone, homemade dough and the grill and I've banged out some pretty good stuff, but this one comes as close as any to a real pizza place pizza…every time!
I buy the dough from Trader Joes. I'ts darn good pizza dough and really cheap…I think it's a buck a bag.  It freezes really well so buy several.
This is a really good friday night pizza…even better with carmalized onions if you have a little extra time.
About 1 cup of your favorite BBQ sauce (depends how saucy you like it)
Pizza dough or premade pizza crust (I used
Trader Joe's
fresh dough).
2 cups cooked, shredded chicken breast
2 cups shredded Smoked Gouda
1/3 cup chopped green onion
Preheat oven to 425 degrees
Follow the directions on the pizza dough.  Roll out and place on large pizza pan, cookie sheet or pizza stone.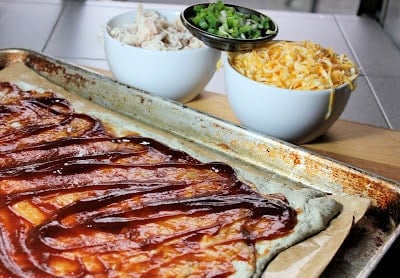 Spread barbeque sauce over dough.
 Spread chicken evenly over sauce, top with smoked Gouda and onions.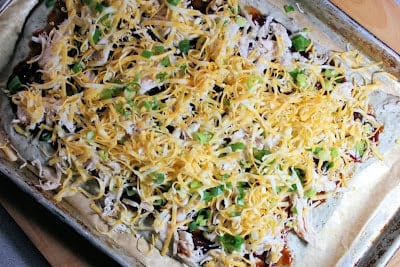 Bake in preheated 425 degree oven for 20-25 minutes or until crust is brown on bottom and cheese is melted.