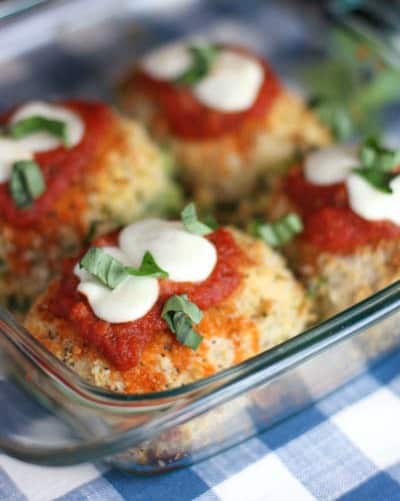 Baked chicken breast cutlets stuffed with ricotta and spinach, rolled in Panko crumbs and topped with marinara and fresh mozzarella…now what could be bad about that? You can make 4 or 40.  Great for a small family or a large crowd!
You can buy cutlets prepared or just slice them yourself.  I usually have a freezer full of Costco chicken breasts so I just slice them up myself.  I found this great little video to help you along:  How to prepare your own Chicken Cutlets.
Some notes:
You are going to get your fingers messy – just accept it and keep on going!
I found "Egg Beater" type products to work better than a fresh egg to dip the chicken in,  but fresh works too.  Just beat it well and add a tablespoon of milk to thin it out.
If you don't have Panko crumbs, regular bread crumbs will work fine.   But put Panko Crumbs on your next shopping list, they really are fantastic and available most anywhere these days.
Get creative – This recipe can be made a hundred different ways.  Stuff with ham, cheese and omit the marinara topping and you have Chicken Kiev.  Stuff with Prociutto and Swiss and you have….um, well not sure but it sounds pretty good!  You get the idea.  This is a great basic recipe for just about any flavor combo's you like!
Now that you have Panko crumbs in your cupboard..check out my Parmesan Dijon Crusted Chicken!  Easiest recipe everrrr!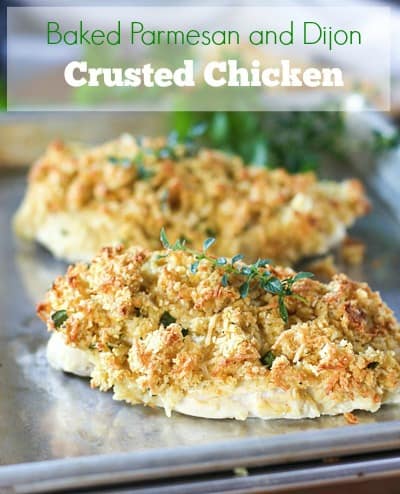 Chicken Rollatini
Ingredients
8

oz

thin chicken cutlets

3 each

1

cup

Panko crumbs

1

teaspoon

dried oregano

1

teaspoon

dried basil

1/3

cup

+ 1/4 cup grated parmesan cheese

divided

1/2

cup

egg beaters

or 2 beaten eggs with 1 tablespoon milk

1

egg

1/2

cup

frozen spinach

thawed, squeezed dry of any liquid

1/2

cup

ricotta cheese

8

slices

fresh mozzarella

non-stick spray

1

cup

pomodoro sauce or your favorite marinara sauce

salt and pepper to taste
Instructions
Preheat oven to 400°. Lightly spray a baking dish with non-stick spray.

Combine breadcrumbs, oregano, basil and 1/3 cup grated cheese in one bowl and egg beaters or beaten eggs/milk in another.

In another bowl, combine ricotta, spinach, 1/4 cup parmesan cheese and 1 egg, salt and pepper to taste.

Lay chicken cutlets down on a working surface and spread 2 tbsp of spinach-cheese mixture on each cutlet. Loosely roll each one and keep seam side down.

Dip chicken in egg mixture, then in breadcrumbs and place seam side down in a baking dish. This is where it gets messy! Just roll with it! Repeat with the remaining chicken. When finished, lightly spray top of coated chicken with non stick spray.

Bake 25 minutes. Remove from oven, top with mariner sauce then cheese.

Bake until cheese is melted and bubbling, about 3 more minutes. Serve with additional sauce on the side and grated cheese.

Other stuff thats yummy: