Betty Crocker's timeless Cream Wafer Cookies!  I first posted these little beauties in 2011.   Funny, I didn't even give mixing instructions, only ingredients in my original post.  I had so much to learn!  I was using a little point and shoot and just messing around with snapping off some pics of my favorite food.  Happiest day ever was when that little camera fell off the counter and jammed the lens.  Headed straight to the big girls camera store!  (Below is my original pic….so crisp and dry looking.  But at the time I was thrilled!).
These have only three little ingredients, (not including the frosting). Butter, flour and cream.  No levelers like baking soda or baking powder and the only sugar used is what you dip the dough in.  Just butta and cream!  They bake up really light and flaky.  That Betty…she sure knew what she was doing….
So whats to know about these?  Not much.  Mix it all up.  Chill the dough for a bit.  Roll out, cut and bake.  My only suggestion would be that if you refrigerate the dough for more than an hour it gets mighty firm with all that butter.   I waited an hour and it was still too hard to roll out,  so I put it in the microwave for 20 seconds and then an additional 15.  Be careful if you do this, the dough is primarily butter and will melt and can not be saved if you over do.
Frosting:  I used store bought.  Kept it at room temp and added a few drops of red food coloring until light pink.  I used a fluffy white so the pink would stay true.  Cream cheese frostings are a little off color and won't give you that clean pink that you want.   I have included Betty's recipe for filling as well if you prefer homemade.  Me?  I'm a cheater…ya all know that right?
Best shared with those that you love….heart, heart, hug, hug!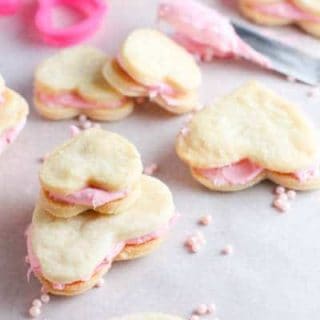 Cream Wafer Cookies
Ingredients
2

cups

all purpose flour

1

cup

butter

2 sticks

1/3

cup

whipping cream

Granulated Sugar

Filling :

I used store bought. Fluffy White by Duncan Hines. But below is Betty's recipe should you want to make homemade

3/4

cup

powdered sugar

1/4

cup

butter

softened

1

teaspoon

vanilla

2-3

drops red food coloring
Instructions
Using an electric mixer mix flour, 1 cup butter and the whipping cream until a soft ball forms. Cover and refrigerate about 1 hour or until firm.

Heat oven to 375ºF. Roll one-third of dough at a time 1/8 inch thick on lightly floured surface. Cut into desired shapes. Generously cover large piece of waxed paper with granulated sugar. Transfer cutouts to waxed paper, using pancake turner. Turn each cutout to coat both sides. Place on ungreased cookie sheet. Prick each cutout with fork .

Bake 7 to 9 minutes or just until set but not brown. Remove from cookie sheet to wire rack. Cool completely, about 1 hour.

For Filling: (If not using store bought)

mix all Creamy Filling ingredients until smooth. Add a few drops water if necessary. Spread about 1/2 teaspoon filling between bottoms of pairs of cookies.

Store Bought Frosting:

I used Fluffy White Frosting so I could keep the pink true. Cream Cheese and Butter Cream tend to be a little yellow. Add a couple drops of red food coloring until desired pink color is achieved.

Other stuff thats yummy: