This Easy Baked Chicken in Garlic and Leek Cream Sauce is a breeze to make and get this…the cream sauce is mostly chicken broth and the chicken is skinless so win win on the fat-o-meter!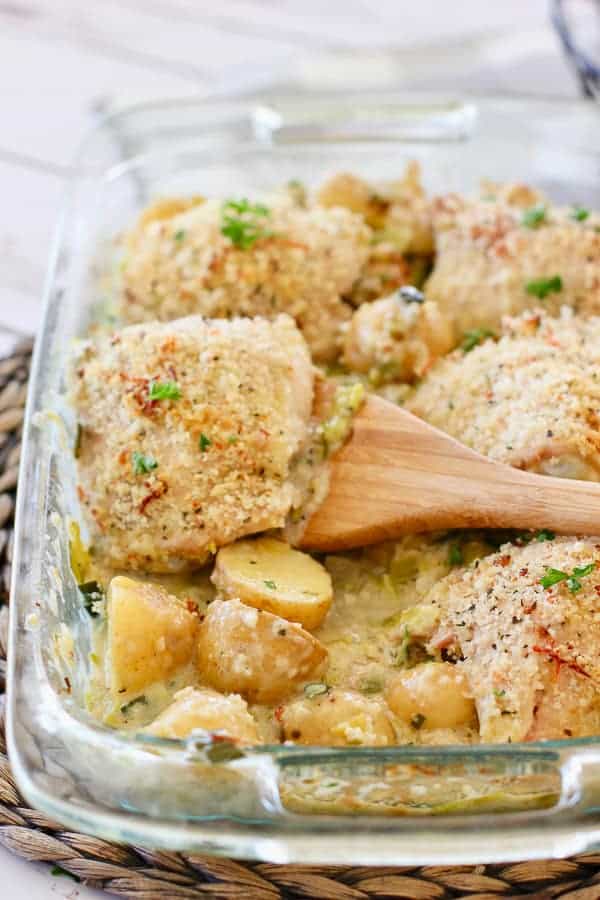 If you have never cooked with leeks before you are in for a real treat!  They have a mild green onion flavor which makes for a wonderful light taste.
Why we love this Crispy Chicken and Potatoes in Garlic Leek Cream Sauce!
1.)  It's baked, not fried.  I wanted to develop a flavorful dish that you didn't have to sear the chicken first but still got some crunch.  Hence the panko crumbs….kinda brilliant :).
2.)  The cream sauce is actually 1 cup of chicken stock and a mere 1/2 cup of cream or half and half.  Thank you waistline and arteries!
3.)  Potatoes cook in the cream sauce and come out so silky and delicious.
4.)  We love chicken thighs!  You can also use drumsticks or a combo of both.  Bone in is the key which allow a longer cook time so the taters can get done perfectly.
First. lets look at the leeks….Not too scary huh?  The only thing you need to know about them is that they are dirty little rascals.  They need to be soaked and rinsed to get the grit out.  I simply chop them and put them into a bowl of water, swish and drain, leaving the grit at the bottom of the bowl.
After cleaning thoroughly, sautés them up in a bit of olive oil and garlic.  Season with salt an pepper.
Add a bit of flour, the stock and the cream.  Taste again for seasoning!  (I know, I say that a lot but salt and pepper, too little or too much, can make or break a good cream sauce.)
Hey, look at you!   You just made garlic leek cream sauce!  You can use this delicious sauce with pasta, or over fish.  It has a wonderful delicate flavor you will love!
Next lets coat up that chicken!  This is so easy..use a paper plate if you have one for easy clean up.  A simple mixture of panko, garlic, olive oil and seasoning.
Oh we love those raw chicken pics don't we? They're never pretty but they are necessary…I do it all for you, dear reader. 🙂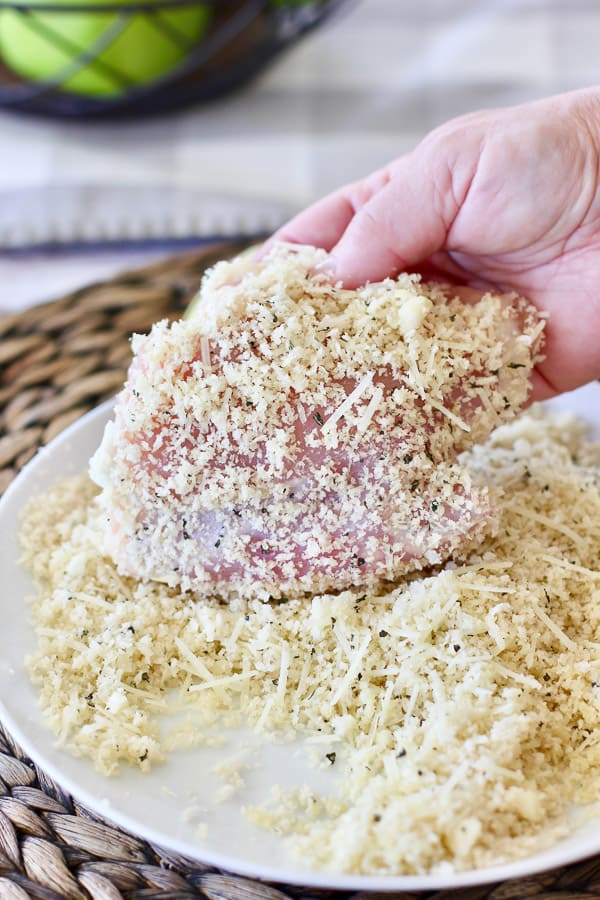 Toss your potatoes in a 9 x 13 baking dish.  You don't wanna crowd everything so bigger the pan, easier it is to cook.
Pour that sauce over the potatoes…oh…my…goodness!
Nestle your coated chicken over the potatoes and leeks.
TIP:  Move the potatoes around so they are not under the chicken but around the chicken.  This will help cook them a bit faster so everything is done at the same time.
Serve with a simple side like salad or steamed broccoli.
We have almost 100 Easy Chicken Recipes and you can see them all HERE!
Two of our favorite are this Easy Baked Chicken and Rice.  Even the rice cooks in the same pan!
Or this Lemon Rosemary Chicken and Potatoes – delicate flavored roasted chicken and again, all in the same pan!
To a little bit of creaminess in my life!
Clink!
Kathi
Crispy Baked Chicken with Garlic Leek Cream Sauce
An easy to make delicious dinner, made with fresh leeks in a light cream sauce. The chicken is coated in panko, skinless to save fat and calories. The cream sauce base is chicken stock with just a touch of cream.
Course:
Dinner, Main Course
Ingredients
6

bone in, skinless chicken thighs

2

pounds

baby gold potatoes cut into halves

red potatoes or white potatoes can be used as well
Leek Cream Sauce
2

leeks, chopped and rinsed throughly

4

cloves

garlic, minced

2

tablespoons

all purpose flour

1

cup

chicken stock

1/2

cup

heavy cream or half and half

1/2

teaspoon

salt

1/4

teaspoon

pepper
Panko Crumb Mixture
1

cup

panko crumbs

2

cloves

garlic, minced

1

teaspoon

dried basil

2

tablespoons

olive oil

1/4

cup

grated parmesan

1/2

teaspoon

salt

pinch

black pepper
Instructions
Preheat oven to 400 degrees.

Remove tough ends of the leeks, about 1/3 of the dark green part and discard. Chop leeks. Soak in bowl of cool water swishing around to remove grit. Drain.

Heat large skillet on medium high heat. Add two tablespoons of olive oil. Add leeks and saute for about 4-5 minutes or until tender. Add garlic and continue to cook for 2 more minutes.

Sprinkle leek mixture with flour and stir until no flour is visible. Add chicken stock and cream. Salt and pepper. Taste for seasoning. Simmer for 3-4 minutes until bubbly and thick. Remove from heat.

Add potatoes to 9 x 13 baking dish and top with leek cream sauce.

On a plate, combine panko crumb ingredients.

Remove skin from chicken thighs and pat dry. Season with salt and pepper. Dredge top of chicken in panko crumb mixture. Nestle on top of potato and leek mixture. MOVE POTATOES AROUND THE CHICKEN AND NOT UNDER THE CHICKEN FOR EVEN COOKING.

Bake for 40-50 minutes or until chicken is cooked through to 165 degrees and potatoes are tender.
Recipe Notes
Wash leeks thoroughly to remove grit.
After adding chicken to pan, move the potatoes around and not under the chicken to ensure even cooking time.
Cream or half and half will work for this recipe.
Nutrition Facts
Crispy Baked Chicken with Garlic Leek Cream Sauce
Amount Per Serving
Calories 412
Calories from Fat 144
% Daily Value*
Fat 16g25%
Cholesterol 131mg44%
Sodium 610mg25%
Potassium 1228mg35%
Carbohydrates 42g14%
Protein 34g68%
Vitamin A 750IU15%
Vitamin C 26.3mg32%
Calcium 200mg20%
Iron 8.7mg48%
* Percent Daily Values are based on a 2000 calorie diet.