Super crunchy topping and a lot of it!  The top is the best part of a muffin and this recipe gives you double the crunchy stuff! We love crunchy stuff!
You can make these jumbo or regular size.  These jumbo muffins are made in a regular size muffin tin….I just use jumbo muffin cups.  How clever is that?   My local Safeway has them, so I'm hoping they are not too hard for you to find.    I found them on Amazon as well.
But if you can't find them, don't let that stop you from making these.  Regular size muffin cups will work just fine!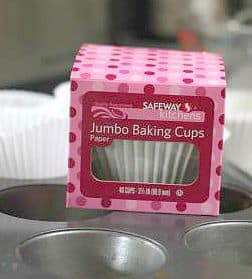 This recipe makes 7 jumbo's or 12 regular size…either way, there is a plethora of topping in this recipe.  I actually had some left and stored it in the freezer…unheard of!  I always run out of topping, frosting or glaze so this recipe is a real treat!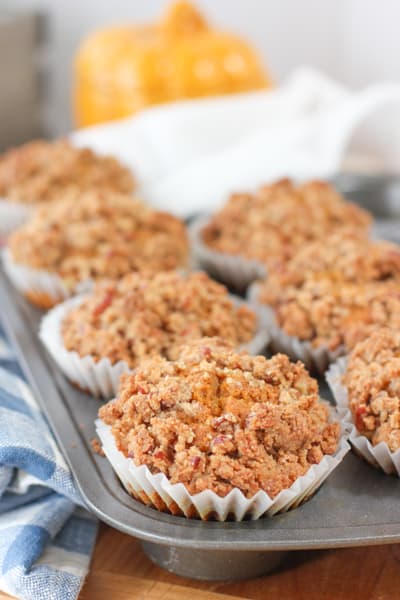 I can be such a lazy baker.  Most of the time I do not use two bowls, one for dry and one for wet ingredients.  I just mix up the wet stuff and dump the dry stuff on top.  But with this recipe,  you have to take the time to mix separately.  If you don't, you will  over mix the batter trying to incorporate the pumpkin and that will result in a flat muffin.  Flat muffins are no fun.  But big puffy muffins?  Those are fun!
Check out this video of our Pumpkin Crunch Muffins! We got your pumpkin muffin needs covered with this easy, delicious, and SIMPLE recipe!
I froze these for my kiddo because lawdy knows I don't need jumbo muffins hanging around to nosh on all day.  They froze up fabulous so you might as well make a double batch!
If you are still craving some fall pumpkin recipes  – You might want to take a look at my Pumpkin Duffins!  It's a donut, no it's a muffin…no, it's a Duffin!
Clink!
Kathi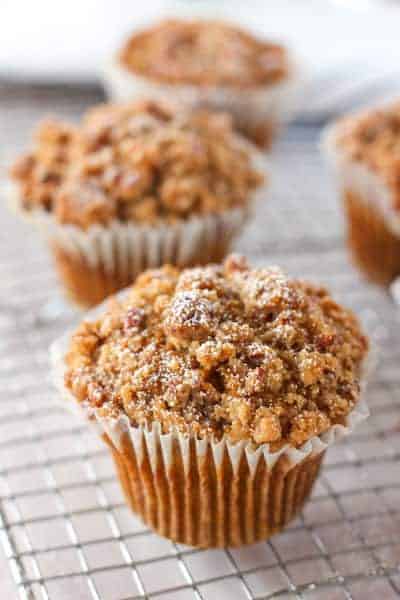 Pumpkin Pecan Crunch Muffin
Pecan Crunch Muffins with double the crunchy topping! Make jumbo or regular size...either way they are a great way to get your Pumpkin Party started!
Ingredients
For the batter
1 1/2

cups

flour

3/4

cups

sugar

1/2

teaspoon

salt

1

teaspoon

baking soda

2

teaspoons

pumpkin pie spice (or 1 teaspoon cinnamon

1/2 teaspoon ground ginger and 1/2 teaspoon nutmeg)

1

cup

pumpkin puree

I use Libbys 100% Pumpkin

1/4

cup

milk

1/3

cup

butter - melted

2

eggs

1

teaspoon

vanilla
For the crunchy topping
1

cup

all-purpose flour

1/2

cup

chopped pecans

½

cup

brown sugar

2

tablespoons

sugar

1

teaspoon

pumpkin pie spice

1/4

teaspoon

salt

1/3

cup

butter -melted
Instructions
Preheat oven to 375 degrees. Line a 12 cup muffin pan with 7 jumbo liners or 12 regular size liners.

In a medium size bowl, combine flour, sugar, baking soda, salt and pumpkin pie spice..

In a larger bowl, combine pumpkin puree, milk, melted butter, eggs and vanilla.

Add the pumpkin mixture to the flour mixture and combine gently and only until flour is fully incorporated. Over mixing will result in flat muffins.

Divide batter into muffin liners. About 7 for jumbo liners - 12 for regular size.

Topping:

Combine flour,brown sugar, white sugar, nuts, pumpkin pie spice and salt. Add melted butter. Stir with a fork until crumbly.

Add about a 1/4 cup of topping for jumbo muffins and several heaping tablespoons for regular size. You might have some topping left and thats okay!

Bake for 25 minutes for jumbo and 20 minutes for regular size.

Let cool and top with powdered sugar.
Recipe Notes
Nutrition information is based on 12 regular size muffins
Nutrition Facts
Pumpkin Pecan Crunch Muffin
Amount Per Serving
Calories 330
Calories from Fat 126
% Daily Value*
Fat 14g22%
Cholesterol 54mg18%
Sodium 343mg14%
Potassium 117mg3%
Carbohydrates 46g15%
Protein 4g8%
Vitamin A 3540IU71%
Vitamin C 0.9mg1%
Calcium 36mg4%
Iron 1.9mg11%
* Percent Daily Values are based on a 2000 calorie diet.