Avgolemono – Greek Chicken, Rice and Egg Soup!   A delicious blend of chicken, rice, a few veggies and egg…hey wait, what?  Egg?  Yup, egg!  It's what makes this soup silky creamy..without cream.  Sounds like Greek to me!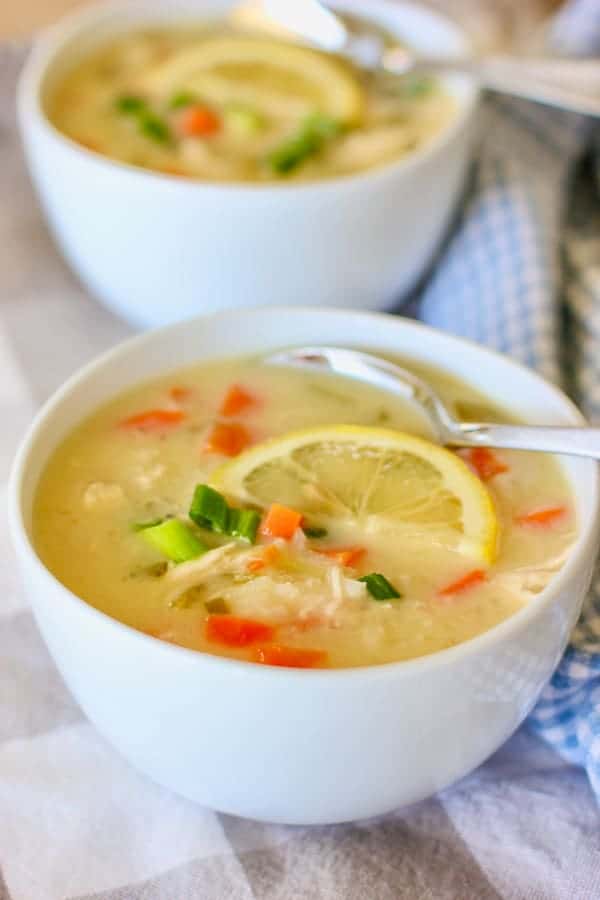 We first had this at a restaurant in Palm Springs…ya real Greek right? :).  But it was so delicious creamy and smooth we had to try it at home.
Our  recipe development usually starts by scouring the internet and many cookbooks trying to come up with  a perfect combination of the best recipes out there.  It has to be easy to prepare, with simple obtainable ingredients and of course delicious!    In this case we didn't have to go far, this recipe is everywhere!  Where have I been? How did I get there?  Was there soup when I got there? Where has this soup been all my life?
Starting with the basics.  What is Avgolemono?
Avgolemono, pronounced ah-vo-le-mo-no.  The 'g' is silent, at least to my untrained ear.  Avgo is Egg in Greek and obviously lemono is lemon.  Egg Lemon Soup – ta da!
It starts the way most great soups do, veggies, protein and a starch.  In this case, chicken and rice.  A perfect combo on it's own but this easy soup transforms into a silky delicious bowl of soup after  eggs are whisked into the broth.  
Sauce your veggies, add broth and rice and let it cook until rice is tender. 
Once your broth and rice are done it's time to make the lemon sauce:
How to make Avgolemono sauce –
This isn't complicated at all.   It's simply lemon juice and egg, tempered by adding a little of the hot broth so you don't end up with scrambled eggs in your soup!  Tempering the eggs  bring them slowly to temperature without cooking them.
I like to use a large 4 cup measuring bowl for this but any medium size bowl will do.
1.)  Squeeze your lemon juice into the bowl.
2.)  Add the eggs and whisk.
3.) Take several ladles (about 1 1/2 cups) of hot broth and while continuing to whisk add the hot broth to the egg lemon juice mixture.  Thats it!  So easy!
This is where the real magic happens.
Whisk your lemon, egg and hot broth mixture back into the your soup pot and watch this average looking broth change before your eyes!  Continue to whisk and it will become creamy and silky…the most delicious soup.  And all it takes is 30 minutes!
A few tips to make this Avgolemono Greek Chicken and Rice Soup:
 Chicken – I simply roasted two chicken breasts and shredded them.  A store bought rotisserie chicken would do the job wonderfully as well.
  Rinse your rice!  This is important to remove a bit of the starch and keep the rice from sticking together.  Nobody likes rice clumps in their soup…
 Temper your sauce with the broth as shown in above step by step instructions.  This is what makes this soup so special!
  We serve this soup with bread.  That is it.  A simple baguette and this is one delicious and healthy meal!
 Can I substitute Orzo for the rice? – Yes you sure can!  Use one cup of orzo and reduce the cook time of the broth to about 8 minutes.  I have similar Lemon Orzo Soup recipe without the tempered egg you might like:  Lemon Orzo Chicken Soup.
Hoping you give this Avgolemono Greek Chicken Rice and Egg Soup a try! 
Still craving delicious 30 minute soups?  Check out our most popular soup recipes below!
Italian Sausage and Mushroom Soup
To soup and all the pleasure it brings!  
Clink!
Kathi
 What do you think about this recipe?Have questions? Comment below!Don't forget to like us on Facebook, and connect with us on Instagram and  tag your @Laughingspatula recipes with #laughingspatula,while you're at it…We love to see your pics!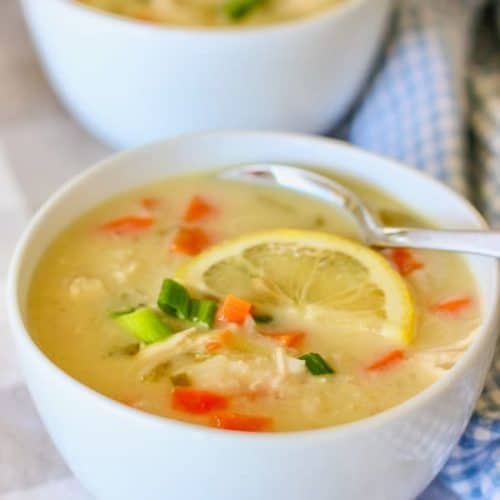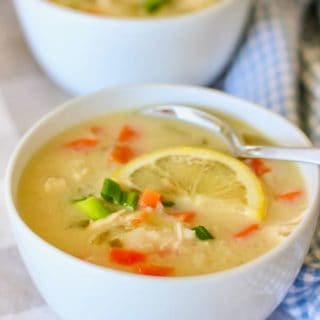 Easy Avgolemono Greek Chicken and Rice Soup
This 30 minutes soup will become a regular on your stove top! Made with chicken, lemon, rice that turns into a silky delicous soup by whisking in eggs.
Print
Pin
Rate
Servings:
6
About a 2 cup servings
Ingredients
2

tablespoons

olive oil

2

large

carrots

chopped`

3

large

celery stalks

chopped

3

garlic cloves

minced

1

cup

green onions

sliced

8

cups

chicken stock

3/4

cup

uncooked white rice

rinsed until water runs clear

2

cups

cooked chicken

shredded or chopped (about 2 medium chicken breasts or store bought rotisserie chicken is a great option).

1/2

cup

fresh lemon juice

about 3 large lemons

2

eggs

salt and pepper to taste
Instructions
Heat large soup pot or dutch oven to medium high. Add olive oil. Toss in carrots and celery. Saute until crisp tender. About 5 minutes.

Add garlic and green onion. Saute another 2-3 minutes.

Add chicken broth and bring to a low boil.

Rinse your rice until the water runs clear. Add rinsed rice to hot broth and stir. Reduce heat to medium heat. Put lid onto pot and continue to simmer for about 15-20 minutes or until rice is tender. TASTE FOR SALT AND PEPPER. If using low sodium broth amounts will vary.

Add lemon juice to large measuring cup or bowl. Add eggs and whisk. Continue to whisk while adding several ladles (about 1 1/2 cups) of hot broth.

Add hot egg and broth mixture into your large soup pot. Continue to whisk until silky smooth!

Garnish with fresh lemon slices and additional sliced green onion if desired.
Nutrition
Calories:
284
kcal
|
Carbohydrates:
35
g
|
Protein:
12
g
|
Fat:
10
g
|
Saturated Fat:
2
g
|
Cholesterol:
64
mg
|
Sodium:
501
mg
|
Potassium:
533
mg
|
Fiber:
1
g
|
Sugar:
7
g
|
Vitamin A:
4273
IU
|
Vitamin C:
14
mg
|
Calcium:
47
mg
|
Iron:
1
mg