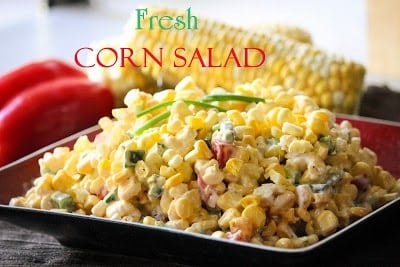 A summer staple!  All you need is fresh corn, peppers, maybe some onions…a little sour cream and you have a crunchy yummy summer salad!
I used Polano and Red Pepper but you could substitute most anything. Avacodo would be nice too!
I'm keeping this commentary simple…just like this salad!
Ingredients
6 ears of shucked fresh corn
1 Poblano pepper (seeded and chopped)
1/2 red pepper (seeded and chopped)
1/2 cup sour cream
1 tablespoon sugar (add a bit more is  your corn is not very sweet)
Salt and Pepper
Mix it all together…chill for about 30 minutes to meld the flavor and done!