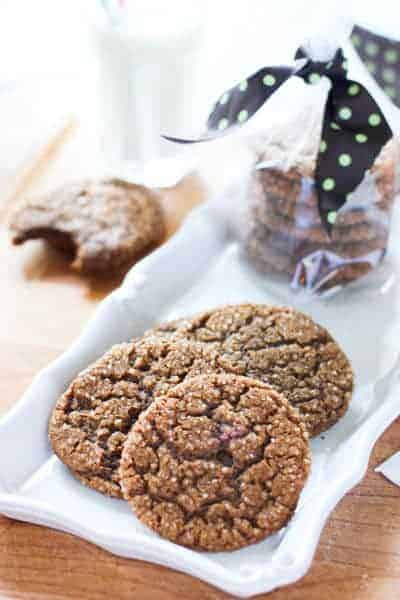 I am not such a great baker and that is why I call these 'Perfect Molasses Crinkle Cookies' – because the recipe has to be perfect to get results that look like these!  If you scroll through the recipes on this site, you don't find too many cookies, but all that is going to change…I am going to conquer the beast called "The Cookie"!  It's my new goal – I love my job!
I searched for the perfect molasses cookie recipe and they all resemble each other give or take an ingredient or two.  I finally settled on a recipe from Joy of Baking  because hey, look at her blog – she is a true baker and I need all the professional help I can get when it comes to baking cookies!
Wanting everything to be perfect , I bought a fancy cookie ball contraption by Kitchen Aid. It broke on the second cookie.  They just don't make stuff like they used to says the old lady.  But it's true!   So I used a teaspooon instead and it worked fine…there's $13 bucks I'll never see again!  I've never used a lot of gadgets when I cook, I don't even own a full size food processor! Why? When a sharp knife will do the trick?
I followed her directions to the tee, chilling the dough for a minimum of 2 hours and preheating the oven just like a good little baker. I used a Silpat liner but parchment would work just as well.  It all paid off.  I was blessed with the most amazing chewie, flavorful cookie I have ever made!  I even rolled the cookie dough balls in raw sugar for an extra crunch before baking. I am going to make these forever….
Next up are shortbread cookies dipped in chocolate….no special equipment needed!
Perfect Molasses Crinkle Cookies!
These easy to make chewy cookies will be a hit any time of year!
Ingredients
1/2

cup

butter

room temperature

1

cup

dark brown sugar

2

tablespoons

vegetable oil

1/3

cup

dark molasses

lightly grease measuring cup to prevent molasses from sticking

1

large egg

1/2

teaspoon

pure vanilla extract

2

cups

all purpose flour

1

teaspoon

baking soda

1/4

teaspoon

salt

1

teaspoon

ground cinnamon

1

teaspoon

ground ginger

1/2

teaspoon

ground cloves

1

cup

'Sugar in the Raw' to roll cookie dough balls in.
Instructions
With an electric mixer, beat the butter and brown sugar until light and fluffy (about 2 - 3 minutes). Add the oil, molasses, egg, and vanilla extract and beat until incorporated. In separate bowl, combine dry ingredients. Flour, soda, salt and spices. Mix well and add to wet ingredients. Beat with electric mixer until well combined. Cover and chill the batter until firm (about 2 hours or overnight. I chilled mine for 2 hours and it worked great).

Preheat the oven to 375 degrees F. Line two baking sheets with Silpat liner or parchment paper.

Place 1 cup of raw granulated sugar in a medium sized bowl. When the dough has chilled sufficiently, roll into 1 inch balls. Then roll the balls of dough into the sugar, coating them thoroughly. Place on the baking sheet, spacing about 2 inches apart and, with the bottom of a glass, flatten the cookies slightly. Bake for about 9-10 minutes or until the tops of the cookies have crinkles yet are barely dry. (They will look a little underdone.) Remove from oven and let cool 5 minutes. Place on a wire rack to continue cooling. Store in an airtight container for up to a week.

Makes about 3 dozen cookies.

Other stuff thats yummy: