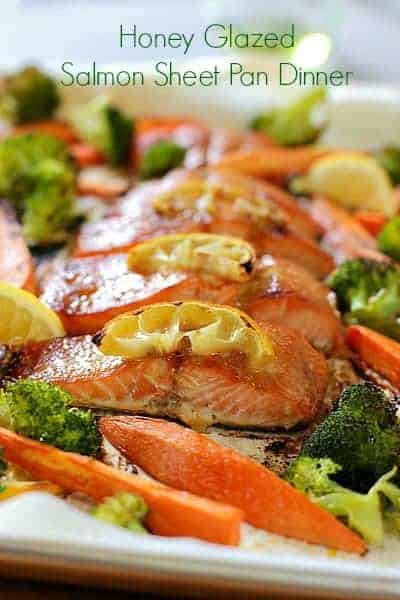 Another installment of handy dandy sheet pan dinners.  This one might be the best one yet!  You can see more of my Sheet Pan Dinner creations on my Pinterest Board here.
I have been using this method for years.  I just didn't know it was a 'method'.  You throw stuff on a sheet pan and bake it.  Hardly the work of a master chef.  More the result of a lazy cook…that would be me.
I buy these big old sheet pans at Costco.  15 x 21…and they are cheap, cheap, cheap.  Honestly I don't think they are five bucks.  Practically disposable and if you line them, they will stay all pretty for a very long time.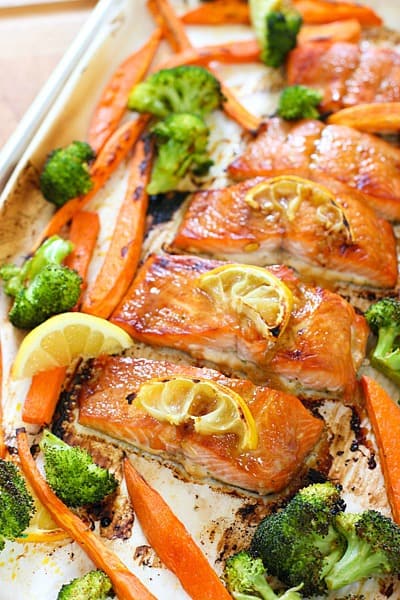 I added sweet potato fries and broccoli with a simple toss of olive oil, salt and pepper.  I glazed the salmon with a mixture of honey, brown sugar and dijon.  Popped it in the oven for 20-25 minutes and dinner done!
NOTE: Keep an eye on your broccoli – I like mine crispy but if it gets a little brown for your taste, just pluck it off with your ploonkers, (aka: tongs).  I have always called then ploonkers.  Merlot was most likely involved there….
If you want to keep this Paleo or Whole30 compliant.  Simply brush the salmon with olive oil, salt and pepper leaving off the honey glaze.
Clink!
Kathi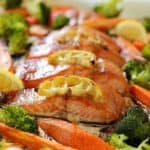 Honey Glazed Sheet Pan Dinner
Ingredients
1

pounds

salmon fillet - about 1 1/2

I leave the skin on. It helps keep the fish moist

1

large sweet potato

2

cups

broccoli florets

3

tablespoons

olive oil

salt and pepper

slices

Lemon for garnish

optional

For Glaze

1/4

cup

honey

2

tablespoons

brown sugar

1

tablespoon

dijon mustard
Instructions
Preheat oven to 400 degrees.

Line large sheet pan with foil or parchment.

Slice salmon fillet in 3" wide pieces.

Peel and slice sweet potato in spears.

Toss broccoli and sweet potatoes with 3 tablespoons olive oil, salt and pepper.

Place salmon on sheet pan and surround with broccoli and sweet potato mixture.

In small bowl, combine honey, brown sugar and dijon mustard until smooth. Brush on salmon fillets.

Bake for about 25 minutes until veggies are tender and salmon is cooked through.

Other stuff thats yummy: