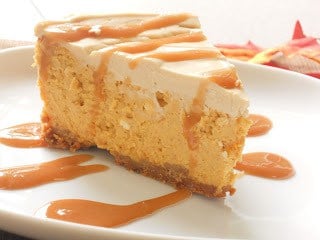 Oh great pumpkin…moist and mysterious…okay, sorry, I got a little carried away.
I am so in love with pumpkin flavored everything this year!  We had this at Shuckers Restaurant at the Fairmont Hotel in Seattle…it was to die!   I knew I had to try to remake it…I think I came pretty close!
Crust:
1 3/4 cups graham cracker crumbs
3 tablespoons light brown sugar
2 teaspoons pumpkin pie spice
1 stick melted salted butter
Filling:
3 (8-ounce) packages cream cheese, at room temperature
1 (15-ounce) can pureed pumpkin
3 eggs plus 1 egg yolk
1 1/2 cups sugar
1 tablespoon pumpkin pie spice
2 tablespoon all-purpose flour
1 teaspoon vanilla extract
Topping
1 8oz container sour cream
1/4 cup sugar
1 teaspoon vanilla extract
1 teaspoon pumpkin pie spice
1 container store bought carmel sauce (I used Smuckers in a squeeze container)
Preheat oven to 350 degrees F.
For crust:
In medium bowl, combine crumbs, sugar and pumpkin pie spice. Add melted butter. Press down flat into a 9-inch spring form pan. Set aside.
For filling:
Beat cream cheese until smooth. Add pumpkin puree, eggs, egg yolk,  sugar and pumpkin pie spice. Add flour and vanilla. Beat together until well combined.
Pour into crust. Spread out evenly and place in oven for 1 hour.
Remove from the oven and let sit for 15 minutes before adding topping.
For Topping
Mix together sour cream, sugar, vanilla and pumpkin pie spice with a wire whisk.   Spread on top of cake and bake for additional 15 minutes.
Cool cake again for another 15 minutes, cover with plastic wrap and refrigerate for at least 2 hours before serving.
Drizzle with caramel sauce.
Note: when serving, run your knife under hot water before cutting and between each slice…it will make each piece come out perfectly.