We love this Lemon Biscotti recipe! Easier to make than cookies.  Tender on the inside and crunchy on the outside.  So good with a cup of tea and also make wonderful gifts!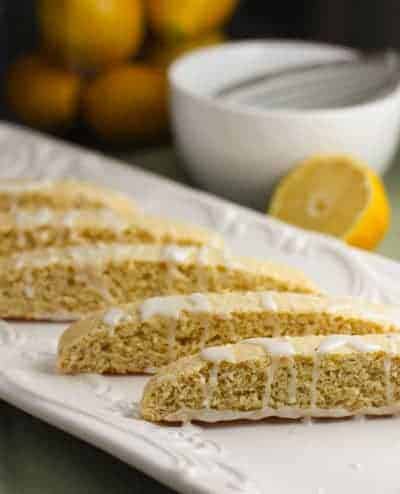 'Summer time…and the lemon is easy…. '   Oh I do love cookies and summertime and lemon and biscotti!
My second Biscotti posting in the last few months – what can I say?  I think it's the perfect cookie!  My last shared recipe of Double Chocolate Almond Biscotti left me with a craving for more…more cookies please!
These are low fat, low calorie and  pair wonderfully with your favorite tea.  They are also super easy to make and totally shareable!      So what's not to love?  Cookies + Sharing = Love       Love and cookies….rainbows and unicorns…okay, getting schmaltzy now….time to just shut up and give you the recipe!
Lemon Biscotti
An easy to make Biscotti recipe that you will love! Easier than cooked and makes a great gift!
Ingredients
6

tablespoons

butter

2/3

cup

sugar

1/4

teaspoon

salt

tablespoon

grated rind of 1 medium lemon

about 1

1

teaspoons

almond extract

1 1/2

teaspoons

baking powder

2

tablespoons

to 3 freshly squeezed lemon juice

2

large eggs

2

cups

All-Purpose Flour

Glaze

optional

1/2

cup

confectioners' or glazing sugar

1 1/2

teaspoons

lemon extract

2

teaspoons

to 3 milk
Instructions
Preheat the oven to 350°F. Lightly grease (or line with parchment) one large baking sheet.

In a medium-sized bowl, beat the butter, sugar, salt, lemon rind, almond extract, and baking powder until the mixture is smooth and creamy. Beat in the lemon juice and eggs; the batter may look slightly curdled. At low speed of your mixer, add the flour, stirring until smooth; the dough will be sticky.

Plop the dough onto the prepared baking sheet. Shape it into a log that's about 13" long x 3" wide x 3⁄4" thick. Straighten the log, and smooth its top and sides; a wet spatula or wet bowl scraper works well here.

Bake the dough for 25 minutes. Remove it from the oven, and allow it to cool on the pan anywhere from 10 to 25 minutes.. Reduce the oven heat to 325°F.

Using a spray bottle filled with room-temperature water, lightly but thoroughly spritz the log, making sure to cover the sides as well as the top. Softening the crust just this little bit will make slicing the biscotti much easier.

Wait another 5 minutes, then use a serrated knife to cut the log crosswise into 1⁄2" slices.

Set the biscotti on edge on the prepared baking sheet. Return the biscotti to the oven, and bake them for 30 to 35 minutes, till they feel very dry and are beginning to turn golden around the edges. Remove the biscotti from the oven, and transfer them to a rack to cool. Keep in mind that they will harden while cooling so careful not to cook until crispy!
Nutrition Facts
Lemon Biscotti
Amount Per Serving
Calories 90
Calories from Fat 27
% Daily Value*
Fat 3g5%
Cholesterol 21mg7%
Sodium 55mg2%
Potassium 41mg1%
Carbohydrates 13g4%
Protein 1g2%
Vitamin A 105IU2%
Calcium 16mg2%
Iron 0.6mg3%
* Percent Daily Values are based on a 2000 calorie diet.
Recipe adopted from King Arthurs Flour