This easy crusted chicken recipe has tons of flavor!  You wouldn't expect it with so few ingredients.  But you will love this easy dinner!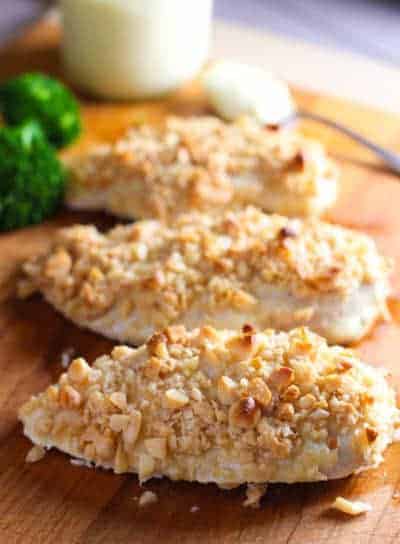 So here we go!  It's already day two of my Whole30, only 29 more to go!.   I have a pretty nice starter recipe for y'all.  Baked Macadamia Nut Crusted Chicken!  Doesn't sound very 'diet' does it?  This is why I love Whole30!  It's my kinda food!
For those of you who are asking, 'What is a Whole30'?  It is 30 days of eating real, unprocessed and nutritionally dense food. Which means avoiding all grains, added sugars, soy, dairy, beans, legumes, alcohol or processed foods.  It means eating everything from where it comes from.  It means reading every label on everything you buy in the grocery store to be sure it is 'Whole30 Compliant'.  Get used to seeing the phrase"Whole30 Compliant" for the next 30 days.   A new word for Websters?
I have been stalking this program for about a year.  Initially it was to lose weight, that reason has changed dramatically.  I  had back fusion surgery in September.  It has been nothing short of hell my friends.  It isn't that the surgery went awry, in fact it did everything it was supposed to do.  But the nerve in my left leg had been compromised by that nasty disc for so long that it is struggling to come back to life. When you put together the word nerve and struggling, it equals pain…and a lot of it!   Nerves are slow healers and mine has the length of my entire leg to get through before it's done.  Most of the nerve pain has settled in my calf, ankle and foot and seems to be quite happy just lingering there.  It makes every step painful and it likes to come out at night and play.    I think of my leg as an 'it'.  A separate part of my body that just does it's own thing…I have little or no control over.
There are many things that I will never take for granted again.   Like hopping in my car to go to the store.  Visiting the mall, dining out and at one point even checking the mail.  Everything has to be thought out well in advance.  How far can I go?  How bad will it hurt?  How long of a drive?  How much can I take? Is there wine when I get there? It is very surprising how much pain a person can really endure.  One thing I have learned is we are all a lot stronger than we think.
But before we all start feeling so sorry for Kathi that it ruins your Mac Nut Chicken experience – let me say that I am enjoying my life.  I am starting to get out more and more and doing more and more!  The recovery is just so terribly slow and I just want it to hurry up already!  I'd like my life back please….I miss you!
Whole30 info:  A few websites to get you headed in the right direction, should you want to follow along.    There are great meal ideas on Pinterest/Whole30 . A few of my favorite websites are The Healthy Foodie.com and Meatified.com   and of course Whole30.com.  I love reading the forum.   All your  'can I eat this or that' questions will be answered there.   I have also started a Laughing Spatula Whole30 Pinterest board here that include a few recipes of my own that are Whole30 compliant along with some additional recipes that sounded pretty yummy.
 So this is it….it's show time!  Get out your meat cleavers and wash off those veggies and please, please, let me know how you are doing!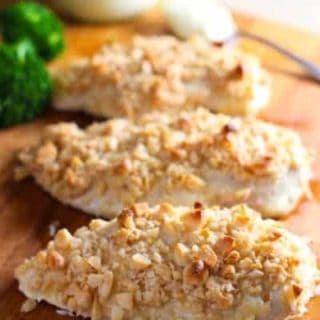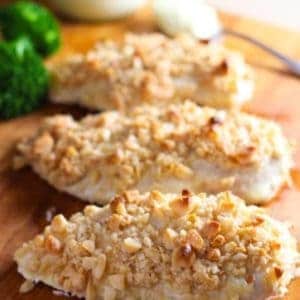 Baked Macadamia Nut Crusted Chicken and #Whole30 Start!
Simple crusted chicken with macadamia nuts. Baked to keep it clean. You will love this simple chicken recipe!
Print
Pin
Rate
Ingredients
3-4

chicken breasts

1 4.3

oz

can of Macadamia Nuts

tablespoons

About 2 homemade mayonaise
Instructions
Preheat oven to 400 degrees.

Pat dry chicken breasts and lay on baking sheet.

Brush top of chicken breasts with a light coating of mayonnaise.

Coarsely chop macadamia nuts and sprinkle on top.

Bake for 30 minutes or until completely cooked through and nuts are lightly brown.

Serve with a side of mayo and Whole30 dijon mustard for dipping!
Nutrition
Calories:
366
kcal
|
Carbohydrates:
5
g
|
Protein:
20
g
|
Fat:
30
g
|
Saturated Fat:
5
g
|
Cholesterol:
54
mg
|
Sodium:
100
mg
|
Potassium:
451
mg
|
Fiber:
3
g
|
Sugar:
1
g
|
Vitamin A:
25
IU
|
Vitamin C:
1.5
mg
|
Calcium:
36
mg
|
Iron:
1.7
mg