Soup with a twist and a secret ingredient…I LOVE secret ingredients!
 I've never heard of BBQ Chicken Soup until I had it at SODO Kitchen, a lovely restaurant located in the Seattle Starbucks Headquarters building. The food is fresh from local Farmers and the staff is lovely! The Catering Manager was nice enough to share this recipe with…Thank you Laura!
 This has turned out to be one of my all time soup faves and I love me some soup so that says alot.
So, what is that secret ingredient??  It's a cup of brewed coffee and of course I used Starbucks…I got a few pounds of it hanging around.
NOTES:
This soup is as good as the BBQ sauce you use…so be sure and use one you like.

Perfect recipe to use grocery store purchased Rotisserie Chicken!
BBQ Chicken Soup (adapted from

SODO Kitchen

)
4 Tablespoon
2 medium onions, finely sliced
3 cloves garlic, minced
1 Pablano Pepper, chopped
1 Red Pepper, chopped
3 ears of fresh corn – shucked with kernels removed
3 Tablespoons of Worcestershire sauce
1/4 cup of Red wine
1 cup of your favorite BBQ Sauce
1 8 oz can tomato sauce
1 cup brewed coffee
3 cups chicken broth
3 cups cooked chicken, shredded (store bought Rotisserie chicken works great!)
Fresh Cilantro for garnish
(Directions for Soup below Crouton Recipe)
1 package prepared cornbread mix (I used Jiffy)
1/3 cup melted butter
Following package directions – prepare and bake Cornbread mix.
Pour into shallow pan – this will allow a not to thick crouton.
Heat oven to 400 degrees.
Cut cooked cornbread into cubes.
Toss with butter and pour onto baking sheet.
Bake for 15 minutes, stirring occasionally, until brown.
Remove from oven and set aside.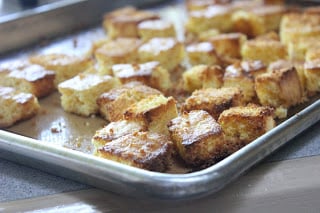 Heat olive oil in soup pot.  Add onions and garlic.  Saute until golden brown and carmalized, about 10 minutes.
Add to carmazlized onion mixture –  chopped Pablano, Red Pepper, Corn, Worcsershire, Wine, BBQ Sauce, Tomato Sauce and Coffee.
Stir occasionally, making sure to scrape up all the little bits of yum from the bottom of the pot!
Add salt and pepper to taste.
Add shredded chicken and cornbread croutons and serve!