TENDER FLAKY MAHI WITH A CRUNCHY FRESH CORN SALAD.
 GET THIS DELICIOUS MEAL ON THE TABLE IN ABOUT 30 MINUTES!
We are always trying to find ways to work more fish into our diet.  This recipe has become a staple.  Not only in the summer time but anytime since it can be grilled indoors or out!

Grilling outdoors – a whole new concept for this girl.  I am scared of our big bad BBQ and never touch it. (I have a fear of plumbing too but that's a whole 'nother story).
Facing my fears head on.  To date I have grilled three, yes, three days in a row!  I can not say I am completely at ease, but I can turn it on, hit the button and I don't jump as high as I used too.  Thats something.  The perk is I can bang out some pretty tasty foods while dealing with my demons.
This Grilled Mahi with Avocado and Corn Salsa is incredibly easy to make and fabulously fresh.
Fresh is so much easier to prepare then processed. It only took 25 years for me to figure out that one.    This Mahi has a simple olive oil and spice combination that is brushed on right before grilling.  And the corn salsa requires NO COOKING!     
WE LOVED THIS CORN SALSA SO MUCH WE GAVE IT IT'S OWN POST!    You can see Corn and Avocado Salad with Honey Lime Vinaigrette here!
HOW TO MAKE EASY GRILLED MAHI AND CORN AND AVOCADO SALSA:
Mix your simple spice ingredients.  Cumin, chili powder, olive oil,  salt and pepper.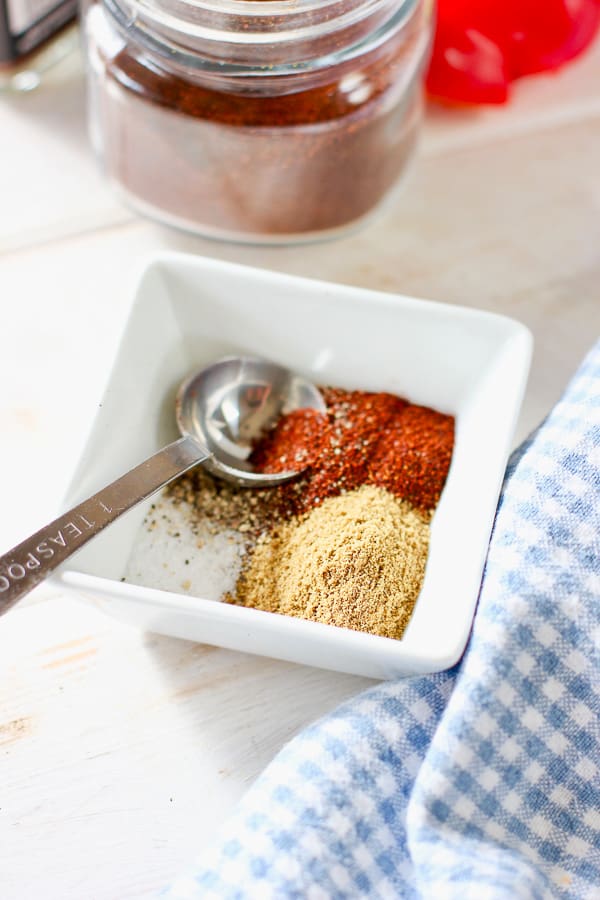 Pat dry your fish fillets before rubbing with the spice and olive oil mixture.  This is important.  You don't want to saute your fish, you want to sear it.  Too much moisture in the fish and it will ruin your perfect sear.
CAN I USE CHICKEN INSTEAD OF FISH FOR THIS RECIPE?
Yes, yes and yes!  Use boneless chicken breasts or thighs and sear until the internal temp reaches 165 degrees.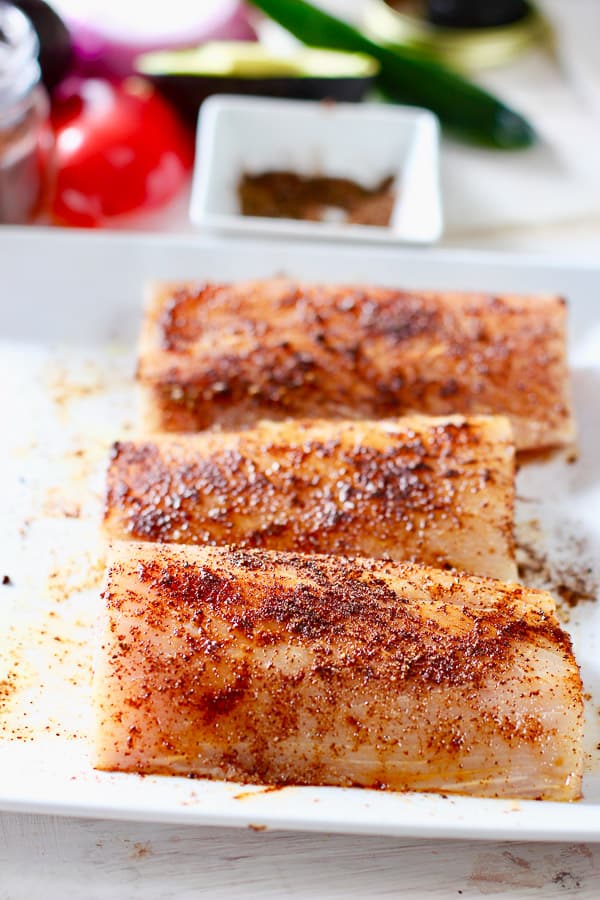 When it's too chilly to BBQ, which is pretty darn often in Seattle.  I break out our fave indoor grill pan!
A cast iron would work really great as well.  We love this Lodge brand.
HOW DO I KNOW WHEN MY FISH IS COOKED PERFECTLY?
Fish is cooked perfectly when the internal temp reaches 145 degrees.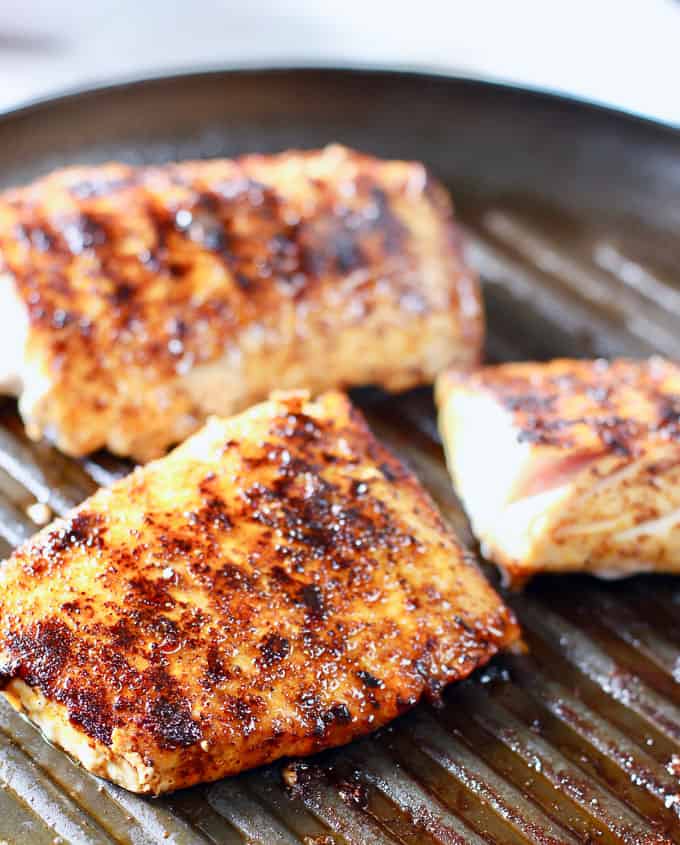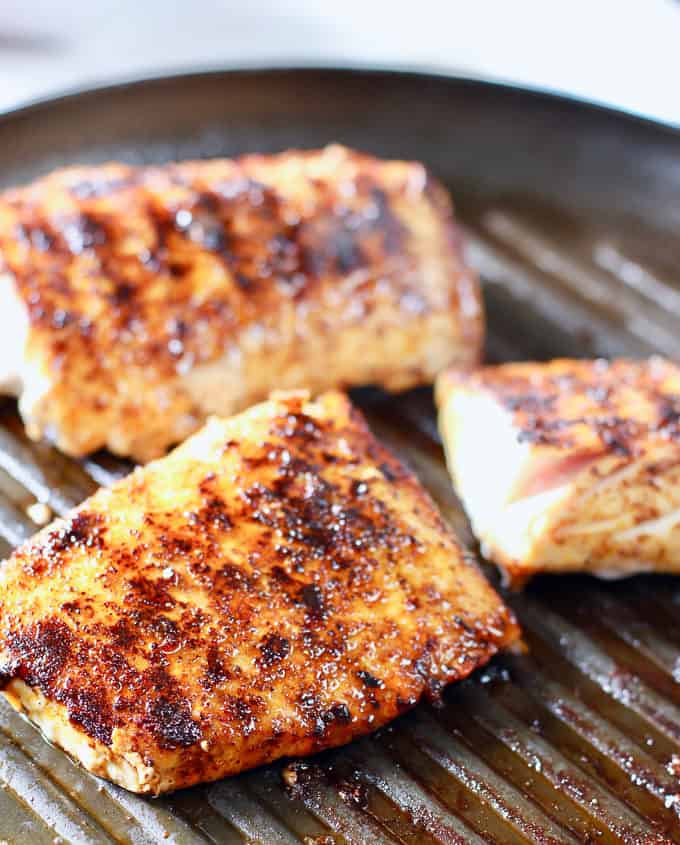 HOW TO MAKE CORN SALSA WITH AVOCADO:
I use this hack every time I need fresh corn.  It keeps all the corn in the bowl instead of on the counter and floor!
Simply invert a small  bowl inside a large bowl.  A small ramekin works great. Set your corn on the flat side and slice kernels off with a serrated knife. Boom!  Everybody in the bowl!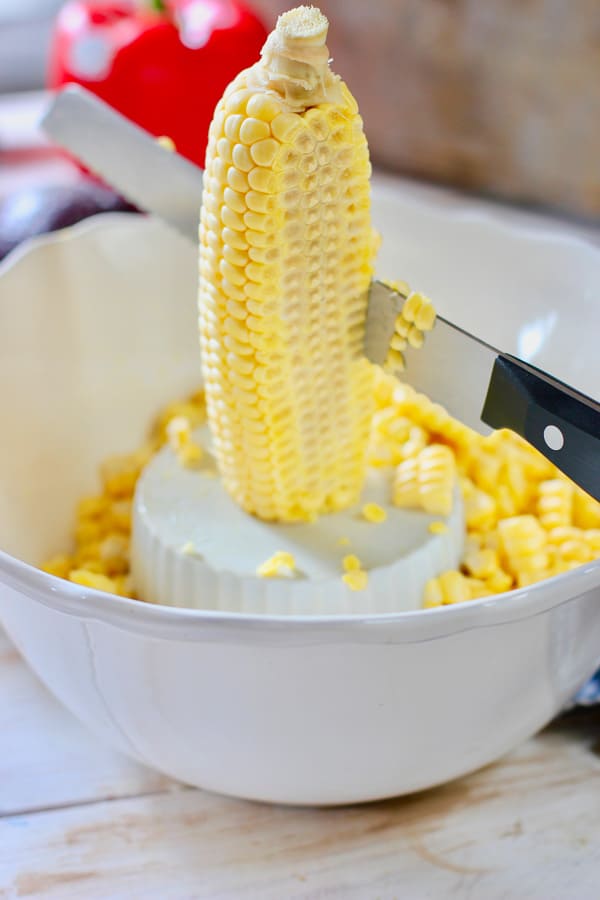 WHAT OTHER KIND OF VEGGIES COULD I ADD TO MY CORN SALSA?
 If you like more heat, mince up a jalapeño.  Zucchini and tomatoes would be fabulous as well.    Any fresh veggie you have hanging around can be tossed in with the corn!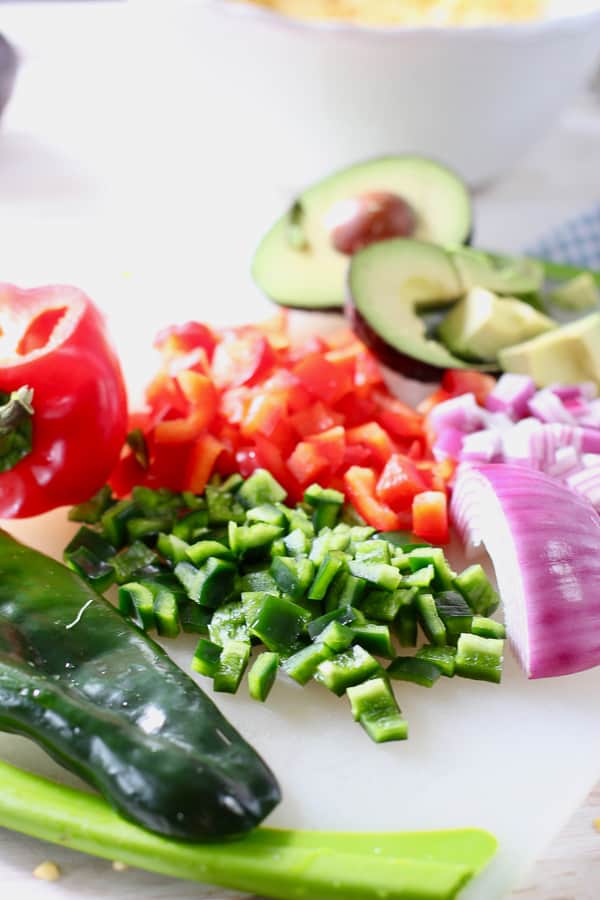 Toss your fresh uncooked corn salsa with just a bit of sugar and vinegar to bring out the crunch of the corn and dinner is done!
Serve your grilled fish on top of your fresh crunchy corn salad for a super healthy and easy meal!
Left over corn salad?  It is delicious with our Fresh Salmon Burgers!
Off to slay more BBQ dragons!
Clink!
Kathi
 What do you think about this recipe?Have questions?Comment below!Don't forget to like us on Facebook, and connect with us on Instagram and  tag your @Laughingspatula recipes with #laughingspatula,while you're at it…We love to see your pics! 
Hey and check out our new YouTube Channel!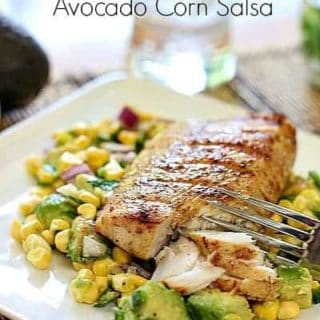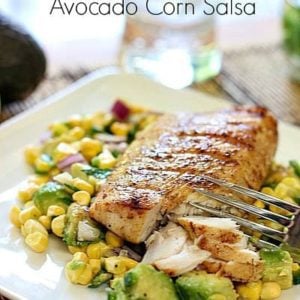 Easy Grilled Mahi with Avocado and Corn Salsa
Easy and simply prepared Grilled Mahi with a crunch corn and avocado salsa! Fast, Fresh and Healthy!
Print
Pin
Rate
Ingredients
4

Mahi Mahi fillets - thawed

2

tablespoons

olive oil

2

teaspoons

ground cumin

2

teaspoons

chili powder

1/2

teaspoon

salt

1/4

teaspoon

pepper

For Corn Salsa

2

fresh ears of corn

shucked and removed from the cob

1

small

poblano pepper - seeded and chopped

1

firm ripe avocado, cubed

1/2

cup

red pepper, chopped

1/3

cup

chopped purple onion

3

tablespoons

olive oil

1

tablespoon

sugar

1

tablespoon

vinegar

1/2

teaspoon

salt

1/4

teaspoon

pepper
Instructions
For the Salsa

Combine all ingredients in a large bowl. Chill while fish is grilling.

For Mahi

Heat indoor or outdoor grill to medium high.

In small dish, combine olive oil, cumin, chili powder, salt and pepper.

Brush on to uncooked mahi fillets.

Grill about 4 minutes on each side (depending on thickness of the fillet), until cooked through to an internal temp of 145 degrees and fish flakes easily.

Serve with Salsa!
Notes
TIPS TO MAKE THIS GRILLED MAHI WITH CORN AND AVOCADO SALSA!
1. Use fresh corn removed from the cob. Do not precook the corn...the crunch is the beauty of this salsa.
2.) Grill your fish indoor or out. 145 internal temp is fish perfection!
3.) Add all your favorite veggies to the salsa. We love zucchini, tomatoes and a minced jalapeño if you want more heat!
4.) Use boneless chicken in place of the fish. Grill to 165 degrees internal temp.
Nutrition
Calories:
227
kcal
|
Carbohydrates:
25
g
|
Protein:
10
g
|
Fat:
11
g
|
Saturated Fat:
1
g
|
Sodium:
637
mg
|
Potassium:
468
mg
|
Fiber:
3
g
|
Sugar:
9
g
|
Vitamin A:
620
IU
|
Vitamin C:
29.1
mg
|
Calcium:
50
mg
|
Iron:
2.3
mg