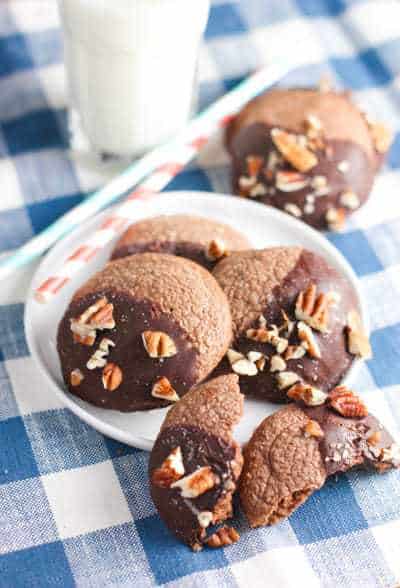 I have been biting at the bit to make these cookies!  I received them as part of the Great American Food Blogger Cookie Swap and let me tell ya, they are one good cookie!  I had to practically lottery out the last few of them around here!
The recipe is adopted from The Floating Kitchen – I have become a huge fan and hope you will check out her blog.  Her photo's and recipes are amazing!
A few Notes: The original recipe called for pistachios, which look great but my cupboards were not giving up any green nuts. I found the pecans to be a nice substitute though.  These cookies are sprinkled with a touch of salt.  I used Kosher but I like the idea of a nice finishing salt if you have some hanging around.  Chocolate for dipping – this is where we need to be a bit picky.  Try to find yourself some nice bitter sweet dark chocolate (opposed to semi-sweet chips) with at least 60% Cacao.  I used Ghirardelli Bitter Sweet 60% Cacoa I found them in the chocolate chip section of my store…perfect and affordable! This is not an overly sweet cookie and the high quality chocolate really sets the whole thing off.
I doubled the recipe for gifts and got about 5 dozen.  They were incredibly easy to make and dipping went quickly.  Dip and lay out on parchment.  Sprinkle with salt, then nuts.  Let them sit for an hour or two for the chocolate to harden up. Package, give to those you love!  Yay!  Cookie love…I mean dang, does it get better than that?
I've got one or two more cookie recipe to share before the year is out and then it's time to get down to business.  The business of health my friends.  On January 5th, myself and a few friends will be challenging ourselves on the Whole30.  If you have not yet heard of this miraculous, cure all, clean you out and lift you up magical eating plan.  Check it out at Whole30.com.  It is a hardcore Paleo program that is not for wimps….no sugar, dairy, grain, legumes or WINE…did I mention no wine?  Holy crap are you kidding me?   But if my BFF can give up cream in her coffee and baked goods, than I can give up wine…30 days.  Nobody is going to die right?  Hold me…I'm scared.
If you are interested in joining our little group, subscribe to this blog and follow along.  Comments, recipe swaps and general whining will be accepted.  Every post in January will be a Whole30 related post with updates from my pals who are joining me.
Enjoy your cookies – hell is just around the corner 🙂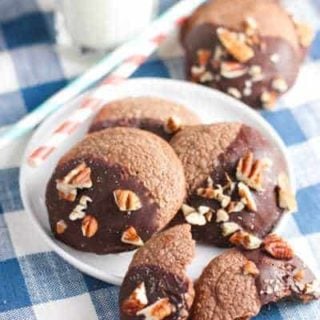 Chocolate Dipped Nutella Cookies
Ingredients
1/2

cup

unsalted butter

melted

1/2

cup

brown sugar

1/4

cup

granulated sugar

2

eggs

1

tablespoon

vanilla extract

1

cup

Nutella

2

cups

all-purpose flour

1

tsp

. baking powder

1/2

tsp

. salt

8

ounces

dark chocolate chips

I used Ghiradelli 60% Cacoa Bittersweet Chips

2

tsp

. vegetable oil

1/2

cup

chopped pecans

Salt for sprinkling

I used Kosher but a finer sea salt would be nice
Instructions
Using an electric mixer or Kitchen Aid, combine the melted butter and sugars. Add the eggs and vanilla, mixing until combined. Warm the Nutella in the microwave for about 20-30 seconds. Then slowly pour it into the bowl, stirring until it's well incorporated.

Stir in the flour, baking powder and salt until well blended. Cover the bowl with plastic wrap and chill for about 1 hour in your refrigerator.

Pre-heat your oven to 350 degrees. Line a baking sheet with parchment paper or Silpat. Form the chilled cookie batter into balls, using about 1 1/2 to 2 tablespoons of batter for each cookie and place them 2" apart on your prepared baking sheet. Bake for 12-15 minutes. The centers should look slightly underdone and the edges should be firm.

Remove from the oven and allow the cookies to cool on the baking sheet for 5 minutes. Then transfer them to a wire rack to continue cooling.

Once the cookies are completely cooled, you can dip them in chocolate. Pour chocolate chips into microwave safe bowl. I use a 4 cup Pyrex measuring cup. Microwave on high for 40 seconds and stir. Continue to microwave for 15 seconds intervals, stirring in between cycles until chips are melted. Add 2 tablespoons vegetable oil to chocolate and mix well.

Dip the cookies halfway in the melted chocolate, scraping any excess off the bottom. Place them on a piece of wax paper. Once all the cookies are dipped, sprinkle the chopped nuts over the dipped half of the cookies. Garnish with a small pinch of salt.

Let the chocolate set before serving or storing. Cookies can be stored in an airtight container at room temperature for about 1 week.

Other stuff thats yummy: