Creamy Cauliflower Au Gratin –  Fresh cauliflower with a creamy cheese sauce and on your table in no time!   How much flavor can you stuff into a vegetable?  This big flavored casserole will have everyone scraping their plates!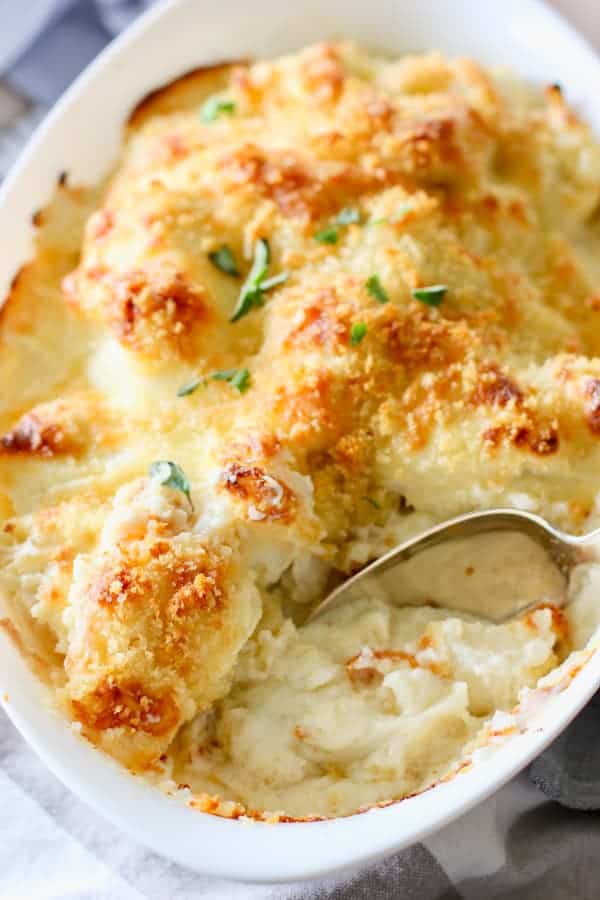 Misbehavin' veggies!  Cauliflower all mixed up with a super easy and creamy cheese sauce!  This recipe  was lovingly borrowed from Ina Garten.   She cooks the way I love to cook, which is simple, fresh and tons of flavor!
We increased the sauce and the amount of veggies to make a bigger casserole. You can never have enough sauce and I wanted this to feed at least 6-8 people as a side dish.  You can stretch this to 10 people depending on how many other dishes you serve.  Would pair great with a baked ham or a roast chicken!  
(If you need more or less servings, remember to use my handy dandy recipe serving feature!  Simply hover over the amount of servings in the recipe card and adjust to the correct amount. ) 
How to make Cauliflower Au Gratin –
Start with about 3 pounds of fresh cauliflower.  One big head or two small ones…about 8 cups. PRO TIP: You can even make this easier by using pre packaged uncooked cauliflower thats already been cleaned and cut!  
Give the cauliflower a head start before going in the oven.  We make this really easy!  I simply put my cleaned cauliflower florets into a large bowl, add about 1/2 cup water, cover with plastic wrap and steam until par cooked!
Another method would be to blanch the cauliflower.  Heat a large pot of water and cook for 5 minutes.  Drain and rinse to stop the cooking process.
NOTE: You want the cauliflower just slightly fork tender.  Careful not to over cook so you don't have cauliflower mush casserole 🙂  Would still taste good…just mushy.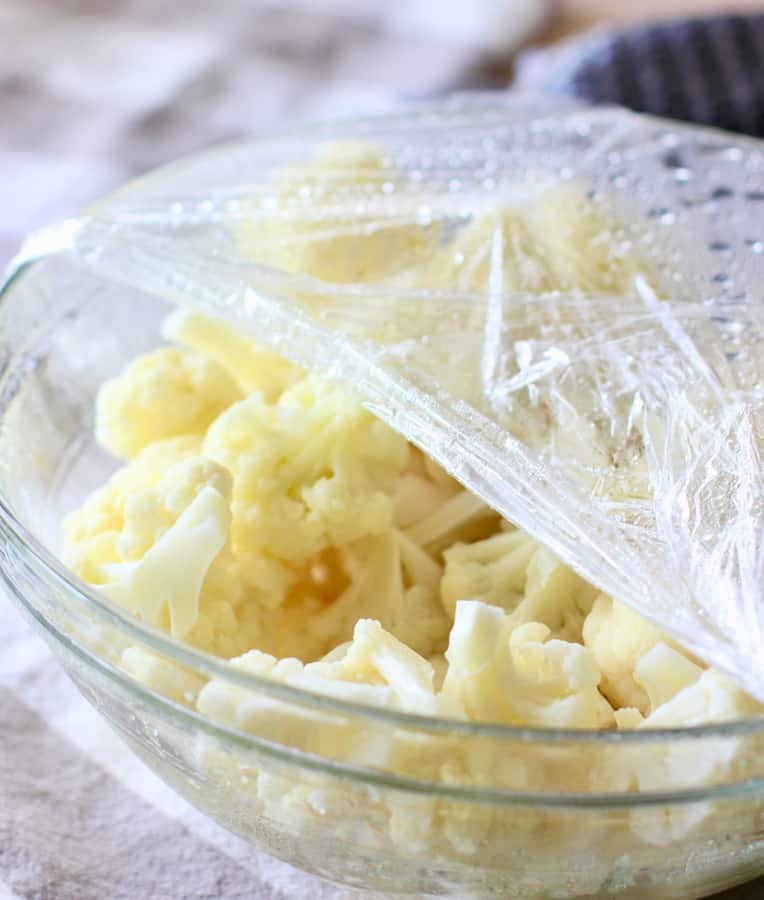 Next we start on the sauce.  This takes only about 5 minutes!
Simply melt butter, add flour then the milk.  Cook until thick and covers the back of a spoon.
Add your cheese!
What kind of cheese should I use in this Cauliflower Au Gratin?
Gruyere is best. But it's not always easy to find and certainly not the most affordable option.
Great substitutes are: Swiss cheese  (we have used this before and  gotten great results).
White cheddar, sharp cheddar, provolone for a milder sauce or really any kind of cheese you have hanging around.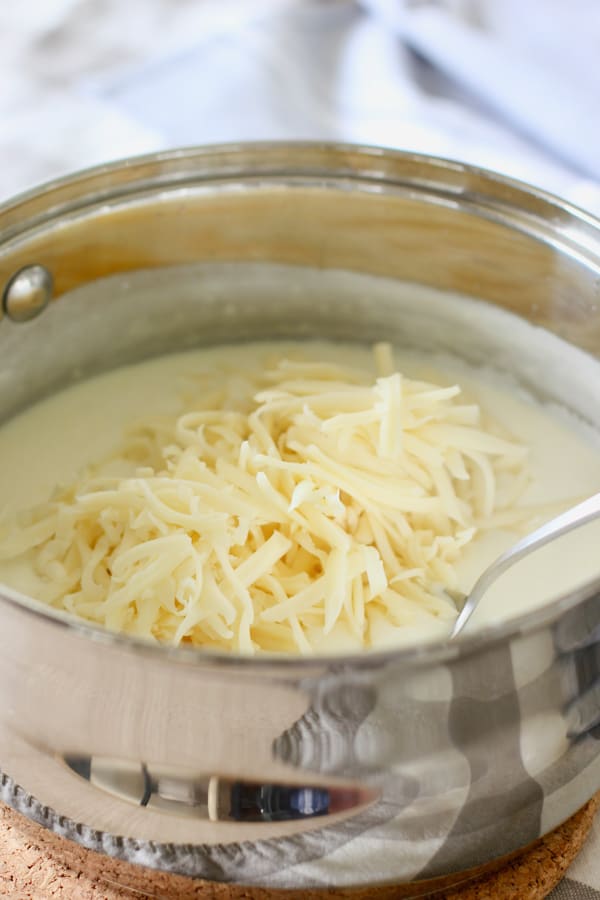 Your cauliflower is tender and your sauce is made.  Time for the quick assembly and into the oven it goes!
Pour about 1/3 cup of cheese sauce into the bottom of your casserole dish.
Add your cauliflower and pour the remaining sauce on top.
NOTE: You're probably wondering why you don't just toss the sauce and veggies in the bowl with the cooked cauliflower right?  You guys are so smart!  It's simply to keep the sauce from hanging at the bottom of the casserole.  We want all that cheese stuff surrounding every piece of cauliflower it can!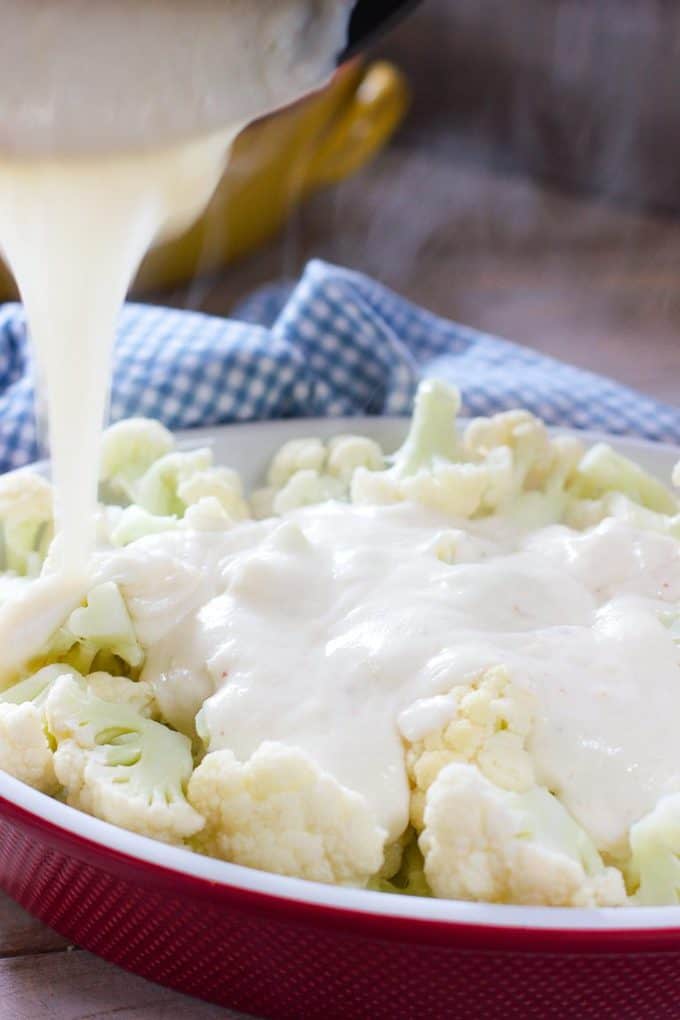 Top with more cheese and bread crumbs.  Bake for about 30-40 minutes and you have a cheesy wonderful dish.
All that's left to do is pat yourself on the back for eating all your veggies!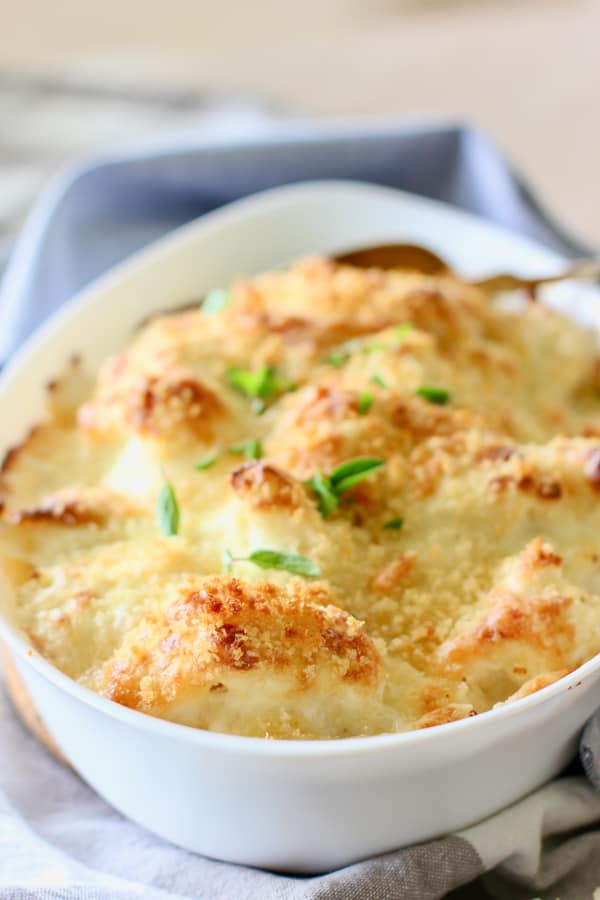 This dish is perfect for the holidays!  Easter, Christmas, Friday Night?  Is there a bad time for cheese vegetables?
 Now that you have mastered how to make an easy cheese sauce.  You are ready to make Baked Ziti with Béchamel !
What should I serve with this Cauliflower Au Gratin?
Pork Chops with Apple Cider Glaze
Oven Fried Chicken Thighs (my personal fave!)
To eating our veggies and enjoying every bite!
Clink!
Kathi
 What do you think about this recipe?Have questions?Comment below!Don't forget to like us on Facebook, and connect with us on Instagram and  tag your @Laughingspatula recipes with #laughingspatula,while you're at it…We love to see your pics! 
Hey and check out our new YouTube Channel!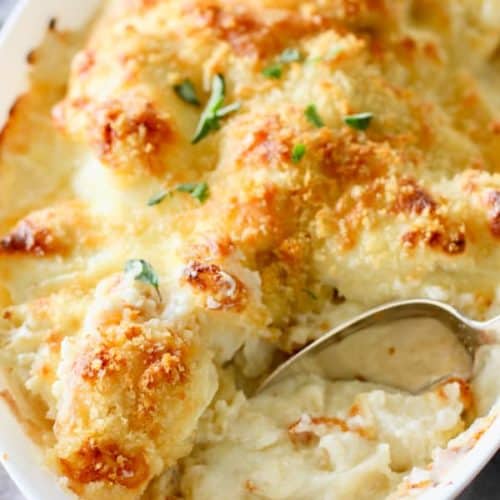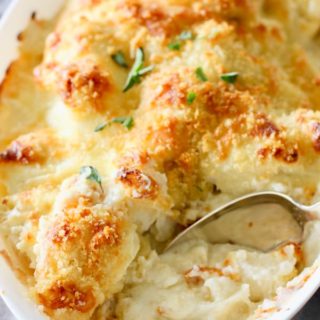 Baked Cauliflower Au Gratin
Fresh cauliflower mixed up with an easy to make cream sauce and topped with Gruyere cheese! Perfect compliment to all your meals and wonderful for any Holiday side dish!
Print
Pin
Rate
Ingredients
8

cups

cauliflower florets

about 3 pounds

4

tablespoons

butter

1/3

cup

flour

3

cups

milk

2 percent or whole

1

cup

Gruyere cheese, grated

Swiss is a great substitute

1/2

teaspoon

salt

1/4

teaspoon

pepper

1/4

teaspoon

nutmeg
For Topping
1/2

cup

panko crumbs

regular bread crumbs would work too

1/3

cup

Gruyere cheese, grated

1

tablespoon

butter, melted
Instructions
Preheat oven to 375 degrees.

Separate cauliflower into florets and either steam for 5 minutes or boil in large pot of water for 5 minutes, until just barely tender. Drain and set aside.

In sauce pan, melt 4 tablespoons of butter. Add 1/3 cup of flour and whisk until smooth and mixture is bubbling.

Add milk and continue to stir until thick. Add one cup of gruyere cheese, salt, pepper and nutmeg. Stir until melted.   Sauce should cover the back of a spoon.

Pour 1/3 of the sauce into an au gratin baking dish or baking dish about that same size. 10 x 10 approximately. A 9 x 13 can be used as well but the casserole will be a bit thinner.

Place par cooked cauliflower on top. Sprinkle with salt.

Pour remaining sauce onto of cauliflower.

For Topping - combine melted butter, gruyere and bread crumbs in small bowl. Sprinkle on top of cauliflower.

Bake for 30 minutes or until top is crispy and cauliflower is tender.
Notes
Substitute swiss cheese or any other big flavored cheese in place of gruyere.
Do not use fat free milk.  Whole milk is best.  2% in a pinch.
Par cook the cauliflower until just barely fork tender, careful not to over cook.
Nutrition
Calories:
268
kcal
|
Carbohydrates:
16
g
|
Protein:
12
g
|
Fat:
17
g
|
Saturated Fat:
10
g
|
Cholesterol:
52
mg
|
Sodium:
378
mg
|
Potassium:
450
mg
|
Fiber:
2
g
|
Sugar:
6
g
|
Vitamin A:
575
IU
|
Vitamin C:
48.2
mg
|
Calcium:
356
mg
|
Iron:
0.9
mg