Prosciutto Wrapped Pork Tenderloin – Incredibly easy to make!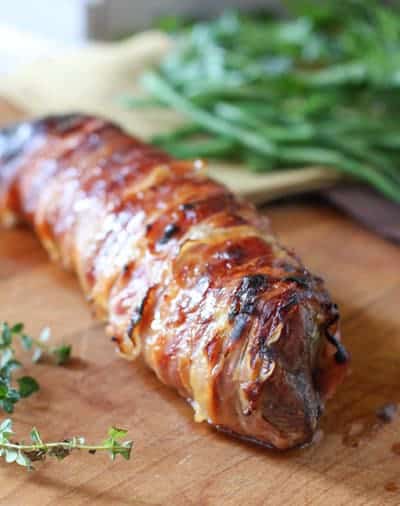 The easiest Tenderloin roast you will ever make!  No searing the meat prior to cooking, no tying little strings….just baste with a simple honey dijon sauce, wrap, bake and eat!  You are soooo gonna impress your family and friends with this one!
The honey dijon sauce does double duty.  It flavors the meat as well as keeping the prosciutto adhered to the tenderloin,  so tying little annoying strings is not necessary.  I don't know about you, but these chubby little fingers hate that string.
How to make Prosciutto Wrapped Pork Tenderloin
First get a piece of parchment paper, foil or even plastic wrap will do.  Lay out your prosciutto, overlapping slightly, making it the same length as your pork loin.  Place the pork on the prosciutto and brush with half of your honey dijon sauce.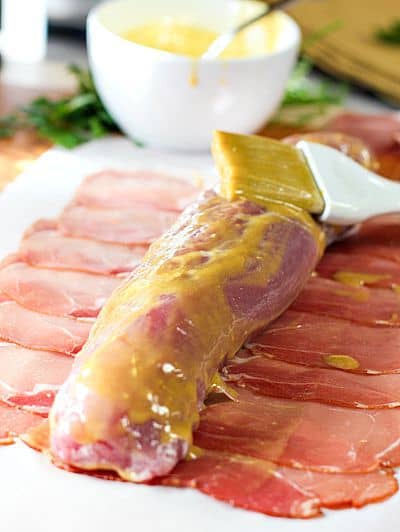 Now just lift up the parchment edge and it will just roll itself up!  It's a miracle I tell ya!
Roll as tight as you can.  The pork will shrink a bit so you want it to adhere.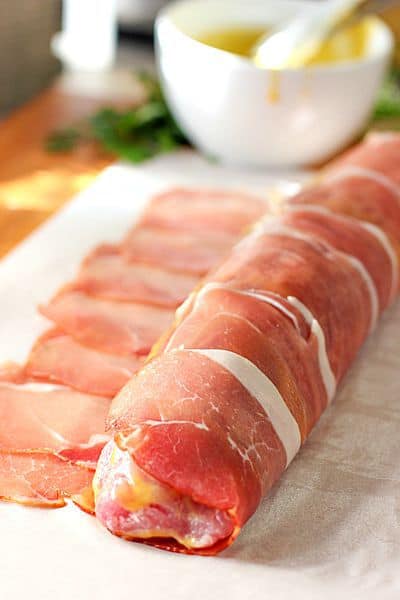 Now brush the rolled up pork with a bit more honey dijon sauce, right on top of the prosciutto.  Then pop in the oven for 45 minutes and the crowd goes crazy with your cooking super stardom!  Your family and friends are amazed and you win triple big hugs at dinner time!  Go you!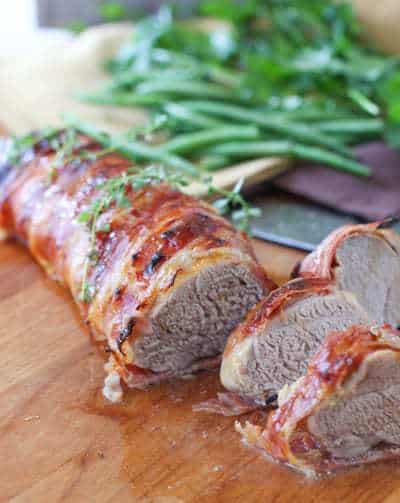 NOTE:  Turn this into a simple sheet pan dinner by tossing some cubed sweet potatoes and brussell sprouts around the pork!  One pan easy!
If you really wanted to make them go crazy with food delight.  I'd serve this with my Cheesy Potatoes Au Gratin!  Don't be fooled by this dish's fancy pants appeal.  It's just sliced potatoes standing up at attentions with a simple cream sauce!
To easy and healthy dinners!
Clink!
Kathi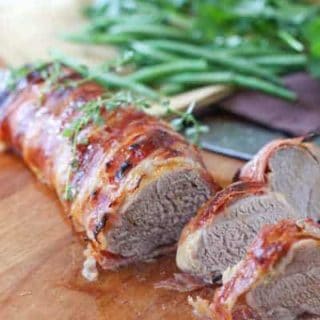 Prosciutto Wrapped Pork Tenderloin
An incredibly easy but fancy looking dinner!
Ingredients
1 3 - 3.5

pound

Pork Tenderloin

2

oz

of thinly slice Prosciutto

1/4

cup

honey

omit if Paleo or Whole30

1/4

cup

dijon mustard

salt and pepper
Instructions
Preheat oven to 400 degrees

In small bowl combine honey and dijon

Lay out Prosciutto on parchment, slightly overlapping.

Place pork on Prosciutto.

Brush with honey dijon mixture and sprinkle with salt and pepper.

Lifting parchment, roll up.

Bake for 30-40 minutes or until meat thermometer reads 160 degrees for medium well.

Let rest 10 minutes before slicing (this is important 🙂
Nutrition Facts
Prosciutto Wrapped Pork Tenderloin
Amount Per Serving (4 ounces)
Calories 173
Calories from Fat 43
% Daily Value*
Total Fat 4.8g 7%
Cholesterol 78.7mg 26%
Sodium 305mg 13%
Total Carbohydrates 6.2g 2%
Protein 25.6g 51%
* Percent Daily Values are based on a 2000 calorie diet.
SaveSave

Other stuff thats yummy: