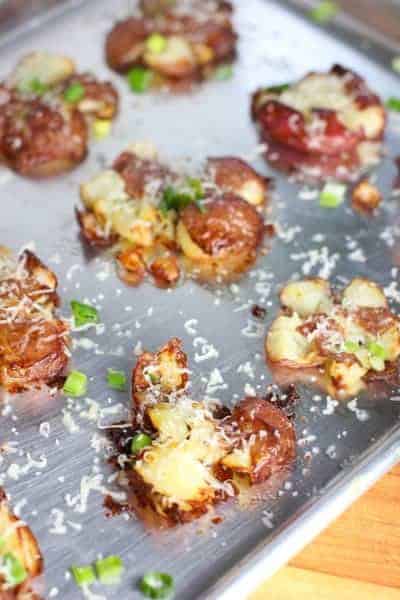 This recipe is a direct desendent from The Pioneer Women. At least thats as far back as I could trace it.   I pretty much love everything she does.  She is the first 'food blogger' I had ever heard of and boy has she done good!  She went on to create quite an empire.  She is a fabulous self taught photographer, she has a show on the Food Channel and in her spare time she home schools her kids.  She seems genuine and sweet and her recipes are family friendly.  She tends to go a little heavy on the butter for me but I can usually make adjustments to make them a bit cleaner and artery friendly.
As for these potatoes they were super easy and fun to make!  I tried to crush them with a potato masher like she did,  but they kept sticking.  I finally just used a Mason jar.   I rubbed a little olive oil on the bottom of the jar to keep the potatoes from sticking.  Placed the jar on the hot potato, pressed and…boom!  Pretty little smashed tater…yay!  Then throw them in the oven to crisp up and it's a nice change from your regular old side dish.
I didn't go big with the toppings.  I wanted you to see the potato in the photo, but you could go crazy depending on your taste and waistline restrictions…if any!   Sour cream, bacon, cheese….goes on and on.  I ate them chilled for lunch the next day and could totally see these as a cold appetizer!
They would be great with Macadamia Nut Crusted Chicken or Lime and Garlic Salmon!
My Whole30 and Paleo friends: Omit the parmesan cheese and these are Whole30 compliant. I am still not clear if white potatoes are Paleo friendly or not….conflicting information.  But in my world, they work .  They are a whole food that comes from the ground so it fits for me.
Crispy Smashed Potatoes
Ingredients
12

small red or yellow potatoes

3-4

tablespoons

olive oil

Salt and Pepper

Your choice of toppings - parmesan cheese

herbs, sour cream, bacon etc.
Instructions
Preheat oven to 450.

Put whole small potatoes in large saucepan or dutch oven. Fill with water until potatoes are covered.

Bring to a boil and simmer for about 15-20 minutes until fork tender.

Drizzle a couple tablespoons oil onto a large sheet pan.

Drain potatoes and while still hot, place on prepared baking sheet.

Using a jar or mug gently press down on the potato until smashed.

Brush with olive oil.

Sprinkle GENEROUSLY with salt and pepper.

Bake in hot oven for 15-20 minutes until crispy and brown.

Top with your choice of herbs, cheese etc...

Other stuff thats yummy: