This Garlic, Dijon and Fresh Herb Salmon will become your favorite go to salmon recipe! Using a medley of fresh herbs, garlic and dijon this easy salmon recipe can be enjoyed any night of the week, and the best part? It only takes about 5 minutes to put together!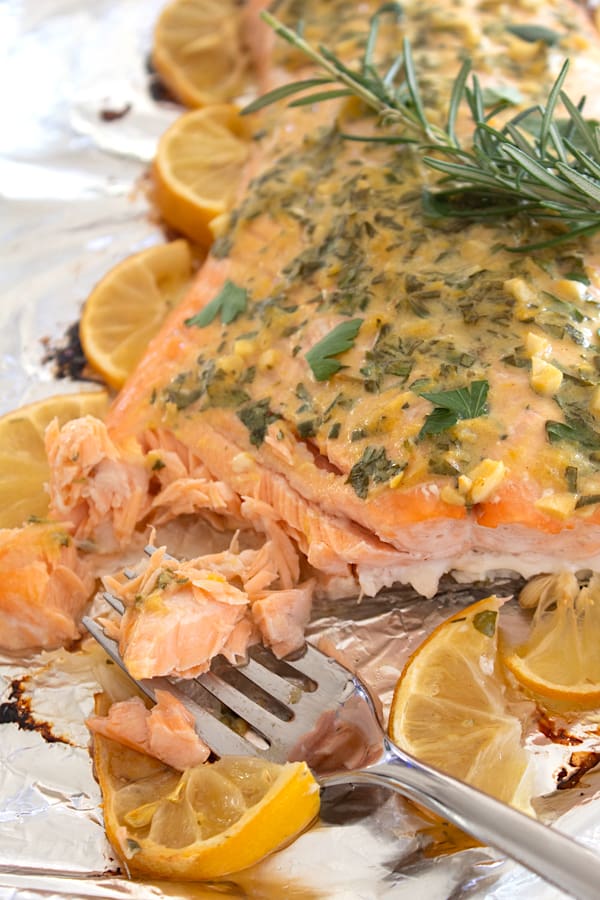 This is an older recipe that needed some updating. Normally, we skip stories and get straight to the recipe/food, but today we will get a little personal. At the time this recipe was written, roughly 2013, we were living in Seattle. The rain would get us down 9 months out of the year..But when summer came? It was glorious and you would forget about the 9 months of gloom. Seattle is the most beautiful city you've ever seen in the sun. Everything is green, flowers are blooming, lakes and parks are overflowing with families and dogs, the waterfront is packed, it really is picturesque. Summer evenings, we'd sit in the backyard, listen to smooth Jazz, have dinner and chat the night away the 3 of us as a family (this was before Greg came along). Looking back, I wish I could go back to those days. Life felt so simple! I still listen to smooth Jazz and I don't care who knows it. Sometime, ask your Alexa to play it…it really is relaxing. Perfect music to dive into the kitchen and cook a great meal to.
"This year, for the first time EVER…I have a nice little herb garden with herbs that actually grow,  that I can actually use! I am not known for my green thumb.  I like instant gratification…things that grow take too long. However, this year Seattle has had a warm, wonderful summer and things are growing in our garden, easily, without too much interference from me." Sometimes, when a recipe needs new pictures, we redo them, and usually delete the commentary. I couldn't delete this…What a happy little blurb from the past this is, it brings back moments we forget existed. This blurb is more for me, than it is you, thank you for humoring me and staying the course of this recipe! Now, back to it.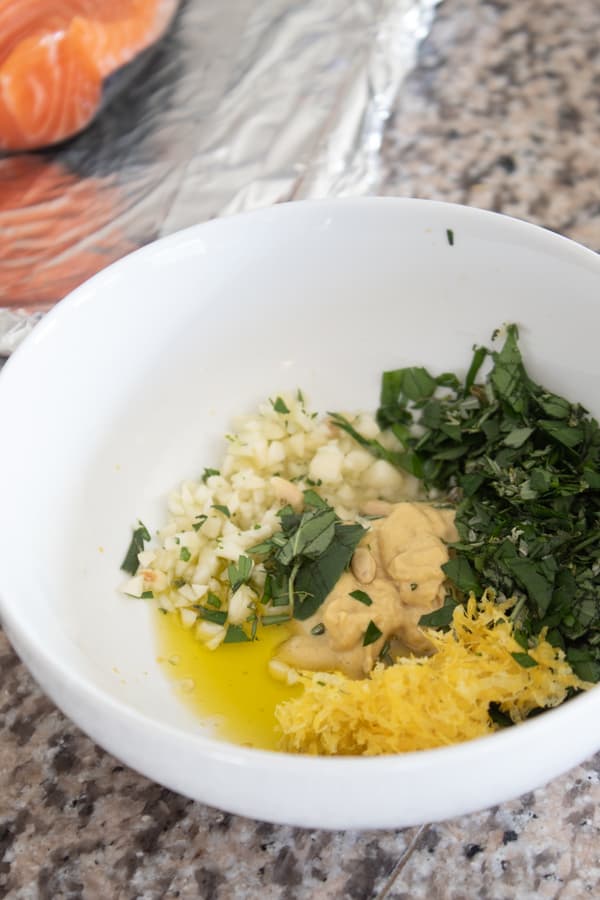 Herb Topping for Salmon:
Chopped Garlic (I really recommend fresh for this recipe, not the jarred kind!)
Fresh Herbs (You can use any medley you prefer. In my garden, I had Rosemary, Parsley & Oregano.)
Dijon Mustard
Lemon Zest
Lemon Juice
Olive Oil
Salt and Pepper to Taste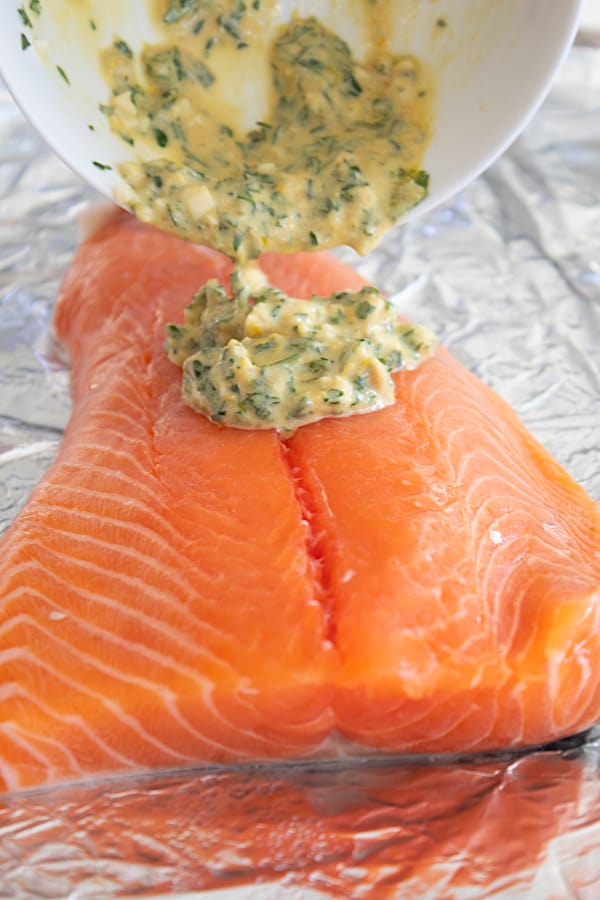 Once the marinade has been mixed, pour it on top. I like to use the back of a large spoon to spread it around.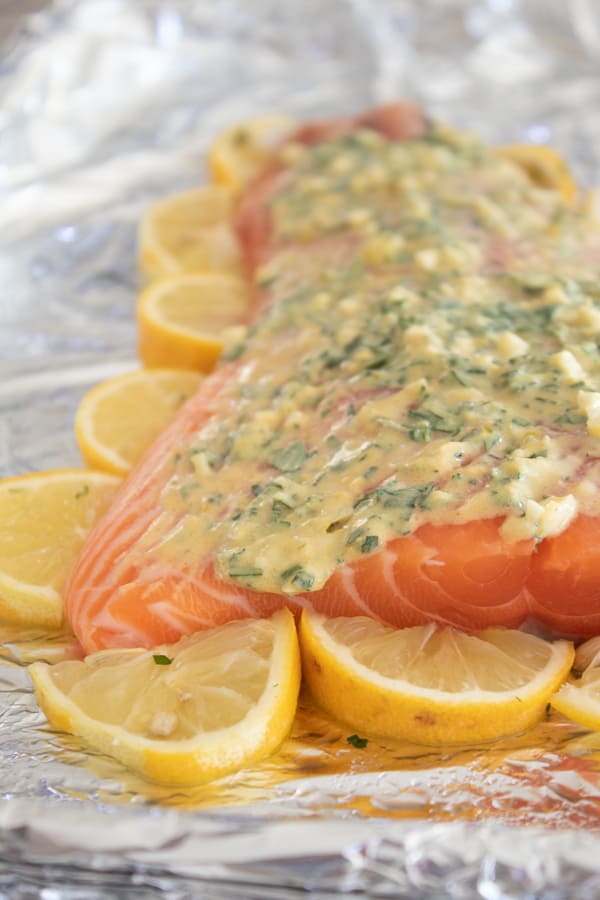 One trick I learned from my mom is to line salmon with whatever citrus you're cooking it with- for this recipe, it was lemon. We also use this technique with our Honey and Orange Glazed Ginger Salmon. By lining the salmon with citrus, you're adding flavor to the base of the fish, but also catching any of those delicious herb drippings sealing in the flavor around the fish (versus it spreading around the pan).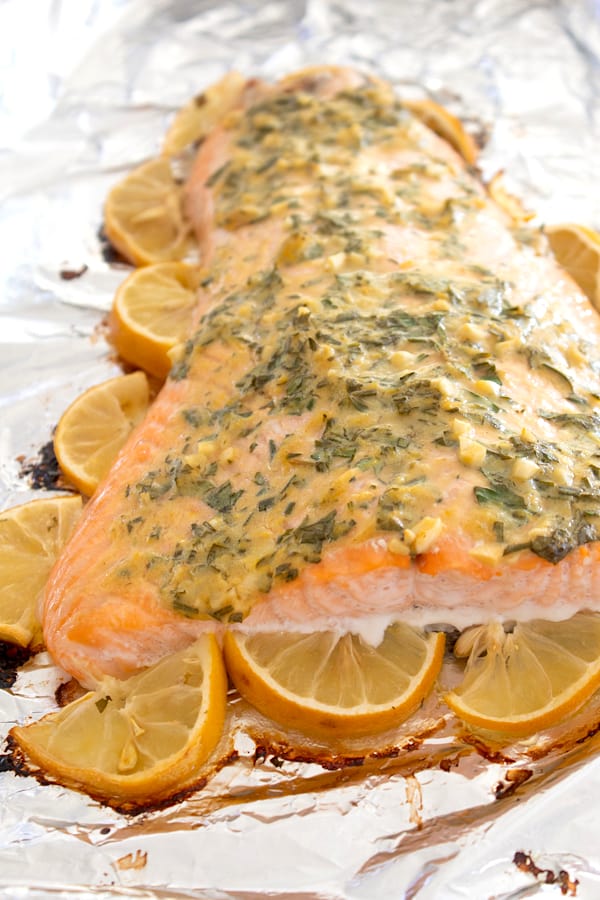 You can either bake or grill this salmon. For both methods, cook the salmon to a temperature of 135 degrees Fahrenheit and letting it come up to 145 degrees farenheit outside of the oven. By letting the salmon rest outside the oven, you're letting the fish cook completely, without it becoming dry and overdone. The end result is perfect, buttery, melt in your mouth salmon!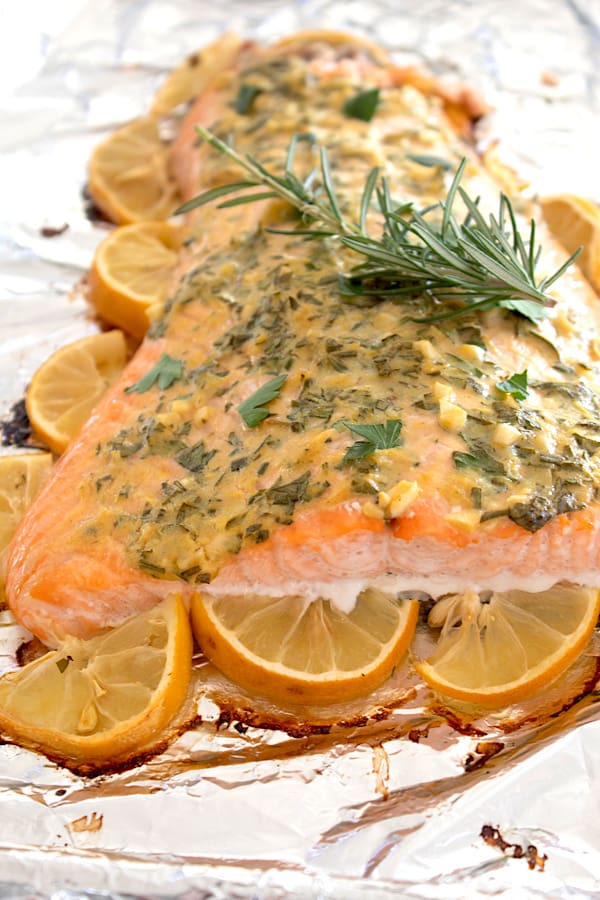 And that's it! Simple, flavorful, healthy salmon. If you love salmon as much as we do, check out these recipes featuring our favorite fish:
Cheers! – Kathi & Rachel (now writing from Palm Springs)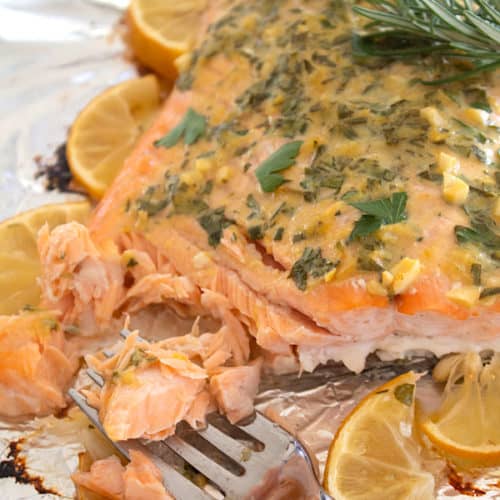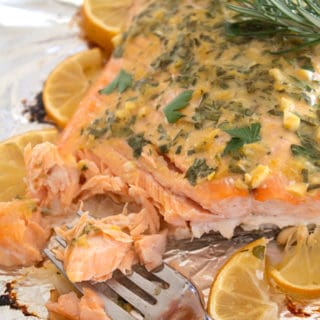 Garlic, Dijon and Fresh Herb Salmon
An easy and healthy salmon dinner your whole family will love!
Print
Pin
Rate
Ingredients
4-6

salmon fillets

(or, a 1.5 lb whole filet)

1/4

cup

fresh chopped herbs

(I used a medley of rosemary, parsley & oregano but use whatever you have on hand)

1

lemon, zested & juiced

1

lemon, sliced

(optional)

1

tbsp

olive oil

1

clove

garlic, finely chopped

2

tbsp

dijon mustard

salt & pepper to taste
Instructions
Preheat oven to 375 or prepare grill. (I prefer to bake this on a foil lined sheet pan for easy cleanup!)

Chop fresh herbs and garlic, put in small bowl. Add the zest & juice of one lemon, and add remaining ingredients. Whisk with fork until combined.

Spread mixture over salmon. Line salmon with lemon slices if desired.

Bake or grill until fish is firm (about 20 minutes) and around 135 degrees fahrenheit. Allow fish to rest to come up to temperature. Fish is fully cooked once it reaches 145 degrees fahrenheit.
Nutrition
Calories:
196
kcal
|
Carbohydrates:
4
g
|
Protein:
23
g
|
Fat:
10
g
|
Saturated Fat:
1
g
|
Polyunsaturated Fat:
3
g
|
Monounsaturated Fat:
4
g
|
Cholesterol:
62
mg
|
Sodium:
108
mg
|
Potassium:
617
mg
|
Fiber:
1
g
|
Sugar:
1
g
|
Vitamin A:
110
IU
|
Vitamin C:
19
mg
|
Calcium:
29
mg
|
Iron:
1
mg