Double Chocolate Chip Cookies with Sea Salt! – Chocolate and salt…a match made in flavor heaven!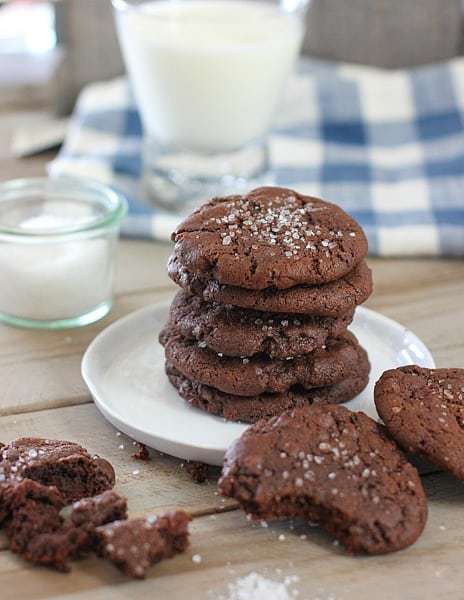 Cookie lovers of the world unite!  I bring unto you the perfect cookie! Double Chocolate Chip Cookies with Sea Salt!
There is chocolate and more chocolate topped with salt and baked to perfection with a soft and chewy inside!
I first posted this recipe  last year.  But I have made these beauties about a dozen times since then, and have simplified the recipe bit.  If there is a short cut I will find it!
I measure the dry ingredients right into the wet ingredients, without messing up another bowl.  Brilliant!  Now I'm sure there is a  pastry chef somewhere rolling their eyes and thinking this is such an amateur move. (ya, right…like a pastry chef reads my blog). But it works.  One less dirty bowl.
You clean your dirty bowls pastry chef person…I'll clean mine.
Why do I do I take these culinary risks?  Because I love you guys, and I want you to be happy…and chubby.  Be me.  Happy and chubby and eating Double Chocolate Chip Cookies with Sea Salt!
It's not a bad thing to be chubby and happy. You get cookies instead of kale…and people will like you.   I know this because if I brought kale to a friend, they would not like me.  I live to be liked, so I bring my friends cookies, not kale.  Nuff said…
Tips to make Double Chocolate Chip Cookies with Sea Salt
 You do not have to chill the dough, you can can go right into feeding the cookie beast as soon as possible.
You don't need a bunch of fancy chocolate.  Regular old Hersheys cocoa and some good semi-sweet chocolate chips will do the trick.
They are not kale and your friends will like you.
To chubby and happy!
Clink!
Kathi
My other favorite easy cookie: Peanut Butter Crinkle Cookies!  More chub, more friends, yay!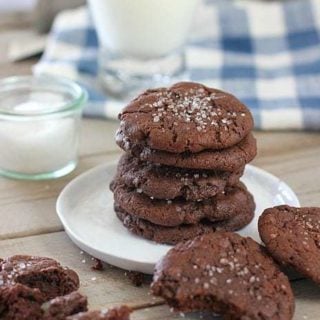 Double Chocolate Chip Cookies with Sea Salt
A wonderful chocolate chip cookie with a salty crackly top!
Ingredients
1¼

cup

all-purpose flour

¼

cup

dutch cocoa powder

½

teaspoon

baking soda

½

teaspoon

salt

½

cup

white sugar

½

cup

brown sugar

½

cup

butter, melted

1

large egg

1

teaspoon

vanilla extract

1

cup

semi-sweet chocolate chips

sea salt for sprinkling
Instructions
Pre-heat the oven to 375 degrees. Line baking sheets with parchment paper or silicone baking sheets.

Using an electric mixer, cream together the white sugar, brown sugar and melted butter on high. Reduce the speed to low. Add the egg and vanilla extract and mix until combined.

Add the flour, cocoa, baking soda and salt right into the wet mixture.

Mix until well combined.

Fold in the chocolate chips using a spatula.

Roll dough in 2" balls and place several inches apart on the cookie sheet.

Using your hand or the back of a spoon, gently press the top of each cookie dough ball until slightly flattened.

Sprinkle the top of each cookie with a pinch of sea salt.

Bake for 9-12 minutes, or until the cookie shows crackle on top and edges are slightly browner than the cookie.

Cool for 10 minutes and move to wire rack.

Other stuff thats yummy: