These Crunchy Oven Baked Sweet Potato Fries are crunchy on the outside and soft on the inside!  Baked, not fried for a healthy french fry fix!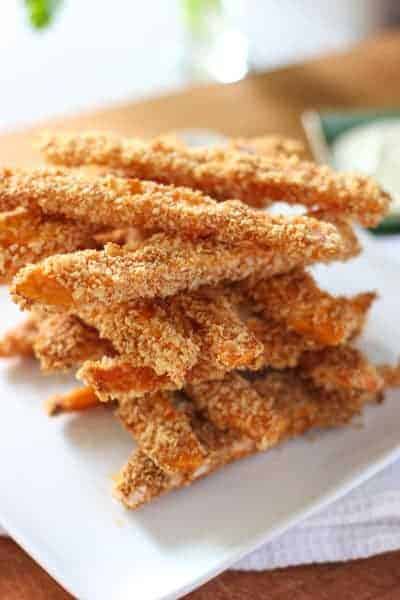 Another recipe using pre-browned Panko Crumbs.  First there was Panko Crusted Salmon, followed by Crispy Oven Baked Fish and Chips and now…well now we have,
Double Crunch Oven Baked Sweet Potato Fries!
The crème de la crème of oven baked fries…the top dog, big cheese, who wears the big hat daddy, most awesome oven baked fries you have ever wrapped your lips around!  I guess you could say I kinda liked 'em….
I am seriously in love with french fries – I'd give up dessert for them.  But alas, neither my arteries or waistline feel the same kind of affection for them as I do.  So during a recent french fry craving I had the brilliant (yes french fries can be brilliant) idea to crunch them up with my miracle pre-browned Panko crumbs!
I tried  the 3 dip method (flour, egg, Panko)  and the 2 dip method (just egg and Panko) and I am pleased to report you can ditch the flour and just use egg and Panko – no difference at all.  One less dirty dish and a few less carbs. More brilliance!
I mixed up some plain greek yogurt and Dijon mustard for a fabulous dip – my arteries are smiling at me today.
Notes: Cut your potato in french fry size (not wedges).  These are going to cook up in about 20 minutes and you don't want the crumbs to over brown and the potatoes still be uncooked.  I used one large sweet potato and got about 2 dozen large fries.  Feel free to add your favorite spices to the Panko crumbs – skies the limit here.
Brilliant!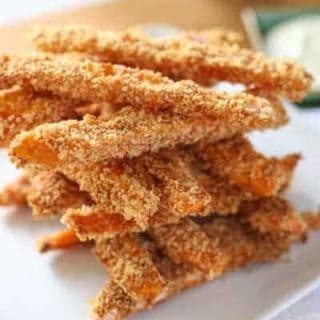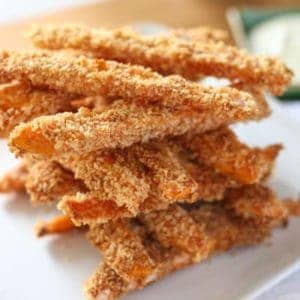 Double Crunch Oven Baked Sweet Potato Fries
These Double Crunch Oven Baked Sweet Potato Fries are extra crunchy on the outside and soft on the inside for a big french fry fix when you need one!
Print
Pin
Rate
Ingredients
1-2

large Sweet Potatoes - peeled and cut into french fries

2

eggs

cup

*1 pre-browned Panko Crumbs

Salt and Pepper

in

* Pre-browed Panko crumbs - heat non stick skillet over medium high heat. Pour crumbs into dry skillet. Toast until light brown . Cool for about 10 minutes before using - they get pretty hot.

careful not to over toast - they will brown up more the oven
Instructions
Preheat oven to 400.

Coat a large baking sheet with non-stick spray - give it a good double spray. (you can use a couple tablespoons of vegetable oil if you prefer).

In a medium bowl, mix both eggs. Set aside.

Pour pre-browned Panko crumbs on a plate. Salt and pepper well. (you can add additional spices like paprika, garlic powder or cayenne at this point).

Dip the fries (2 or 3 at a time) into the egg and then into the Panko crumbs.

Place on prepared baking sheet.

Bake for 20-30 minutes or until a fork tender. Sprinkle with additional salt if required.

Serve with your favorite dipping sauce.
Nutrition
Calories:
59
kcal
|
Carbohydrates:
6
g
|
Protein:
3
g
|
Fat:
2
g
|
Cholesterol:
81
mg
|
Sodium:
49
mg
|
Potassium:
139
mg
|
Sugar:
1
g
|
Vitamin A:
4730
IU
|
Vitamin C:
0.7
mg
|
Calcium:
22
mg
|
Iron:
0.6
mg