Here is my second installment on the beauty of  pre-browned Panko crumbs!  I posted Panko Crusted Salmon a couple weeks ago and I am still in awe over what I can do with these things!
These are crunchy and tender and I can hardly wait to make them again.  I served them with french fries (the frozen variety) but next time  will serve with homemade.   I would love to make homemade tarter using greek yogurt as well – man is there anything you can't do with that stuff!  I'm addicted!  So stay tuned for those two recipes..but for now, just straight up fish…and frozen chips.  (Can I really call this Fish and Chips if the chips are store bought? Well yes, yes I can.)
Mr. Laughing Spatula did the dirty dipping work.  Couple glasses of chardy and that man is putty in my hands…oh the things he does for me while on a wine buzz….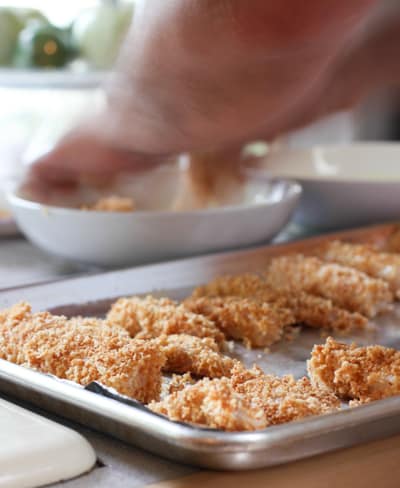 These require a triple dipper – flour, egg than Panko.  Set up three bowls for your work station and it goes really quickly – well it did for him.  I just watched and poured…love my job!
NOTES: You are gonna get a bit messy – be sure to take a sip of your wine before you start or you will get your glass all gunky…this is the most important advice I have.   Oh, and  make sure your oven is preheated for this recipe, it makes a big difference.
You can see my Panko Crusted Salmon recipe hear!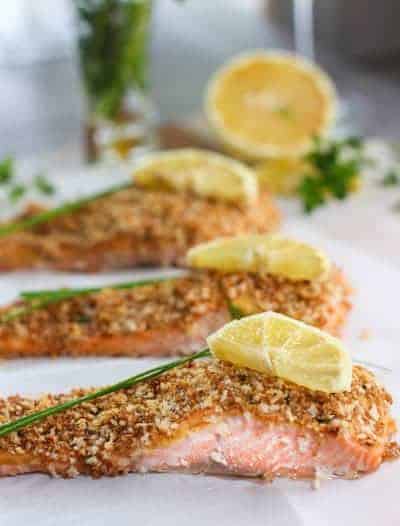 Clink!
Kathi
Crispy Oven Baked Fish
Ingredients
2

pounds

Cod

2

tablespoons

vegetable oil

1/2

cup

flour

2

eggs

cup

*1 1/2 toasted Panko crumbs

Salt and Pepper

cups

*For toasted Panko Crumbs: Heat large dry non-stick skillet over medium high heat for about 3-4 minutes. Add 2 of crumbs and stir until lightly browned. Remove from pan immediately or they will continue to brown.
Instructions
Preheat oven to 450 degrees

Slice cod into strips.

In three separate bowls:

add flour to one bowl,

Beaten eggs in second bowl

Toasted Panko Crumbs, salt and pepper to taste in third bowl.

Coat a baking sheet with 2 tablespoons vegetable oil.

Coat fish with flour then dip into egg and roll in the crumbs

Place on baking sheet and bake for about 10-12 minutes, turning once.

Other stuff thats yummy: