Fresh Crispy Oven Baked Fish and Chips all baked on ONE SHEET PAN!  No grease, no clean up,  no clogged arteries.  Feeling skinny! Check out our secret weapon for perfect oven baked fish!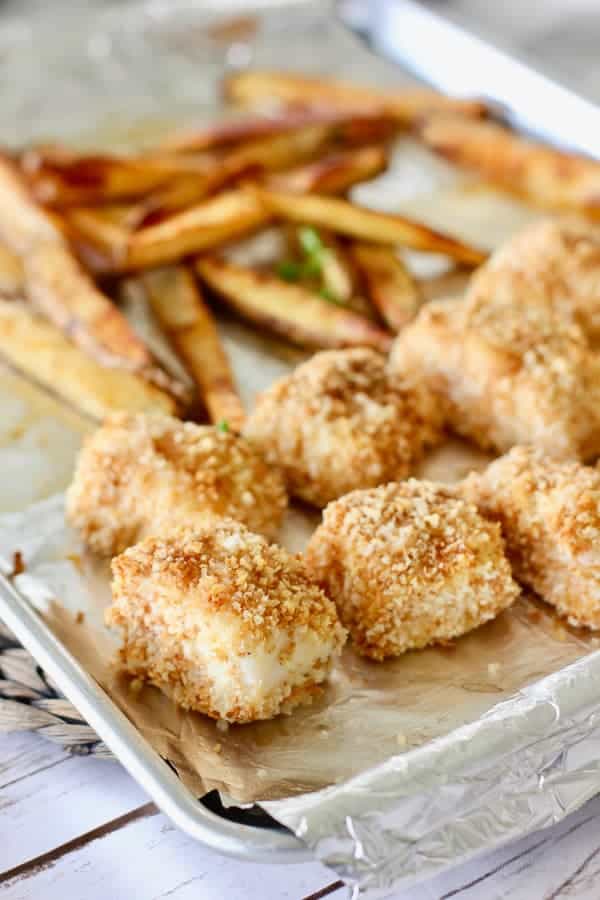 The trick to making Crispy Oven Baked Fish and Chips!
Whats that secret?  Pre browned panko crumbs!  Simply dump those plain old panko crumbs in a hot skillet and 5 minutes later they are golden.  This gives them a good head start so you don't over cook your fish trying to get the crumbs brown.
Here is my second installment on the beauty of  pre-browned Panko crumbs!  I posted Panko Crusted Salmon   and I am still in awe over what I can do with these things!
We used ONE SHEET PAN for the  fish and the fries!
We gave the fries a 15 minute head start and left room on the sheet pan for the fish.  We used a really hot oven.  450 degrees to make sure those fries get good and crispy.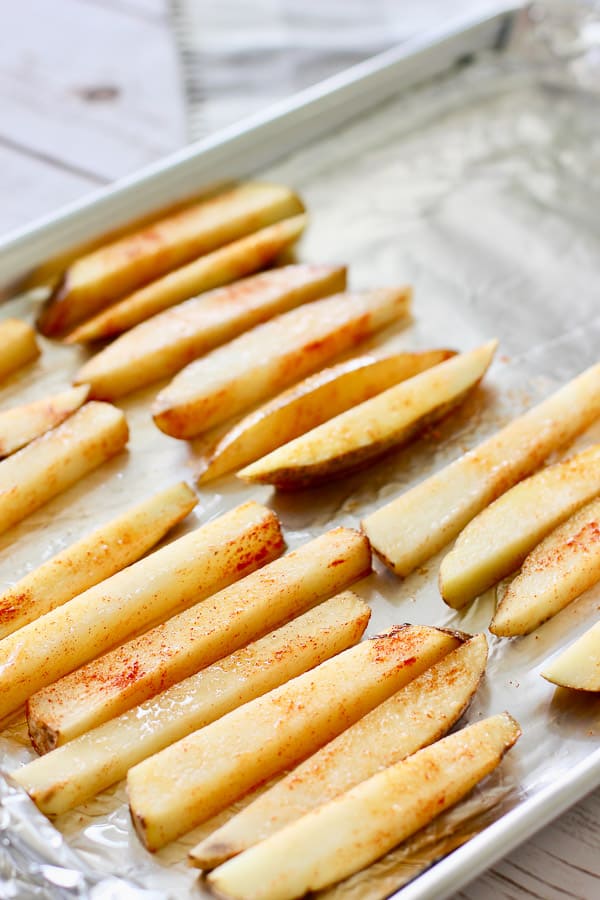 While the fries are cooking set up your dredging station with 3 bowls (paper plates work great for the dry ingredients for a quick clean up).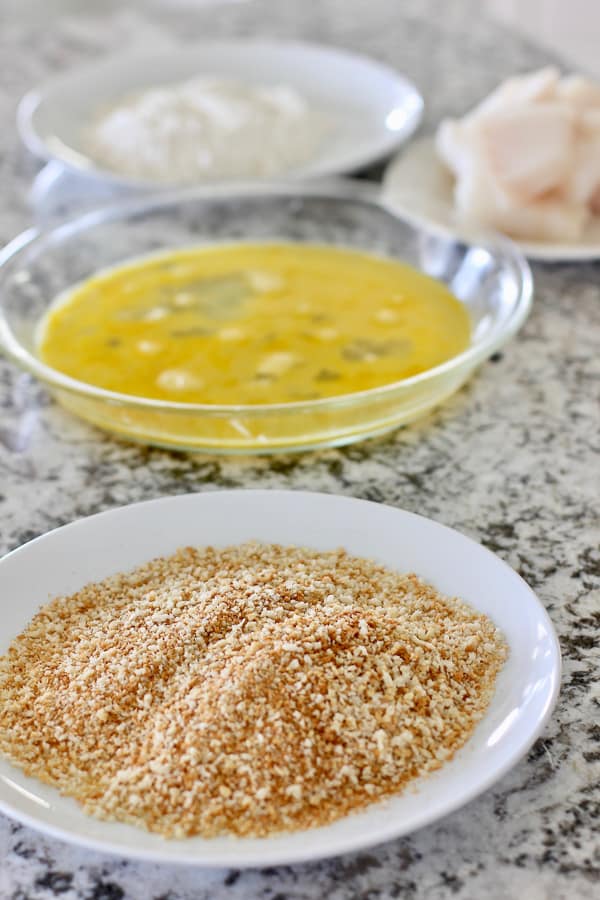 It's messy business…better take a sip of that chardy before you get started or you'll muck up your wine glass.  Get me started on how I hate a dirty wine glass…
Dip in FLOUR, EGG, PANKO.  Set onto a nonstick surface like parchment or acrylic cutting board.  By the time your done, your fries will be half way there!
You can try the wet hand, dry hand method…but I never get it right.  Seems my left hand doesn't know what my right hand is doing.  Could explain a few things…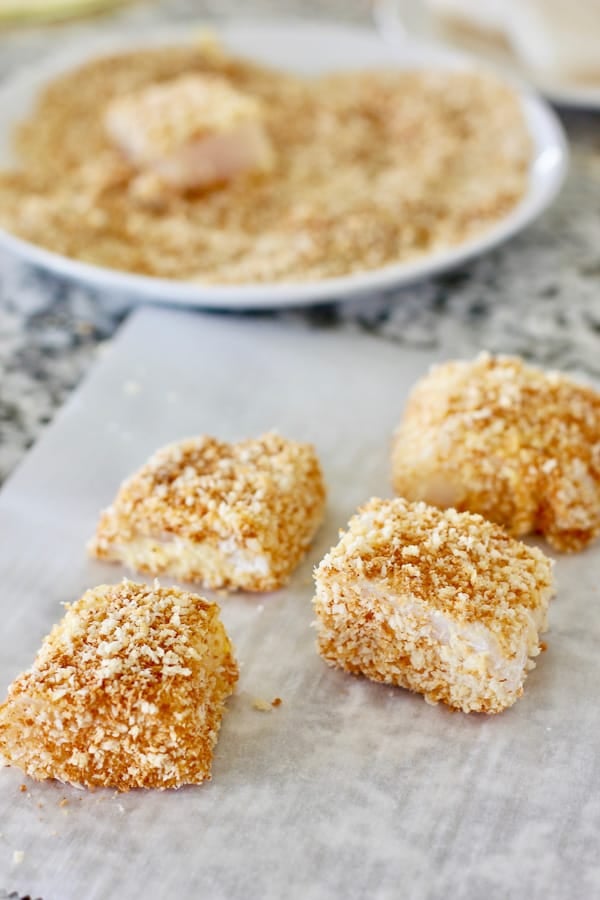 15 minutes later pull that hot sheet pan from the oven and add the panko crusted fish.
Back in the oven for a quick 12-15 minutes ( depending on the thickness of your fish) and ding fries and fish are done!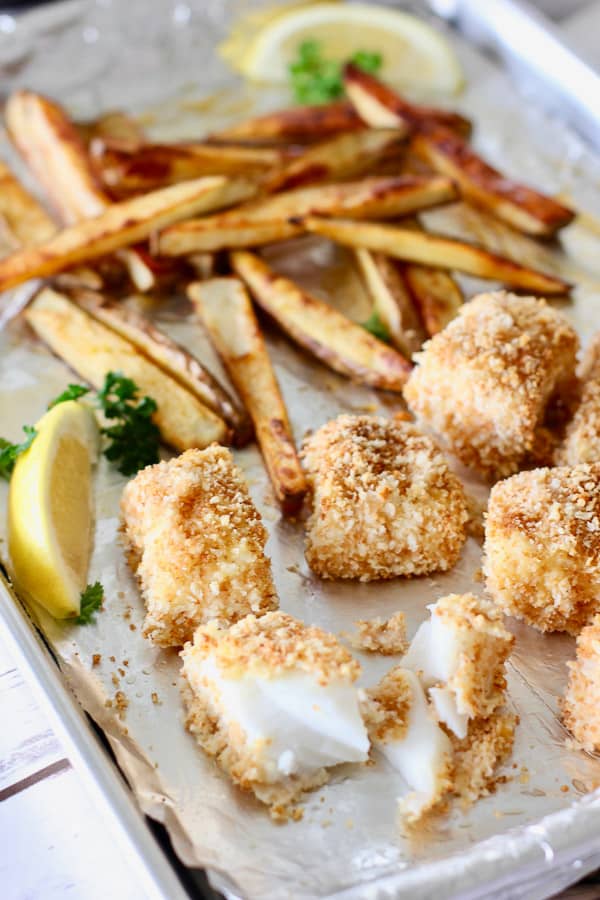 We serve this with out Greek Yogurt Honey Mustard Dipping Sauce!  More skinniness!  yay!
To easy, fast, fresh and healthy dinners!
Clink!
Kathi
What do you think about this recipe?Have questions?Comment below!Don't forget to like us on Facebook, and connect with us on Instagram and  tag your @Laughingspatula recipes with #laughingspatula,while you're at it…We love to see your pics! 
Hey and check out our new YouTube Channel!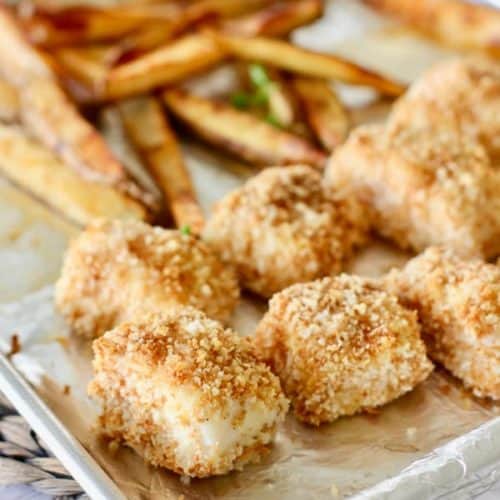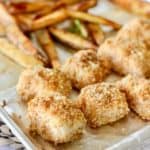 Crispy Oven Baked Fish and Chips
Crispy oven baked (not fried) fish and chips! The panko crumbs are lightly toasted before dredging to give them a head start and assure your fish is super brown and crispy every time! The fresh fries are cooked on the same pan as the fish...easy clean up!
Ingredients
2

pounds

Cod, Halibut or Mahi

thicker fish cuts work best

2

tablespoons

vegetable oil

1/2

cup

flour

2

eggs

2

cups

Panko crumbs

toasted brown in a skillet

Salt and Pepper

2

large

russet potatoes, sliced for fries

peel on or off

1/2

teaspoon

paprika
Instructions
Preheat oven to 450 degrees.

Heat skillet to medium high heat. Add panko crumbs to dry pan (no spray stick, oil or butter required). Toast for about 5 minutes until just lightly brown. Try not to over toast, it will finish in the oven

Wash potatoes and pat dry. Cut into french fry shapes and PAT DRY AGAIN. Dryer the potato, better the fry.

Cover large baking sheet with foil or parchment. Add one tablespoon vegetable oil to HALF of the sheet pan. Toss the dry fries in 1 tablespoon vegetable oil, salt, pepper and paprika. Place in oven and set timer for 15 minutes.

While fries are baking: Slice fish into stripes or squares, keeping them the same size to ensure even baking. Pat dry, season with salt and pepper.

Using three separate bowls, add flour to one, eggs in second and browned crumbs into the third.

Dredge fish pieces in flour than egg then panko.

Remove hot sheet pan carefully from oven. Spray empty half with non stick spray and add fish. Bake for an additional 15 minutes or until fish is firm to touch and cooked through.
Nutrition Facts
Crispy Oven Baked Fish and Chips
Amount Per Serving
Calories 396
Calories from Fat 81
% Daily Value*
Fat 9g14%
Cholesterol 179mg60%
Sodium 383mg16%
Potassium 1811mg52%
Carbohydrates 67g22%
Protein 52g104%
Vitamin A 335IU7%
Vitamin C 12.8mg16%
Calcium 127mg13%
Iron 5.1mg28%
* Percent Daily Values are based on a 2000 calorie diet.