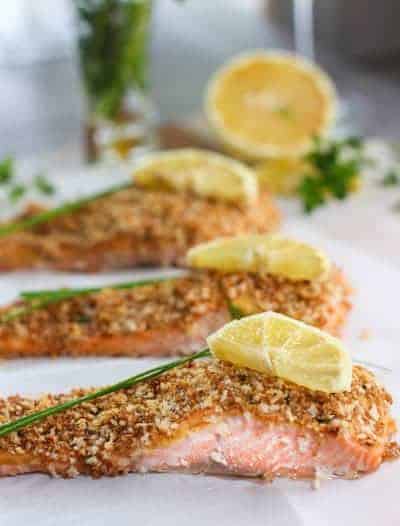 I am totally obsessed with Panko Crumbs lately.  This is the first of three recipes that I'll be sharing over the next few weeks that include Panko.  I've been using them for years but I stumbled upon a new trick that has me falling in love all over again.  Drum roll please!  Pre-toast the crumbs!  It is so easy and makes such a difference… why didn't I ever think of this before?   Have you ever had your Panko not brown (sounds like a tanning disorder..ewwww?)   Well I have and it isn't pretty!  But with this method, you never have to worry about it again (say that in your best car salesman voice).
All you do is dump the crumbs  in a hot dry skillet – stir, stir, stir and right before your eyes…a miracle occurs – they get toasty beautiful brown!  This is best used for fast baking food, like fish or veggies.  I toast a big batch and keep them on hand so I can amaze myself on a regular basis. I am so easily amazed….
I must head back to my kitchen now and come up with more new and exciting things to do with my browned up Panko!  Whooo hooo!
Oh wait – I forgot to say how great this salmon recipe is…it's really great!  No seriously it is…really, really great!
Food Photo Secrets:  Did you notice how my lemons are nakie?  No yellow rind?  I used them all on a big batch of Lemoncello last week – they took one for the team –  soaking away in Vodka – they are so happy right now….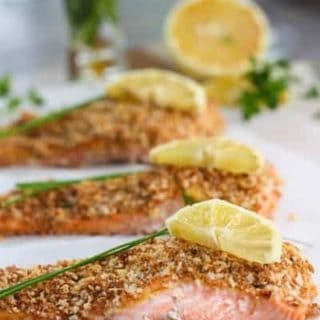 Panko Crusted Salmon
Ingredients
6

oz

Salmon Fillets - about 4-6 per serving

1/3

cup

Dijon mustard

2

cups

*pre-toasted Panko Crumbs

2

tablespoons

fresh chopped parsley

2

tablespoons

olive oil

2

teaspoons

grated lemon zest

Salt and Pepper to taste

in

*heat non stick skillet over medium high heat until hot - pour Panko Crumbs. Stir constantly until lightly brown. Cool before using.
Instructions
Preheat oven to 425 degrees

In small bowl, combine crumbs, chopped parsley, olive oil, lemon zest, salt and pepper.

Line baking pan with foil for easy clean up.

Place salmon on foil.

Brush Dijon on salmon fillets - be liberal, the crumbs will stick to this.

Top with heaping tablespoons of crumb mixure and press down slightly so they stick to the salmon.

Bake for 12-15 minutes depending on thickness of salmon (when you press on the salmon it should feel firm - careful not to overcook!)

Serve with sliced lemon if desired.

Other stuff thats yummy: