Easy Greek Salad Meal Prep Bowls with Roasted Garbanzo Beans! – All made on one  sheet pan and popped in  your oven!  Yay lunch all week!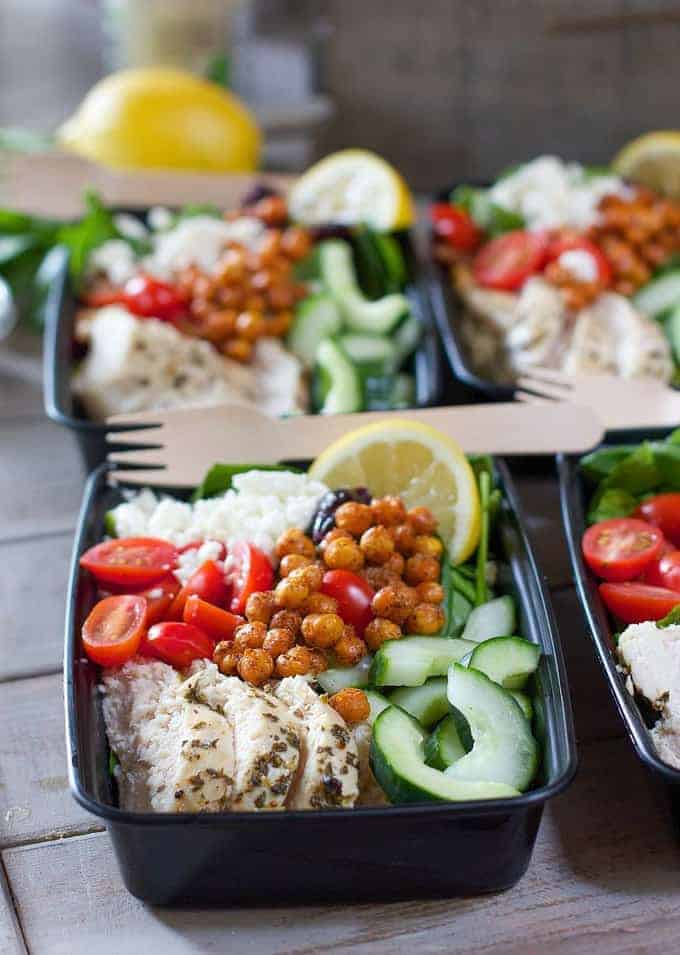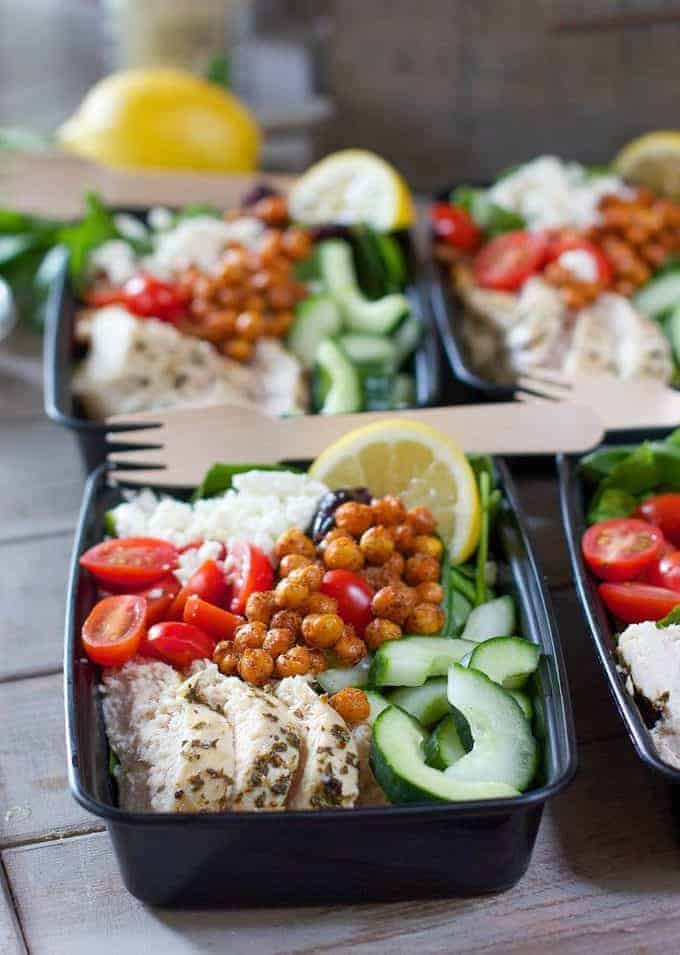 Imagine looking forward to your lunch every day!  No, it's a not a dream!  All you need is a sheet pan, a sharp knife and you are smiling at noon all week long!
On top of being all pretty and stuff, this beautiful Greek Salad with Roasted Garbanzo Beans clocks in at only 350 calories!  And thats with the Tzatziki dressing!   Way to make room for Happy Hour!
I have listed out specific measurements below the recipe card, so you can make the perfect 350 calorie salad!  You will have some roasted garbanzos left over…like that could be a bad thing!  And don't forget about the easy recipe adjuster tool located within the recipe card.  Makes increasing or reducing the servings a snap.
Roasted garbanzos are one of my new fave snacks.  Crunchy, a little spicy and a perfect topping for a salad..  And incredibly easy to make!  You simply toss the beans with a bit of oil, spices and roast in the oven.  NOTE: Drain, rinse and pat dry the beans.  Less moisture makes for a crunchier roasted bean.
The chicken will sit in a simple 30 minute marinade while you do the veggie chopping.
Roast the chicken and beans on the same sheet pan!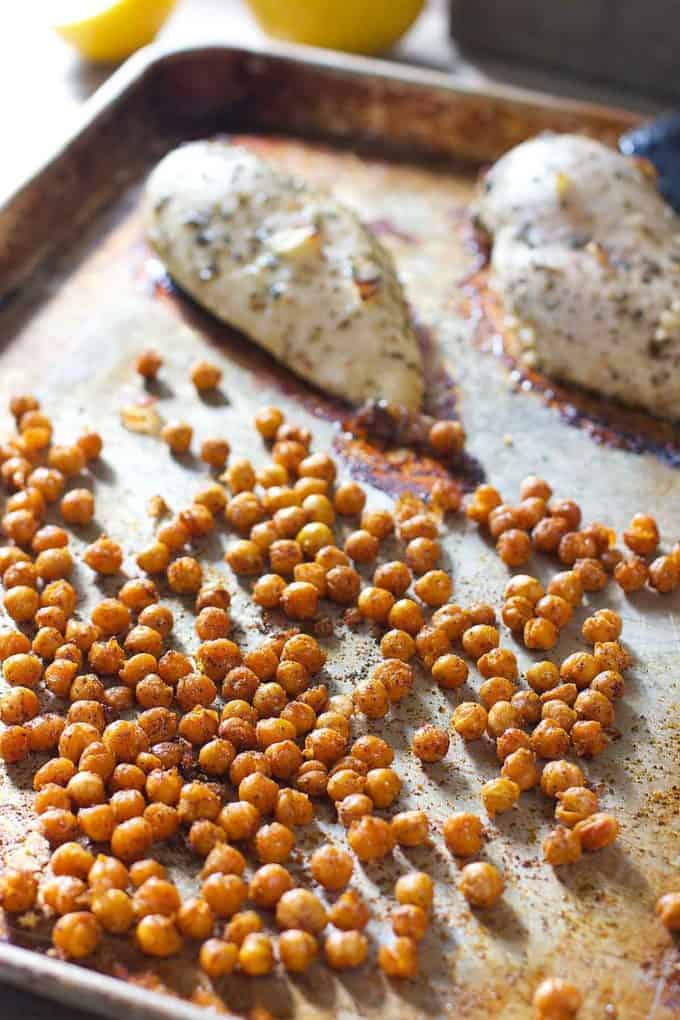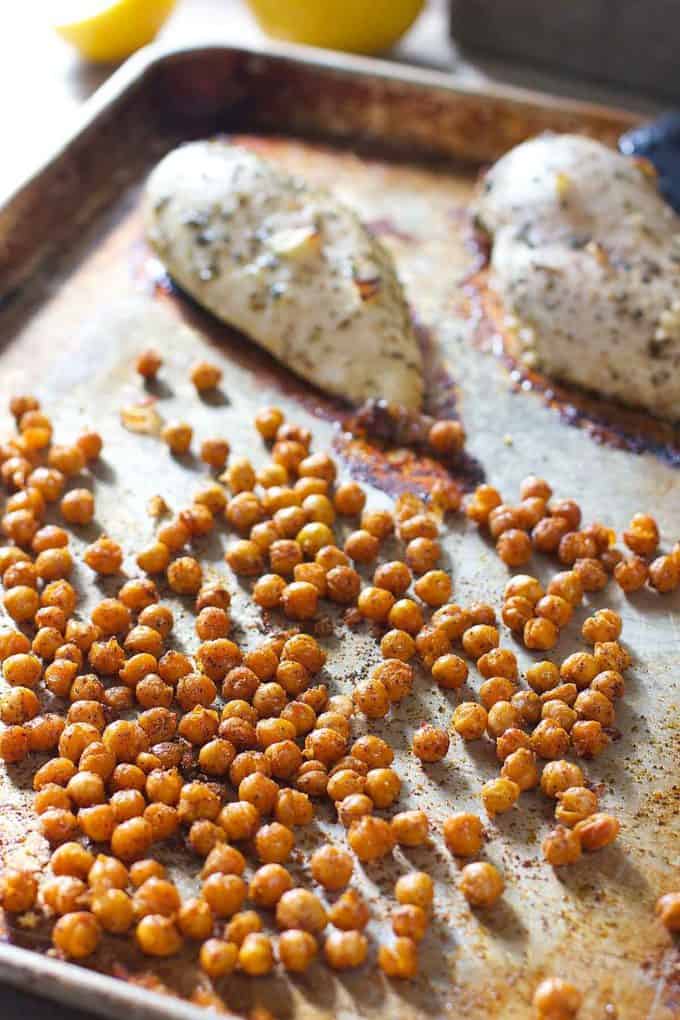 I love these food prep containers from LIFT.  They are dish washer safe and reusable.  At only about a buck a piece, it's a pretty good deal.    It keeps the crunchy stuff away from the not so crunchy stuff so your salad stays…well, crunchy!  I also recommend these disposable bamboo forks…kinda cute, super cheap.  Just the way I like my stuff!  Cute and cheap!
Wouldn't you love to look in your fridge on Monday morning and see these Greek Salad Meal Prep lunches all ready to go!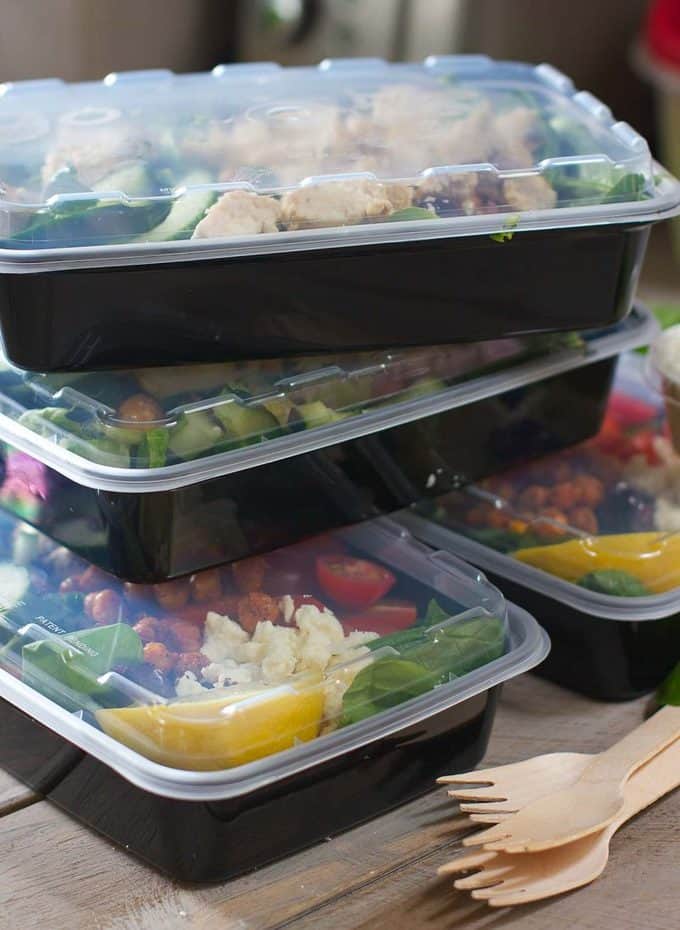 For the dressing.  I cheated, (big surprise).  I used store bought Tzatziki dressing.  They have some really great brands in the cooler in the produce section.  I like OPA brand.  (Not a sponsor of this post, just like their stuff.)  If you want to make  your own, you can see my recipe HERE as part of my Layered Hummus Dip recipe.
You can see all my HEALTHY MEALS HERE!
Here are a couple of our favorites are Sheet Pan Chili Lime Fajitas   Cauliflower Rice with Mushrooms and Feta – all these would make great lunch time meal prep!
To Fast, Fresh and Healthy Meals!
Clink!
Kathi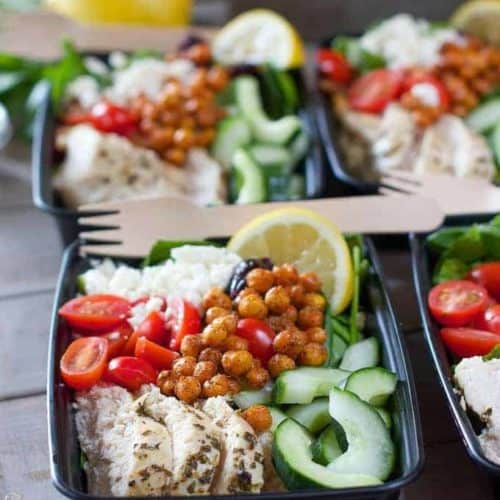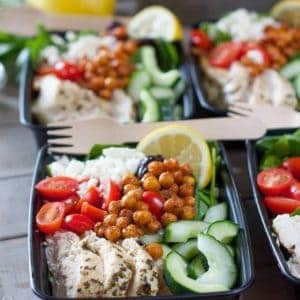 Greek Salad with Spicy Roasted Garbanzo Meal Prep
A super easy meal prep that starts with just one sheet pan. A little chopping and you have lunch all week! This clocks in at only 350 calories including the dressing! Hello Happy Hour!
Print
Pin
Rate
Ingredients
2

6-8 ounce

chicken breasts, boneless

1

14.5 ounce

can garbanzo beans, drained and pat dry

1

tablespoon

plus 1 teaspoon, olive oil

2

teaspoon

chili powder

1

teaspoon

ground cumin

1

pound

fresh baby spinach

1

english cucumber, seeded and sliced

1/2

cup

kalamata olives, pitted and sliced

1/2

cup

feta cheese, crumbled

1

cup

cherry tomatoes, halved

1

lemon

cut into wedges for garnish

of desired
Marinade
1

lemon, juiced

2

teaspoons

dried oregano

2

garlic cloves, chopped

1/2

teaspoon

salt

1/4

teaspoon

pepper

1/2

cup

white wine or chicken stock

1/3

cup

kalamata olives, sliced
Instructions
Combine all marinade ingredients in large ziploc baggie. Add chicken breasts. Store in refrigerator for 30 minutes or up to 8 hours.

Preheat oven to 400 degrees.

Drain and rinse garbanzo beans. Pat dry with a paper towel.

Remove chicken from ziploc baggie and discard marinade.

Drizzle a large sheet pan with 1 tablespoon olive oil. Spread the dried garbanzo beans on one half and place chicken breasts on the other.

Sprinkle garbanzo beans with chili powder and cumin. Add a pinch of salt and pepper. Add an additional teaspoon of olive oil to the garbanzo beans and toss.

Bake chicken and beans at 400 degrees for about 25 minutes or until chicken is cooked through.

Toss beans one time during cooking.

Cool completely before adding to your containers.

Line up containers. Place 1/4 of the spinach on one side of the container. Chicken on the other. Divide up remaining ingredients evenly. (for exact measurements to stay at a 350 calorie count, see below notes).

Pour Tzatkiki dressing in small container and store in refrigerator!
Notes
To create a perfect 350 calorie Greek Salad Bowl!
2 cups spinach
3 ounces chicken
2 tablespoons crumbled Feta
2 tablespoons roasted garbanzo beans
1/2 cup sliced cucumber
1/4 cup sliced cherry tomatoes
2 kalamata olives, sliced
3 tablespoon Tzatziki dressing
Nutrition
Serving:
4
g
|
Calories:
346
kcal
|
Carbohydrates:
8.8
g
|
Protein:
60.1
g
|
Fat:
10.7
g
|
Saturated Fat:
4.6
g
|
Cholesterol:
162.9
mg
|
Sodium:
392.3
mg
|
Fiber:
3.5
g
|
Sugar:
3.4
g