The Best Chocolate Peanut Butter Cake!  –  This easy to make incredibly delicious treat will become your favorite cake everrrrr!  The peanut butter layer is just that…plain peanut butter slathered onto of delicious chocolate cake!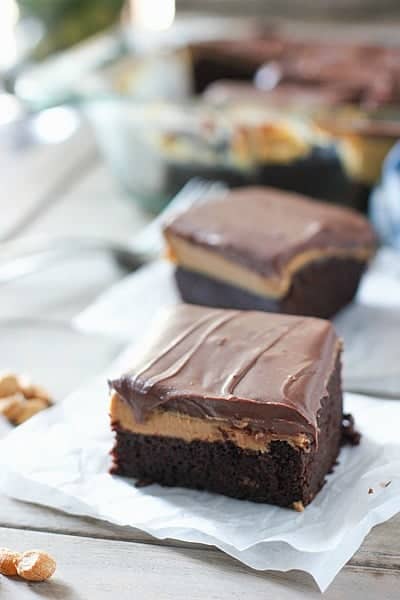 I have been waiting for this cake my entire life…. period.  Drop the mic.  Walk away.  Boom and Booyah!    Chocolaty cake, smothered in peanut butter and topped with chocolate ganache frosting.  I am speechless…(which could be from the peanut butter stuck to the roof of my mouth…I am a spoon licker).
I used my easy one bowl Best Chocolate Cake recipe, topped it with peanut butter straight from the jar…which is how peanut butter is best.   Then covered it with a two ingredient ganache that you make in your microwave in 2 minutes!
Birds sang, the skies parted and there was cake!  The Best Chocolate and Peanut Butter Cake ever!
My favorite part of making this cake is spreading the peanut butter, right from the jar, onto the cooled cake!  I make this for everyone I love….I just like to watch them eat it and smile through their chocolate and peanut butter coated teeth!  Heaven!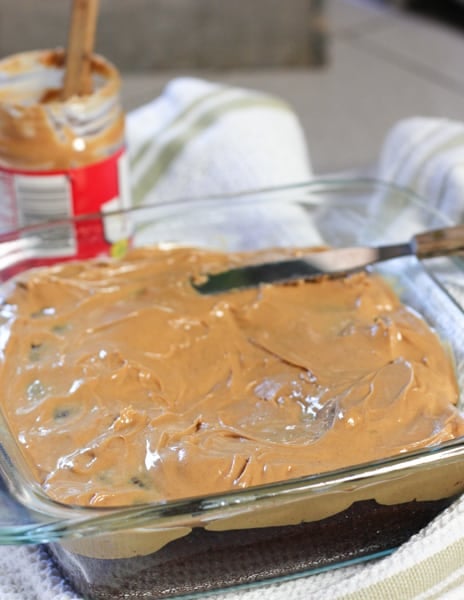 Chill in the fridge for a bit.  Then top with this 5 minute microwave Chocolate Ganache!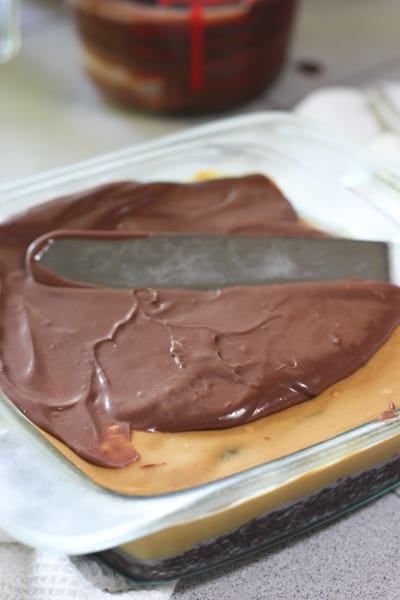 Slip this bad boy back in the fridge for about 30 minutes before slicing, and everybody is your friend!
The cake and frosting are not overly sweet, which makes the peanut butter the star of the show.  If you have a peanut butter lover in your life, this Peanut Butter Chocolate Cake will be their forever favorite!
Have I mentioned how much I love this cake?  I love this cake!
This recipe makes an 8 x 8 cake but you can go bigger!   Find the recipe for a 9 x 13 chocolate cake here.  And simply double the peanut butter to 2 cups (one entire jar of creamy goodness!).
If you want a grown up Chocolate Cake, try my Double Chocolate Whiskey Cake with Whiskey Ganache!  Same easy cake and frosting recipe with a kick!
To the best cake in the world!
Clink!
Kathi
The Best Chocolate and Peanut Butter Cake
This recipe is for an 8 x 8 cake pan but you can find the recipe for 9 x 13
here
. Just simply double the peanut butter to 2 cups.
Ingredients
Ganache Frosting - Make first so it can cool while the cake is baking
1

cup

semi sweet chocolate chips

1

cup

heavy cream

1

teaspoon

vanilla
Cake
1

egg

1

cup

white granulated sugar

1/2

cup

sour cream Do not use fat free.

or greek yogurt

1/4

cup

vegetable oil

2

teaspoons

vanilla

1/2

cup

unsweetened cocoa powder

1/2

cup

brewed coffee, cooled

you can not taste the coffee, it simply enhances the chocolate flavor

1

cup

flour

1

teaspoon

baking soda

1/2

teaspoon

baking powder

1/2

teaspoon

salt
Peanut Butter Layer
1

cup

creamy peanut butter
Instructions
Preheat oven to 350 degrees and prepare frosting to chill while cake is baking.

For Ganache Frosting

Pour chocolate chips in large microwave save bowl and microwave for one minute until just soft.

In another microwave safe bowl heat cream until it just begins to boil. About 2 minutes.

Pour hot cream over chocolate chips and let sit for 2-3 minutes.

Using a wire whisk, mix well.Chocolate will melt and will become a creamy consistency.

Add vanilla. Cool in fridge for while cake is baking to thicken the ganache.

Cake

Spray an 8 x 8 pan with non stick spray.

In large mixing bowl combine egg, sugar, sour cream, vegetable oil and vanilla until well blended.

Add cocoa powder and coffee. Mix until no lumps are evident.

Add flour, baking soda, baking powder and salt.

Mix until just combined.

Pour into prepared pan.

Bake for about 35-40 minutes, or until a toothpick inserted in the center comes out clean.

Completely cool cake. Spread peanut butter on top with a spatula.

Chill cake in refrigerator until peanut butter is firm to the touch.

Top with ganache. If your ganache is to firm, microwave for 10 seconds and stir.

You can eat immediately but I like it chilled in the fridge for about an hour. Makes it easier to cut as well!
Nutrition Facts
The Best Chocolate and Peanut Butter Cake
Amount Per Serving
Calories 687
Calories from Fat 414
% Daily Value*
Total Fat 46g 71%
Cholesterol 70mg 23%
Sodium 465mg 19%
Potassium 510mg 15%
Total Carbohydrates 59g 20%
Protein 13g 26%
* Percent Daily Values are based on a 2000 calorie diet.