Homemade Rolls for a Crowd! – The most amazing rolls, made in the most amazing way! They rise in the oven then crank the heat to bake!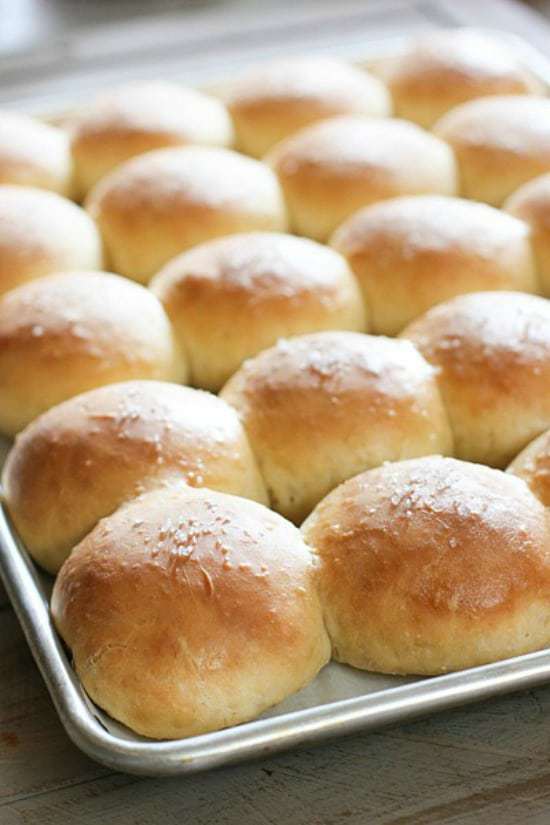 How to make Homemade Rolls for a
crowd with only one rise!
Three steps.  No dissolving yeast or even a first rise.  Crazy good too!
Step One:  Make your dough.  I use a dough hook and my Kitchen Aid but your hands will work just fine for this.  It's a simple dump and mix technique…is that even a technique?
Step Two:  Once your dough is mixed, you shape your rolls.  No need to let rise before shaping. Straight from the bowl to the sheet pan!
I use a 16 x 11 or bakers half sheet pan. A 3.5 ounce roll will yield 20 dinner rolls.  A 3.0 ounce will yield 24.  If you don't have a scale, just eyeball it or cut your dough into 20 or 24 equal pieces.  Don't stress over this step, but the closer they are in size the more even they will rise and bake.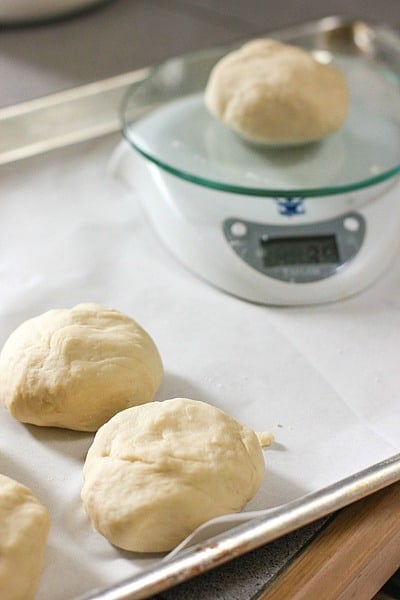 Step Three:  Preheat your oven to 170 degrees. Put your buns in the oven..yuck yuck….and let them rise for 30 minutes.    They should look like below.  Almost doubled. Let them go an additional 10 minutes if you think they need a bit more rise.
Now here is the amazing part.  Leave your buns in the oven!    Turn the heat up to 350 degrees.  I know!  Crazy huh?  They continue to rise while the oven is preheating.
Bake for about 30-40 minutes.  Brush with butter, sprinkle with a little course salt or sesame seeds and you got fresh, hot buns for a crowd!
I have made these dozens of times,  and in fact I posted them several years ago.  You can see that recipe and the positive feed back here!   (that recipe yields about 12 rolls, so if you are looking for a smaller batch, thats a perfect recipe! ).
I like to  bake these right when my guests arrive so the whole house smells like fresh bread!
Ahhhh, nothing like fresh homemade rolls!  Your family is soooo gonna love you for this!
NOTES:
Make these the same day you serve them for best results!
Serve with honey butter.  One cube softened butter mixed with 1/4 cup honey.
I used regular yeast, not Rapid Rise.  Either would probably work, but I haven't tried with the Rapid Rise product.
I serve these with a big bowl of Beef and Barley Soup!
Or with a bowl of Pasta with Tomato Cream Sauce!
To warm buns!
Clink!
Kathi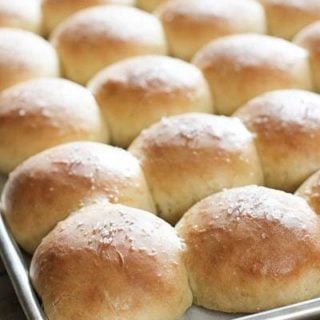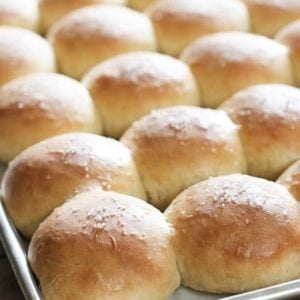 Easy One Rise Dinner Rolls for a Crowd
These are the easiest rolls everrrr! Imagine just one rise...yay! Check out the amazing instructions!
Print
Pin
Rate
Ingredients
1 1/2

cup

milk

1/2

cup

butter

1 1/2

cups

warm water

1/3

cup

granulated white sugar

2

teaspoons

salt

8-9

cups

all purpose white flour

4 1/2

teaspoons

yeast - or two 1/4 oz packages

I used regular not rapid rise

Melted butter to brush on rolls and coarse salt for sprinkling
Instructions
Preheat oven to 170 degrees. Butter (or line with parchment) a 16 x 11 baking sheet or two regular 9 x 13 cookie sheets.

In small bowl or microwave safe measuring cup - heat milk and butter for 2-3 minutes on high. (butter should be melted and milk very warm to the touch)

Pour into mixing bowl. (I used a Kitchen Aid with bread hook)

Add 1 1/2 cups hot water (should be very warm to the touch).

Add sugar and salt.

Mix until well blended.

Add 4 cups of flour and the yeast - mix for about 1 minute.

Let sit for 5 minutes.

Add another 4 cups of flour, one at a time.

Add additional flour if needed until dough just separates from the bowl.

Using Kitchen Aid or your hands, knead for 5 minutes until silky smooth in texture.

Line a large sheet pan (or two cookie sheet pans) with parchment paper.

Shape dough into approximately 3.5 once rolls and place on prepared sheet pan(s).

Put into preheated 170 degree oven to rise for 30 minutes. (Add additional 10 minutes if needed)

Leaving the rolls in the oven, Turn up oven temperature to 350 degrees.

Bake for about 20-25 minutes or until lightly brown.

Top with melted butter and coarse salt if desired.
Nutrition
Calories:
255
kcal
|
Carbohydrates:
43
g
|
Protein:
6
g
|
Fat:
5
g
|
Saturated Fat:
3
g
|
Cholesterol:
14
mg
|
Sodium:
283
mg
|
Potassium:
103
mg
|
Fiber:
2
g
|
Sugar:
4
g
|
Vitamin A:
170
IU
|
Calcium:
30
mg
|
Iron:
2.4
mg