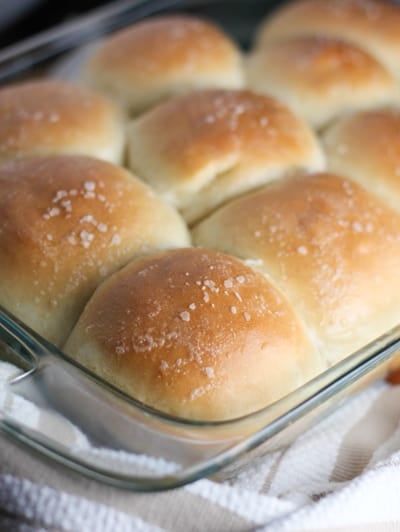 This recipe has been updated to make 24 rolls. With better photos and step by step instructions.   You can see that here Easy One Rise Dinner Rolls for a Crowd.   The below recipe is still fabulous for 12 rolls!
Easy, like really easy!  You mix the dough,  shape into rolls and let rise in a 170 degree oven.  Then crank up the heat to 350 – without ever removing the rolls from the oven!  Pretty darn amazing!
I could probably call these 'miracle buns', but I won't. Tempting though……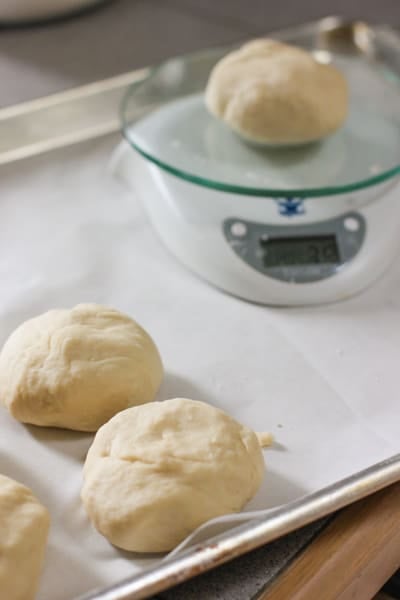 This recipe makes about 12 three ounce rolls.  I have doubled it with better step by step instructions and you can see that post here.
NOTES:
Make these the same day you serve them for best results!
Serve with honey butter.  One cube softened butter mixed with 1/4 cup honey.
I used regular yeast, not Rapid Rise.  Either would probably work, but I haven't tried with the Rapid Rise product.
Clink!
Kathi
Easy Homemade Rolls
I use a Kitchen Aid mixer with dough hook for this recipe. But you can use your hands, they work great too!
Ingredients
3/4

cup

milk

4

tablespoons

butter - cut into small pieces

3/4

cup

hot water

4

tablespoons

sugar

1

teaspoons

salt

4

cups

– 5 flour

1

oz

package active dry yeast

3/4
Instructions
Preheat oven to 170 degrees

In small bowl or microwave safe measuring cup - heat milk and butter for 90 seconds on high

Pour into mixing bowl (I used a Kitchen Aid with bread hook)

Add 3/4 cup hot water (should be slightly uncomfortable to the touch).

Add sugar and salt

Mix until well blended

Add 2 cups of flour and yeast - mix for about 1 minute.

Let sit for 5 minutes.

Add another 2 cups of flour, one at a time.

Add additional flour if needed until dough separates from the bowl.

Using Kitchen Aid or your hands, knead for 5 minutes until silky

Butter a 9 x 13 baking ban

Cut dough into desired shapes and add to prepared pan

Put into preheated 170 degree oven to rise. This takes about 30 minutes.

Once your buns are the desired size (sorry, can't help it, gotta get one in!).

Turn up oven to 350 degrees without removing from oven.

Bake for about 20 minutes or until lightly brown.

Top with melted butter and coarse salt if desired.
If you like making bread that is simple…try this easy Foccacia Recipe too!

Other stuff thats yummy: