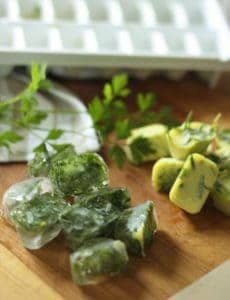 If  you have herbs in your garden that you hate to see wither away in fall weather…this is the perfect solution!  Freeze in ice cube trays with water or olive oil!
I threw a couple of the water based herb cubes in a recent batch of Quick Corn Chowder and it really revved up the flavor.  I used the olive oil based cubes in  Crock Pot Bolognese and you get the same flavor as if it were fresh..these are wonderful little flavor cublets….I just wish I would have made more!
Next time you need a little herby  boost in your pot of something  yummy…throw one in!  Loved this idea!
Frozen Herbs
Ingredients
Fresh herbs

Water and/or Olive oil
Instructions
Press fresh herbs into ice cube tray.

Top with water OR olive oil

Freeze overnight

Pop out of trays, into baggie and back in the freezer

Other stuff thats yummy: