How to Make Limoncello – So easy to make!  Our favorite gift to give for the holidays!
Here is your official reminder to get your lemons soaking to make a batch of Homemade Limoncello!
In as short as a week you will have some glorious boozy gifts!  You can soak your vodka lemon mixture for longer, because, we all know longer is better but 4-4 days will do in a pinch!
I made tons of this stuff for my daughters wedding and I let the brew sit for 2 months!  Pow!  Pucker up!
Pour into pretty little bottles or Mason type jars. Tie with a ribbon and give to the people you love and they, in return, will love you back!
Ingredients
1 fifth Vodka
2 pounds lemons (about 10)
Large jar with lid
For Simple Syrup (make this after the vodka and lemon soak for a week or 3)
2 cups sugar
2 cups water
Peel yellow skin off of lemons being careful not to get the white pith (it will make your Lemoncello bitter and kinda pith ya off).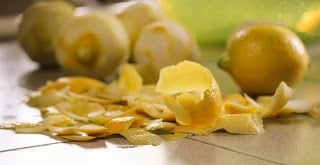 Mix Lemon peelings and vodka in large jar with tight fitting lid.
Store for 1-4 weeks in a cool dark place.  Give it a shake a day if you can…
After vodka and lemons have sat for desired amount of time :Combine sugar and water in saucepan.  Heat to boiling and cook for 10 minutes until all sugar is dissolved.  Cool to room temperature.  You do not need to use all of the simple syrup.  Add to vodka to taste.  I used about 1 1/2 cups.
Remove lemon peels from vodka – save to use as garnish in your gift jars if desired.
Add simple syrup to lemony vodka,  stir it up and pour into pretty little bottles or Mason jars and share!