How to Make Homemade Limoncello! – Booze, the gift that keeps on giving!  This incredibly easy to make holiday gift will put a smile on the face of everyone you gift it to!
This incredibly easy to make liquor packs a punch of lemon flavor!  Three simple ingredients.  Lemons, vodka and sugar to make the simple syrup!
Remove the yellow rind from the lemon, leaving the white stuff (pith on the lemon, its bitter. The easiest way to do this is with a potato peeler.
Now you have a bunch of nakie lemons to use for our most popular  salad dressing or Lemony Orzo Pasta!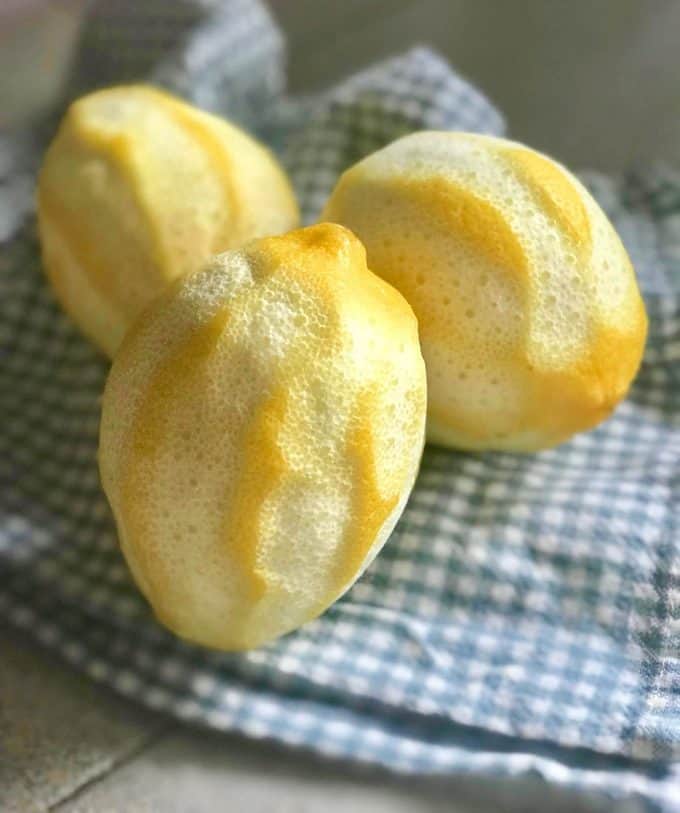 I keep this really simple by just adding the lemon peel to the vodka bottle.  No need to transfer to a larger jar.
Normally I add a drop or two of yellow food coloring to keep it from looking like a medical sample…ewwww!  If your lemons give off a ton of color you may not need too.  I like the brightness that even one drop of the food coloring adds.
I purchased the cute little bottles here and got the tags at a craft store.
About the vodka – I go cheap and cheerful.  Not bottom shelf, not top shelf….just somewhere in the middle.  NOTE: There are recipes that use whole grain alcohol for Homemade Limoncello. My thought on that is: This is pretty potent already and it goes down easy.  I wouldn't feel to good about my fave people getting too tipsy…kinda ruins the fun and the gift.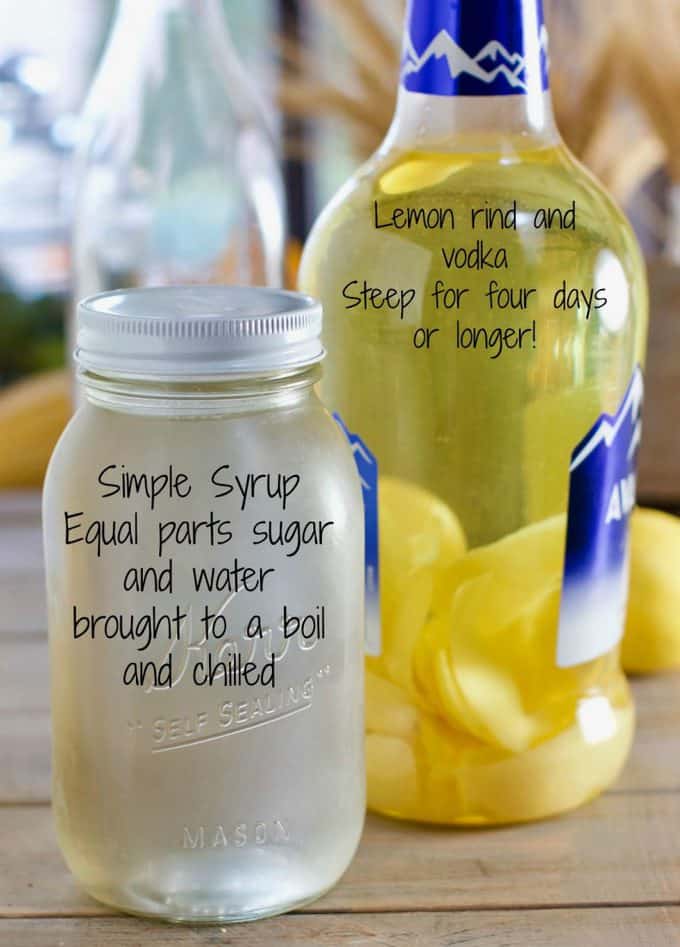 We made bottles and bottles of this stuff for our daughters wedding and it was a total hit!  Rachel ordered labels from Etsy and each guest got a little bottle at their table.  We filled the kiddo's bottles with jelly beans…sooo cute!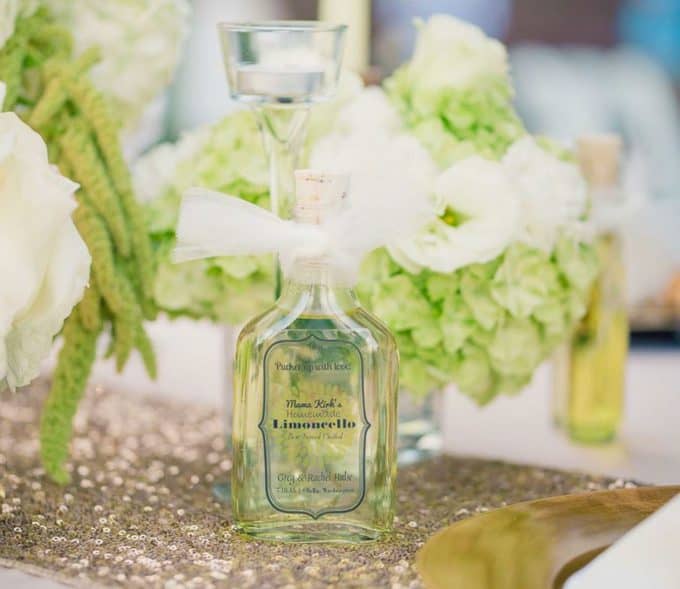 How to Make Homemade Limoncello
This easy and impressive liquor takes only a few ingredients to make!
Course:
Booze!, homemade gifts
Keyword:
appertif, food holiday gift, homemade food gift, homemade liquor
Ingredients
1.75

liter

vodka

5-6

large

lemons

2

cups

sugar

2

cups

water

2

drops

yellow food coloring

optional
Instructions
Remove the rind from the lemons using a potato peeler, and add to the vodka. Let sit in a cool dark place for a minimum of 4 days. You can soak this for a month if you like, and I have done that! But there is no additional intensity of flavor. The peels give all they got in the first few days.

When your vodka is ready. Combine the water and sugar in a large sauce pan. Bring to a boil and stir. Simmer for a minute or two until all the sugar has dissolved. Let cool completely. Store in refrigerator until you are ready to mix your Limoncello.

Combine sugar and stepped vodka. You may not use all the simple syrup. It's up to you and your tastebuds on how much to add. I use one cup of syrup to two cups of vodka. Tasting is the best way to tell...I love my jobbbbb! Add yellow food coloring one drop at a time. 3-4 drops for the entire batch should be adequate.

After your Limoncello is done. Store in airtight bottles in the refrigerator for up to 3 months. Turns out booze has a really long shelf life!
Nutrition Facts
How to Make Homemade Limoncello
Amount Per Serving
Calories 465
% Daily Value*
Sodium 3mg 0%
Total Carbohydrates 33g 11%
* Percent Daily Values are based on a 2000 calorie diet.
This post  may contain affiliate links, which means I might receive a very small commission, at no additional cost to you,  should you chose to purchase that linked item.  I only link to items I know and trust.  Thank you for your support!  Clink!