Homemade Skillet Green Bean Casserole! – when your oven is bursting and there isn't enough room for one more casserole dish, this stove top version is priceless and delicious!
And as a bonus…it's Fresh Fresh Fresh!  No canned soup required for this delicious and easy holiday classic!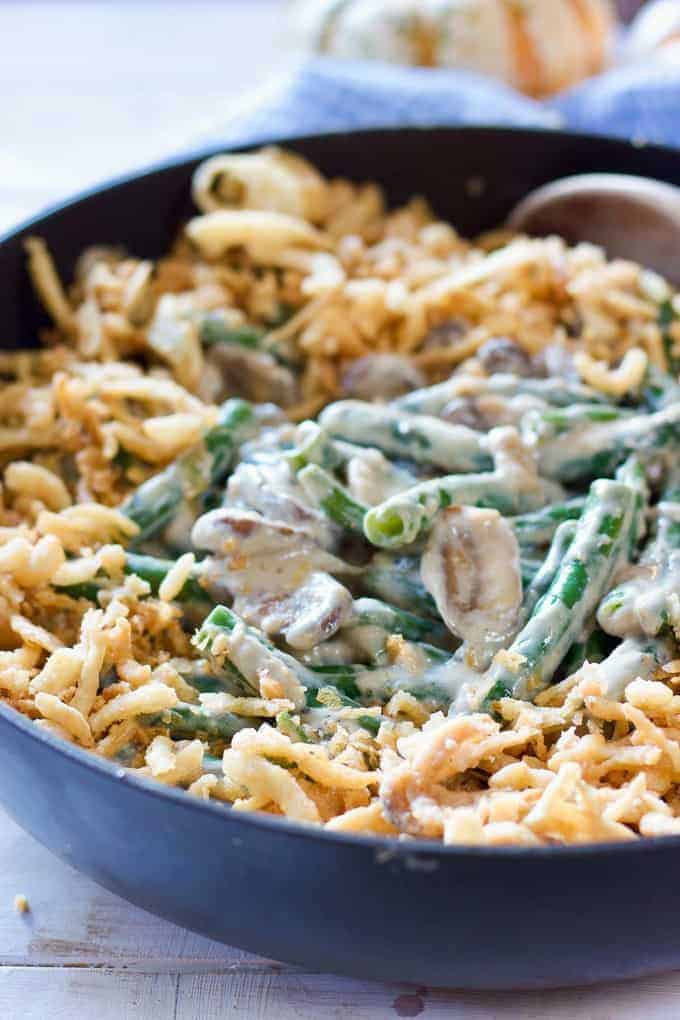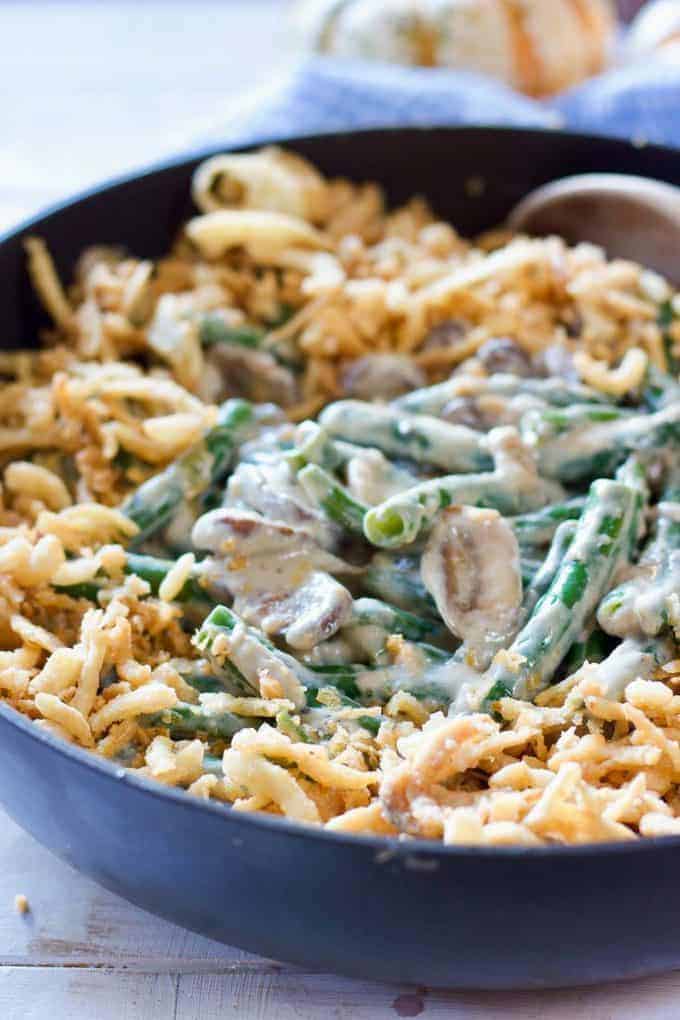 Whats that saying, 'necessity is the mother of all invention'.  Last T-Day this mother was trying to figure out how to cram 6 baking dishes into one regular size oven.  You would think I'd give that a thought ahead of time right?   Food Blogger my….
 I was hoping something wonderful would happen.  Like I'd grow another oven or something…
So I did what I always do.  I just started cooking and before ya know it…Stove Top Green Bean Casserole emerged!
How to Make Homemade Skillet Green Bean Casserole from Scratch:
Sauté  up the mushrooms in a bit of butter, add garlic and a bit of flour, then a splash of chicken stock.  The stock and flour is what thickens the half and half and makes it the perfect consistency, much like the version with the can of cream of ka-ka  that we all love. Only this is  so much better and fresh tasting!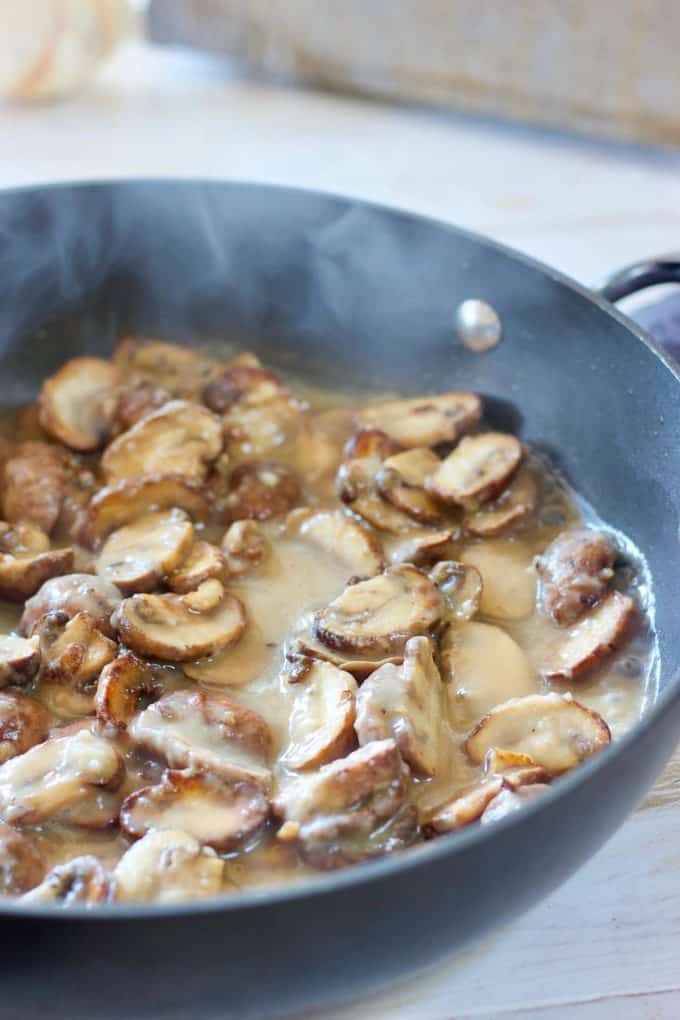 Is it necessary to blanch the beans for this Green Bean Casserole?
The one step that I wanted to omit so badly, was blanching the beans.  But you can't.  You have to par cook those little beans.   So I blanched and rinsed in cold water.  (Martha would 'shock them in a bowl of ice water', but  I didn't have time for a bath, let alone give the beans one. A quick rinse  in cool tap water proved to be just as effective.)
So, beans are blanched.   You have thickened up the mushrooms with some half and half.
Toss in the par cooked beans!
Nothing tastes like Green Bean Casserole from scratch!  You will never go back to that canned soup version again!
Stir, stir, cook, cook.  Top with store bought french onions. (nope, didn't make my own.  I still love those canned french fried onions!).   Lid on, cook a bit more and boom!  You just diverted disaster and Aunt Knowsitalls  sweet potato marshmallow mess is tucked into the oven all warm and ready to send Uncle Bob into a diabetic coma…man, I love the holidays!
More VINO!  This Mutha of Invention is rockin' it!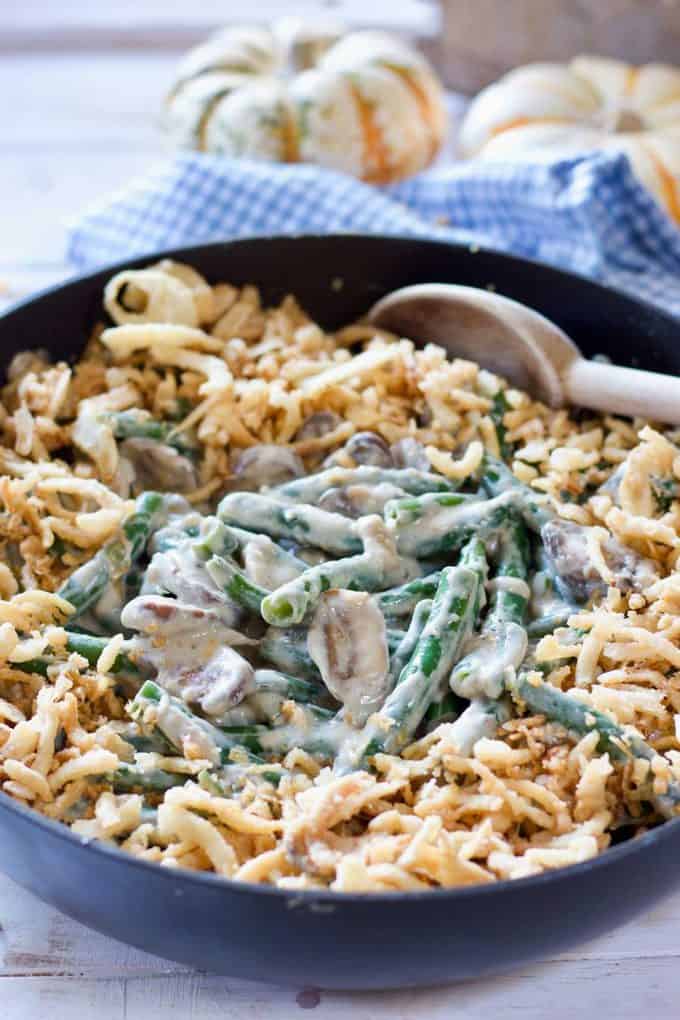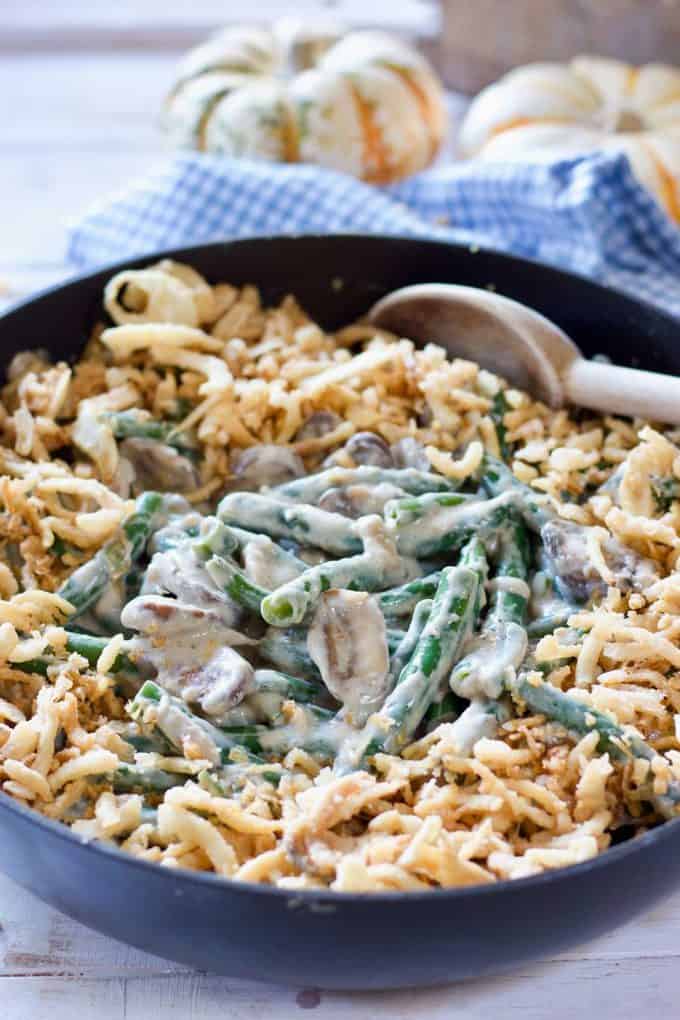 I have a few more holiday dishes that should make your biggest cooking day oaf the year,  just a little less hectic.
How about these beautiful  Whipped Potatoes! 
This Traditional Stuffing is just like Grandma used to make!
Cranberry Relish – Looks so fancy but is so easy to make!  You'll never buy canned again!
Even better? Check out this video- it really shows you how to fine tune this yummy 1 pan meal!
To the Holidays, Family and keeping sane in the kitchen!
Clink!
Kathi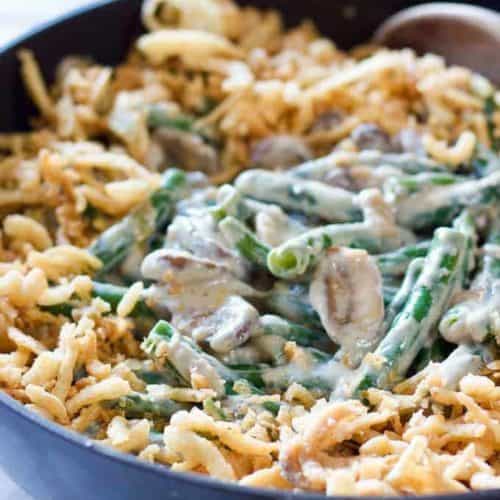 Skillet Green Bean Casserole
A easy stove top version of this popular casserole! No can of soup required. Just fresh ingredients in this crowd pleaser!
Print
Pin
Rate
Ingredients
2

pounds

trimmed fresh green beans, cut into 2 inch pieces

2

tablespoons

butter

8

ounces

crimini mushrooms, sliced

4

garlic cloves, chopped

2

tablespoons

all purpose flour

1/2

cups

chicken stock

1 1/2

cups

half and half

1/4

teaspoon

pepper

1/2

teaspoon

salt

1

6 ounce container

crispy fried onions

like French's brand

salt and pepper

2

teaspoons

Worcestershire sauce
Instructions
Fill large soup pot with water and bring to a boil. Blanch green beans for about 3-5 minutes until crisp tender. Drain and rinse with COLD water to stop cooking process. Set aside

In large skillet melt 2 tablespoons butter.

Add sliced mushrooms and saute' until slightly brown. Add garlic, continue to cook for 2-3 minutes.

Sprinkle 2 tablespoons flour over the mushroom mixture and cook for 3-4 minutes or until flour is fully incorporated and slightly browned.

Add chicken stock and cook until simmering and thickened.

Add half and half, salt and pepper. Cook until thickened, about 3-4 minutes.

Add Worcestershire sauce and stir.

Taste for seasoning. More salt? More pepper? If using low sodium chicken stock you may have to add a considerable more amount of salt.

Add blanched green beans, toss well. Cover and cook for 6-7 minutes or until beans are at desired tenderness.

Top with fried onions, cover and cook an additional 5 minutes.
Notes
Time Saver!  Buy already trimmed, washed green beans.  You will pay a little more but I found it to be worth it.
Make ahead prep: Blanch beans and slice mushrooms a day or two in advance.  The cream sauce is best made on the day you are serving. 
Nutrition
Calories:
151
kcal
|
Carbohydrates:
14
g
|
Protein:
5
g
|
Fat:
9
g
|
Saturated Fat:
5
g
|
Cholesterol:
27
mg
|
Sodium:
238
mg
|
Potassium:
468
mg
|
Fiber:
3
g
|
Sugar:
4
g
|
Vitamin A:
1055
IU
|
Vitamin C:
14.9
mg
|
Calcium:
107
mg
|
Iron:
1.5
mg