Cranberry sauce is second to Thanksgiving Stuffing for my favorite Turkey Day side dish! I love the tanginess of it but also the smell of it as it permeates my kitchen. This Cranberry sauce has orange, cinnamon and vanilla and has a high end taste with a simple recipe. It is bar none, the best Cranberry sauce you will have.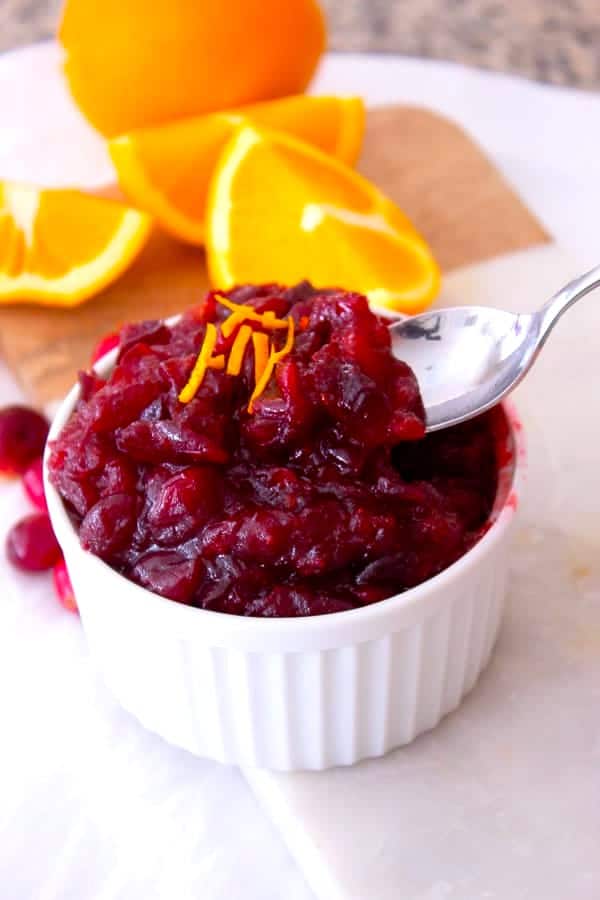 To some, the task of making this dish could be daunting; It seems like it might be complicated but it is probably one of the easiest recipes we have on our site. And might I say- one of the tastiest! I love this spread on sandwiches, slices of turkey, or just as a simple easy side dish. It's actually fabulous with pork, as well! 
To start, zest an orange (it should yield about a tablespoon of zest). The important step of this is making sure you only zest the outter orange layer, not the pith- that' the white underlay of the orange and it is biter!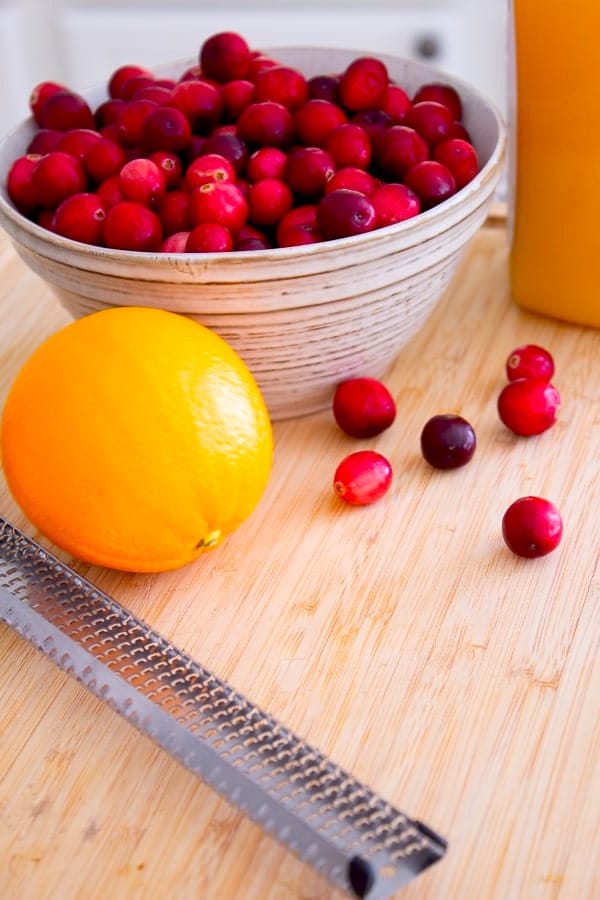 After you've added zest, orange juice, cinnamon, and cranberries in at least a 2 inch deep pot on the stove, you'll add some vanilla extract, and continue to let simmer on medium heat.
How will I know when the cranberries are cooked?
The cranberries will 'pop', meaning they will deflate, and in about 10 minutes, this will look just like the consistency of the cranberry sauce you are used to! That is…unless you are the type that likes the canned jellied kind, which I am partial to and if you do prefer that, I won't judge. In fact- I'll embrace you, because that stuff is delicious too.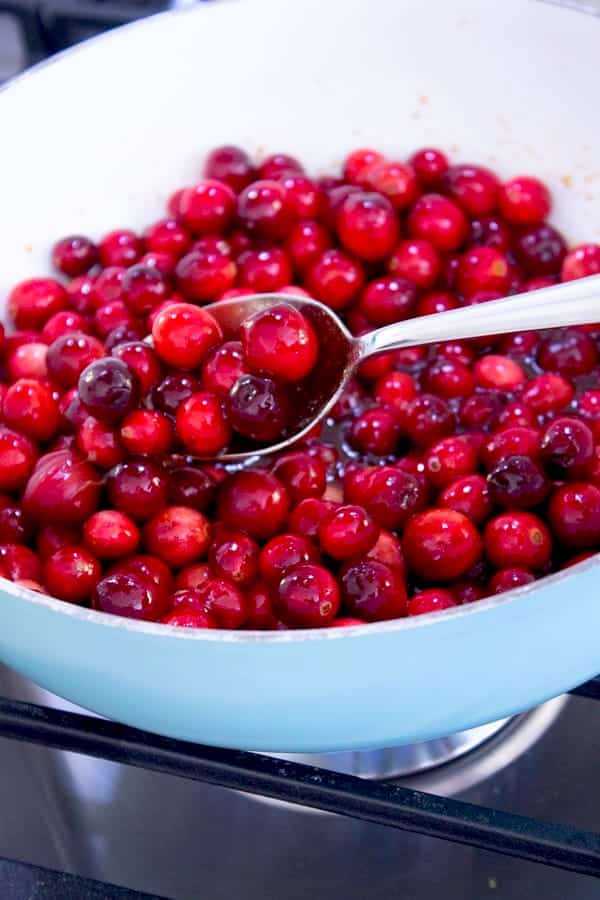 Once the cranberries have popped and look like the above picture, remove from heat, allow to cool, and transfer to a serving dish.
And THAT, is how you make Orange Cranberry Sauce with Cinnamon and Vanilla! It is simple, easy, and delicious.

If you are a big fan of Cranberry recipes, check out these other recipes:
Need some Thanksgiving inspiration? Check out these recipes!
Cheers to Thanksgiving meals and cozy times with your family! 
Rachel
Learn to make this with our video here- It really helps show how the cranberries go from full to popped! 
Orange Cranberry Sauce with Cinnamon and Vanilla
A delicious and simple recipe ANYBODY can make for Thanksgiving or Christmas.
Print
Pin
Rate
Ingredients
12

oz

fresh cranberries

(this is a standard size bag)

1

tbsp

fresh orange zest

1/2

cup

granulated sugar

use 3/4 cup if you like a sweeter cranberry sauce

1/2

cup

orange juice

1

tsp

ground cinnamon

1

tbsp

vanilla extract
Instructions
In a pot on the stove on medium heat, combine orange juice, orange zest, cinnamon, and sugar. Stir and allow sugar to disolve before moving to next step.

Add cranberries, and vanilla extract.

Cook until cranberries 'pop'. Once cranberries have fully deflated and sauce has thickened, transfer to serving container and allow to cool. Serve and enjoy.
Nutrition
Calories:
109.42
kcal
|
Carbohydrates:
27.08
g
|
Protein:
0.42
g
|
Fat:
0.13
g
|
Saturated Fat:
0.02
g
|
Sodium:
1.83
mg
|
Potassium:
89.53
mg
|
Fiber:
3.32
g
|
Sugar:
20.96
g
|
Vitamin A:
75.35
IU
|
Vitamin C:
17.88
mg
|
Calcium:
20.17
mg
|
Iron:
0.29
mg