Thanksgiving is my favorite foodie time of year, and dressing is my FAVORITE dish. I prefer mine dunked in ketchup (yep, I'm that girl) and this time of year I just crave this stuff. It's hearty, delicious, and surprisingly simple to make. But…did you know there is a difference between stuffing and dressing? Read below for the ultimate guide on Traditional Thanksgiving Dressing!
Of course if you're not interested in a history lesson, click the 'jump to recipe' button to get straight to the point.
What is Thanksgiving Dressing?
Thanksgiving Dressing is a mixture of dried cubed bread, savory herbs, and chopped vegetables tossed in a broth/egg/butter mixture.
What's the difference between Dressing and Stuffing?
Stuffing is quite literally, stuffed in a bird's cavity (a nice way of saying 'hoo-ha' in the Laughing Spatula family). Dressing is served as a standalone dish, normally in a baking dish.
What is the most important thing to getting this recipe right?
Make sure you leave your bread out long enough to really get dry and crusty. This will be savory French toast casserole if you don't. You don't want that.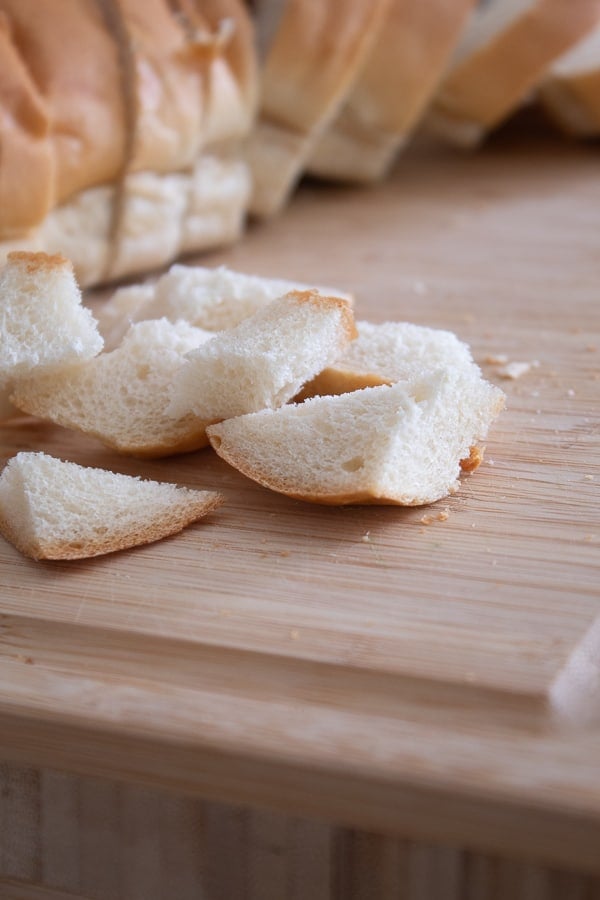 We used a loaf of French bread from our local grocery store and cubed it. To get your bread totally dry, leave it out for a day or two on a wire rack, which will allow air to circulate all the way through it. You want it to crunch like a dried up crouton. 
Flash forward a day or two- 
Once you got yourself a big ole crusty pile of bread, it's time to chop your veggies and herbs. Celery, onion, fresh thyme, rosemary, and sage will be sautéed in butter (a lot of butter- which adds to the flavor of this Thanksgiving Stuffing/Dressing). Rough chop for a more rustic look. Fine chop if you like.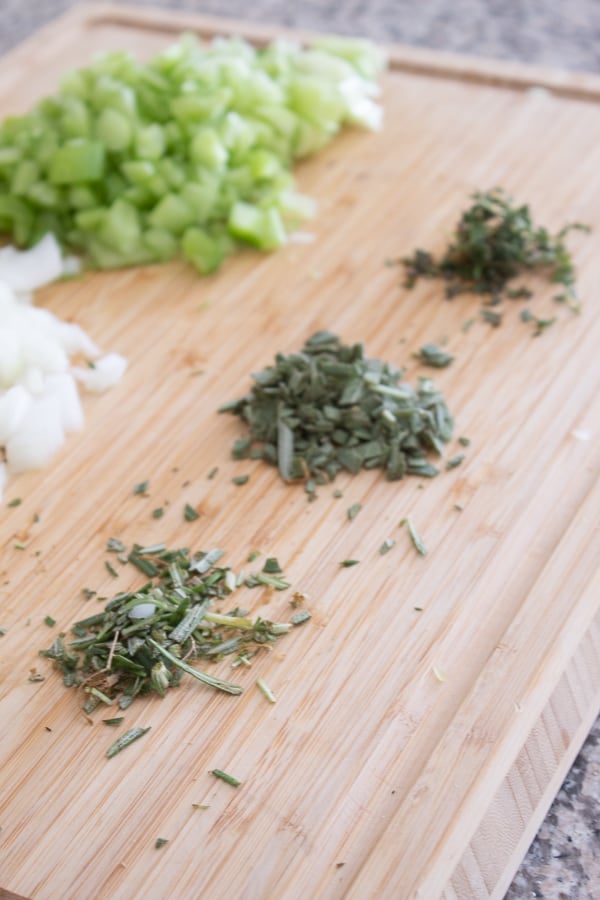 For this stuffing, we added ground Italian sausage. Now- that part is up to you- I thin it adds a ton of flavor and I like having something a little greasy in there (because butter just isn't enough). Isernio's has a great Italian Turkey Sausage but regular Pork Sausage works good as well. 
Mix your ingredients in a large bowl, and pour with a mixture of chicken stock and eggs.
Once you've added your chicken stock and egg mixture, it's time to toss your dressing. Once fully mixed, pour it into a greased casserole dish and bake.
Bake for 30 minutes, or until golden brown and enjoy! 
More questions about this Thanksgiving staple? Let's see if we can answer them below!
Can I stuff my Turkey with this dressing recipe?
You could. But…we advise against stuffing your turkey for a few reasons. Mostly the health hazards that Alton Brown talks about here.  Also- it just plain old doesn't add a lot of flavor to your turkey.
Speaking of Turkey- do you have a favorite recipe?
As long as you're not deep frying it (the process gives me anxiety) there are a ton of ways you can cook a turkey and have it turn out great. Food and Wine put out this list of their favorite 38 Best Thanksgiving Turkey recipes. We are a small family of 3 so instead of cooking a full turkey, we'd often do an Herb Stuffed Turkey Breast wrapped in Proscuitto. Easy cleanup, perfect amount of meat, and really just a pretty main course.
How can I make this vegetarian?
Omit the sausage, and use vegetable broth instead of chicken broth.
How can I make this gluten free?
Use gluten free bread. Another suggestion is making gluten free cornbread– cut it up into cubes, dry it out, and follow the remainder of the recipe.
Can I make this ahead of time?
You could do everything ahead of time besides mix it up with the chicken stock/egg mixture. Do that last minute and then bake. But we really don't recommend making this ahead of time and then reheating it- it will be dry and yucky and you will be upset. We don't want to make you upset.
Does this freeze well?
Nope. It doesn't. When you reheat it, it gets kind of puffy and dry. It's best the day of, or as refrigerated leftovers (but enjoy within 2 days of making for food safety sake).
What else can I add to make this recipe unique?
Add cubed apples; we like Granny Smith for their tartness with the bread.
Add raisins (sounds weird, tastes great!).
Butternut squash; even roast it with some cinnamon beforehand for a unique twist.
Use cornbread instead of traditional French bread.
Feeling fancy? Add carmelized onions and goat cheese for a gourmet spin.
Saute mushrooms with garlic and 1 tbsp olive oil and add them to your mixture for a hearty flavor.
Did you know Oysters in Stuffing is a tradition for some? Add 1 tablespoon Old Bay instead of sage; add 1/4 cup dry white wine and 1/2 cup oyster juice, use remaining chicken broth. Toss in 1 pound shucked oysters with the bread.
Make it Italiano! Use Foccacia bread, add sun-dried tomatoes, globs of mozzarella, and some pesto drizzled into your broth mixture.
Where else can I find your favorite Thanksgiving recipes?
You're in luck! We list all of them here in this Ultimate Thanksgiving Side Dish Recipe guide.
A few others we love:
As always- feel free to reach out if you have any questions on this recipe! Find us on Facebook, tag us on Instagram and check out all of our recipes at LaughingSpatula.com.
Cheers to happy holidays!
Rachel
We think visuals are helpful- here's a video on how we made this dish!
Traditional Thanksgiving Dressing
A delicious, classic and simple side dish. We've made this your ultimate guide to dressing!
Course:
american, holiday, pilgrim, thanskgiving
Cuisine:
American, holiday, thanksgiving
Ingredients
10

cups

cubed dried bread

we used a loaf of french bread

1/2

cup

salted butter

2

cups

chopped white onion

1.5

cups

chopped celery

1

tbsp

chopped fresh rosemary

1

tbsp

chopped fresh sage

1

tbsp

chopped fresh thyme

1

tsp

salt and pepper

to taste

2

large eggs

2

cups

chicken stock

1

lb

ground Italian sausage

(optional, if desired)
Instructions
Cube bread and dry out for 1-2 days. If short on time, toast bread on wire rack in 200 degree oven, tossing every 10 minutes, until bread is fully dried out.

Preheat oven to 350 degrees and spray a 9x13 dish with nonstick spray.

Melt butter in large skillet. Add onion, celery, sage, rosemary, thyme, and salt/pepper to taste. Saute until onion is translucent and celery is soft.

If using sausage in recipe, cook in separate skillet and set aside.

In a medium bowl, whisk together eggs and chicken broth.

In a separate large mixingbowl, add bread cubes, sausage if desired, and onion/celery/butter/herb mixture. Pour egg/chicken broth mixture contents of bowl. Mix well, ensuring bread soaks up liquid.

Pour dressing mixture into pregreased casserole dish. Cover with foil. Bake for 35 minutes. Remove foil, and bake for another 10-15 minutes or until top is golden brown, and middle is set.
Nutrition Facts
Traditional Thanksgiving Dressing
Amount Per Serving
Calories 376.38
Calories from Fat 291
% Daily Value*
Fat 32.38g50%
Cholesterol 116.31mg39%
Sodium 1106.43mg46%
Potassium 392.97mg11%
Carbohydrates 24.49g8%
Protein 15.33g31%
Vitamin A 521.55IU10%
Vitamin C 4.95mg6%
Calcium 93.98mg9%
Iron 2.48mg14%
* Percent Daily Values are based on a 2000 calorie diet.