This layered salad is an impressive, but easy recipe that pleases any crowd. Served in a glass bowl so you can see the layers, this salad combines iceberg lettuce, peas, cheddar cheese, bacon, hardboiled eggs, green onion, fresh dill, and a homemade dressing that is sure to knock your socks off.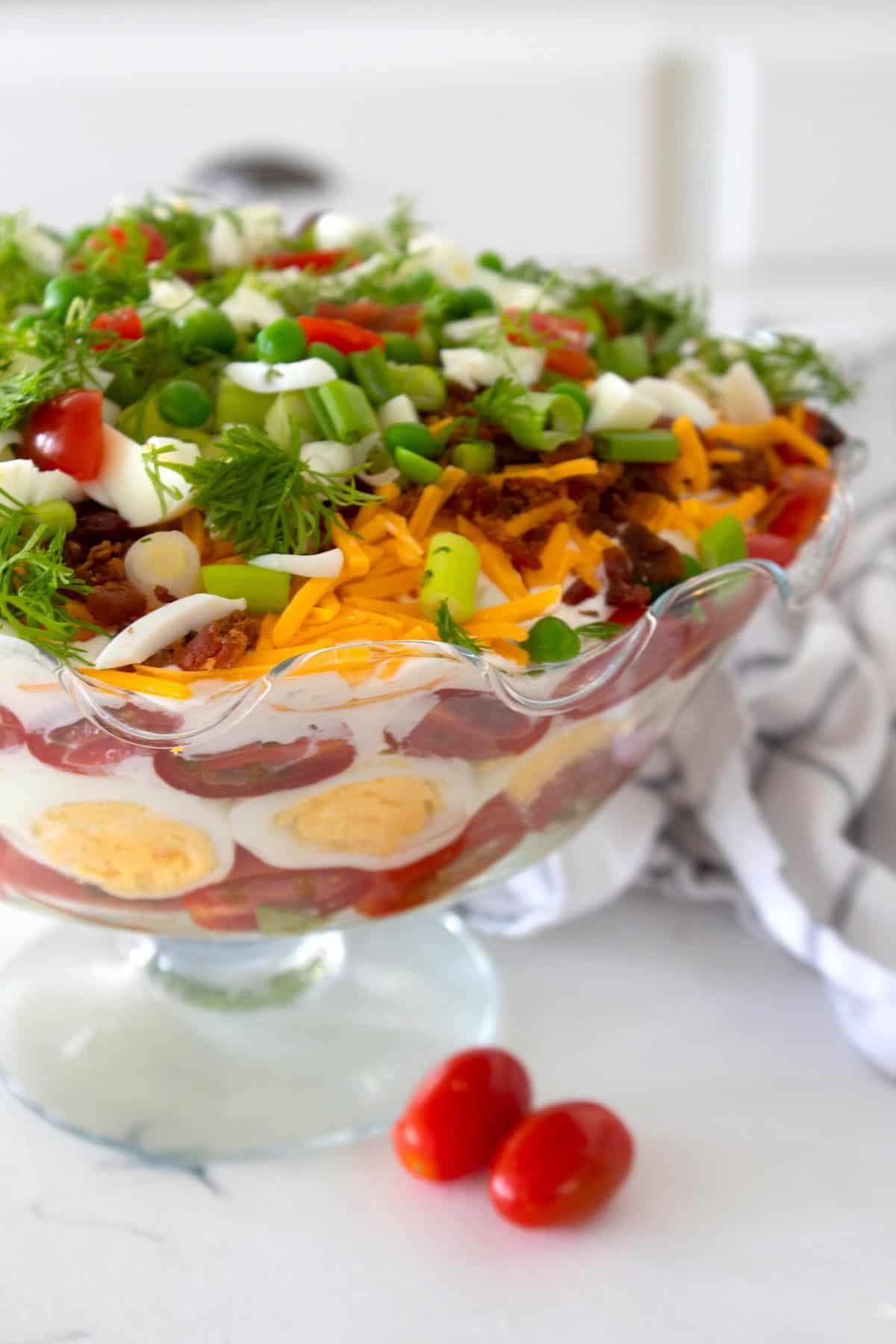 History of the Layered Salad
Originating in the south, this layered salad is a vintage recipe that came to be in the 50's (ahh, the days of Jello salads, creamed ham, and other colorful delights usually found in glass bowls or molds). Sometimes this dish was referred to as 'pea salad', or 'layered pea salad', or '7 layer salad', this recipe was hailed as one of the first 'unhealthy' salad recipes of the 1950's because of the heavy use of mayonnaise (we help cut the calories without compromising flavor in our modern version by using half mayonnaise, half greek yogurt!).
Layered Salad Dressing Recipe
Traditionally, the dressing for a layered salad is mayonnaise and sour cream. But- to lower the calories and fat content, I use non fat Greek yogurt! It really offers the same tang. Of course if you want to go traditional, use sour cream. I also add a bit of fresh dill to my dressing, but that is personal preference.
Layered Salad Dressing Ingredients:
Mayonnaise: Full fat recommended for flavor. 
Sour Cream OR Greek Yogurt: I use Fage Non Fat Greek Yogurt. 
Sugar OR honey
Salt
Pepper
Fresh Chopped Dill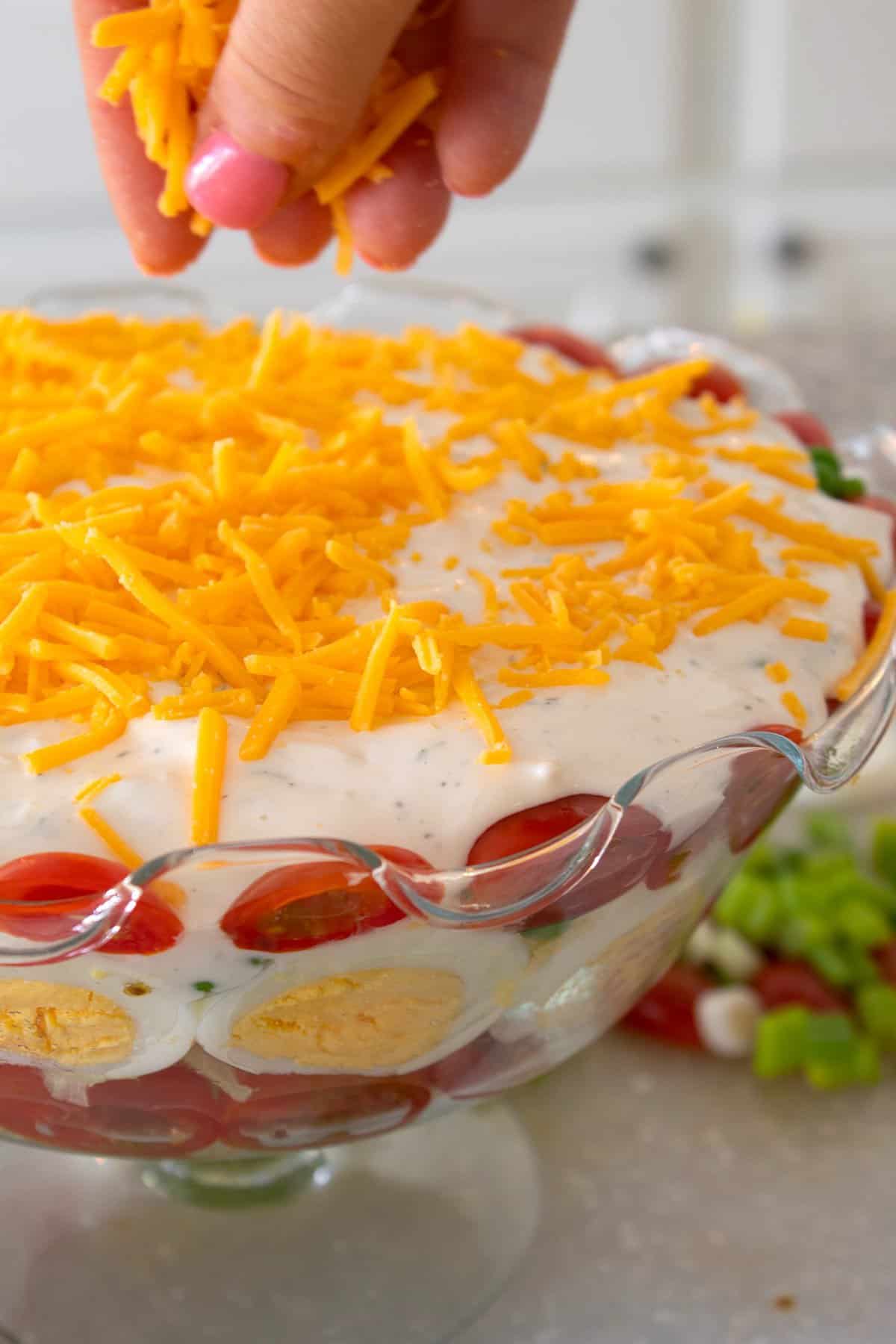 How to Make Layered Salad
Use this guide as more of a method, rather than an exact science. This is one recipe you can get creative with and make it as visually appealing as you like! Use a glass dish if you like, even a 9×13 clear casserole dish works well.
To start, layer iceberg lettuce on the bottom of the glass dish. This is a must to keep your lettuce crisp and away from the dressing.
Layer hardboiled eggs and tomatoes on the outside of the dish, circling around the iceberg. Add as many or as few rows as you lik around the exterior of the salad.
Next, add thawed peas (but be sure to dry them off with a paper towel!), followed by our homemade dressing. The peas act as a barrier to the lettuce, keeping the lettuce from becoming soggy from the dressing.
Add a layer of shredded cheddar cheese on top of the salad, followed by chopped, or crumbled bacon.
Top the final layer with fresh dill, green onions, and if you like- leftover chopped eggs and tomatoes for color.

TIP: Reserve extras from each layer to top the salad with!
Other Tips for Making Layered Salad
You can make this ahead of time! I don't recommend much more than about a day ahead of time as the ingredients become mushy.
Serve this with long handled wooden spoons so you can dig down deep in the bowl and get big scoops of iceberg- this salad is not meant to be tossed, but served almost like a casserole.
Get creative! Use any ingredients you like. Chickpeas, marinated olives, even Ranch dressing would be delicious.
Don't have a glass bowl? Layer this salad in a regular bowl, or a casserole dish!
I like to reserve extra goodies from each layer to top this salad for a more rustic look. Fresh dill, tomatoes, peas, and chopped up hard boiled egg with bits of bacon. Yum!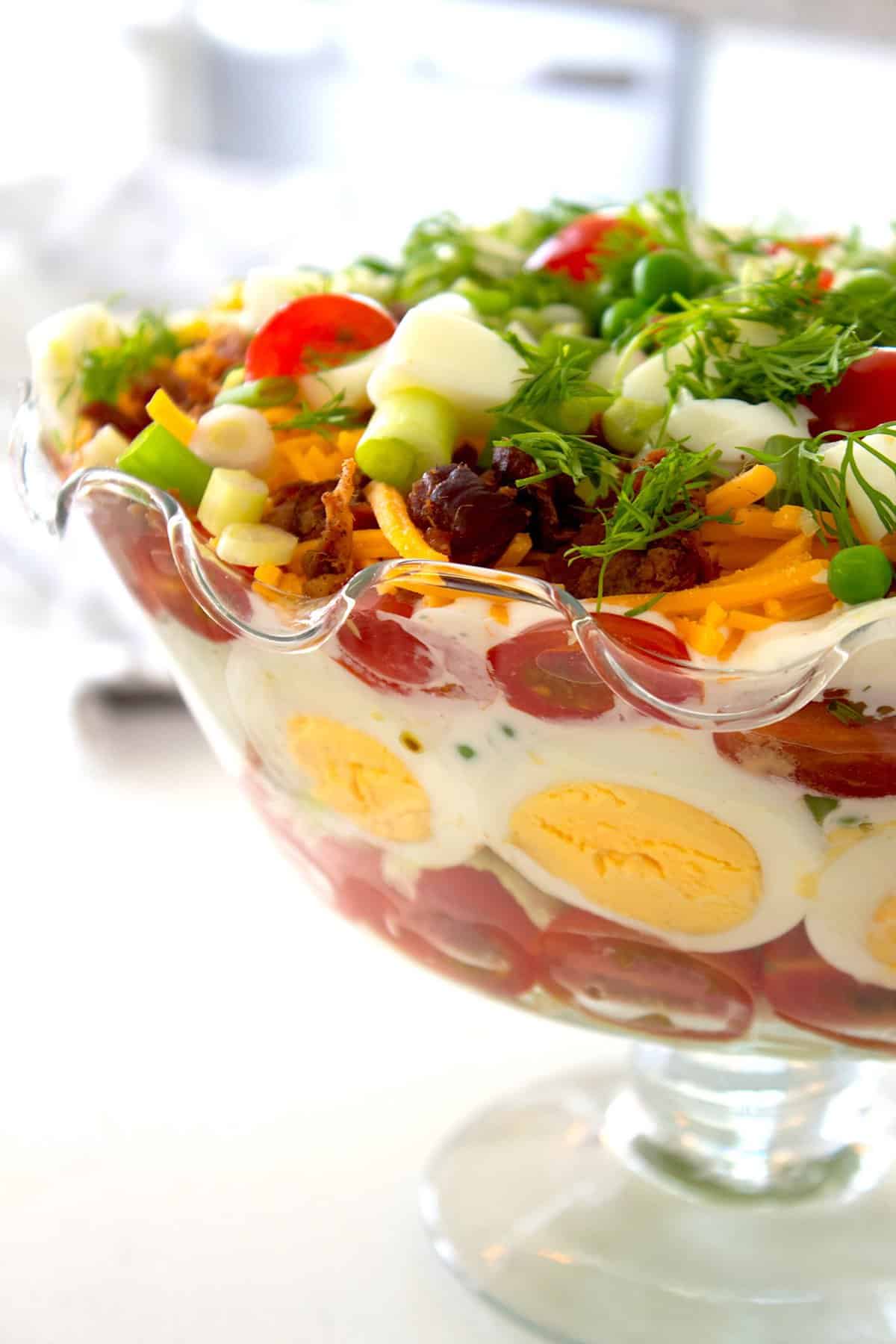 Other Salads We Love: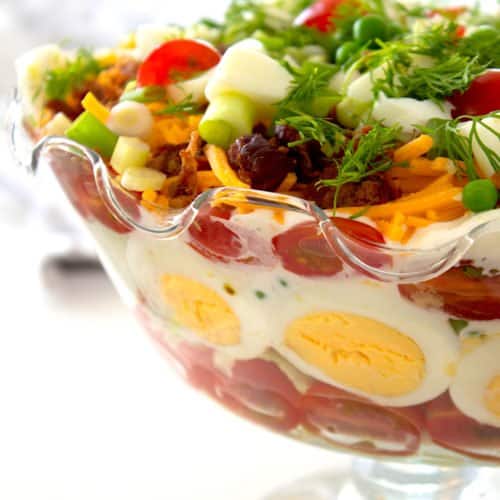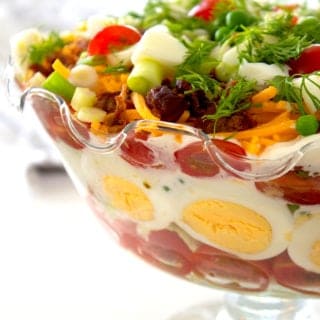 Layered Salad
Served in a glass bowl so you can see the layers, this salad combines loads of goodies and a homemade dressing that is sure to knock your socks off. 
Print
Pin
Rate
Ingredients
5

cups

chopped iceberg lettuce

(equivalent to about 1 medium head of iceberg)

1

cup

frozen peas

(thawed and patted dry with a paper towl)

4

hardboiled eggs, sliced

1

cup

sliced cherry tomatoes

1/2

cup

shredded cheddar cheese

1/2

cup

bacon crumbles

(or fresh chopped crispy bacon, chef's choice)

1/4

cup

sliced green onions

1

tbsp

fresh chopped dill
Dressing
3/4

cup

mayonnaise

1/2

cup

sour cream

(sub nonfat Greek yogurt if trying to lower fat content)

1

tbsp

sugar or honey

.5

tsp

salt

.5

tsp

pepper

2

tsp

fresh chopped dill

1

tsp

apple cider vinegar
Instructions
Mix dressing ingredients in small bowl and set aside.

Place chopped salad in clear 4 quart bowl.

Add outer layers of sliced cherry tomatoes, followed by layers of sliced hardboiled eggs. Repeat throughout the exterior of the bowl as many times as desired.

*Reserve extra sliced cherries and egg slices for topping if desired.

Add thawed frozen peas on top of iceberg lettuce (dry with towel prior to keep the lettuce underneath crispy). Spoon dressing mixture on top of peas, followed by cheddar cheese, and bacon.

Top salad with green onions, dill, and reserved tomatoes/eggs if desired.

Serve with long handled spoons, and enjoy!
Nutrition
Calories:
528
kcal
|
Carbohydrates:
10
g
|
Protein:
9
g
|
Fat:
51
g
|
Saturated Fat:
16
g
|
Polyunsaturated Fat:
16
g
|
Monounsaturated Fat:
16
g
|
Trans Fat:
1
g
|
Cholesterol:
160
mg
|
Sodium:
520
mg
|
Potassium:
294
mg
|
Fiber:
3
g
|
Sugar:
6
g
|
Vitamin A:
1133
IU
|
Vitamin C:
16
mg
|
Calcium:
128
mg
|
Iron:
1
mg