This San Marzano Tomato Soup is the read deal!  A recipe 'borrowed' from a Seattle area restaurant that has a big tomato taste!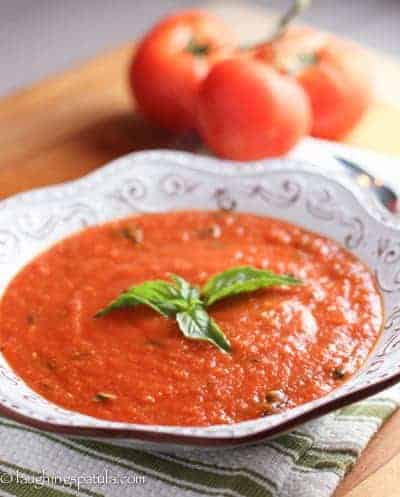 Washington State is blessed with a wonderful wine country.  There are over  690 wineries and growing!   In order for us Seattle folks to enjoy the bounty  and not drive the 2 hours over the mountains where the wineries are located – 90 of those wineries have tasting rooms located in a little town just east of Seattle called Woodinville.  And here is where the fun begins!  There are restaurants, tastings, concerts and beautiful venues to wander while you sip, sip, sip away a rainy Sunday!
Our favorite restaurant is Purple – a beautiful little cafe located in the heart of Woodinville.  Fresh food, wonderful wine and our favorite – San Marzano Tomato Soup.  Now I did not ask them for this recipe, and I'm not sure  they would share – but I just happen to know somebody, who knows somebody and I was able to get the recipe! (thank you Laura, my secret food spy! 🙂
Sometimes these pirated recipes don't always turn out, but I'm happy to say, this one was spot on!   The secret is canned San Marzano tomatoes – please spend the few extra bucks to get the good Italian kind.  I use Cento brand.
There is a lot of controversy in the tomato world (like there is one…a tomato world I mean.) on whether there is a real difference in taste between regular canned tomatoes and Italian San Marzano's.  For me – there is. I've used both and the Marzano have a deeper, richer flavor and better color.  There are some copy cat brands out there.  Safeway now carries it's own brand called  "Marzano Type" tomatoes, but I have not tried them.  They are considerably cheaper – would love to know if anyone has used them or an equivalent.
This makes a big old batch – eat half and freeze the rest.  It's healthy and very low in calorie. Vegan and Gluten free.
Notes to make this San Marzano Tomato Soup
Use a good extra virgin olive oil. Do not substitute this ingredient.
I used an immersion blender but a table top blender may give you a more smoother texture (truer to the restaurant's recipe).  I think this soup is meant to be smoother….I'd like to try my table top blender next time.
Looking for more soup recipes? You can see them all HERE!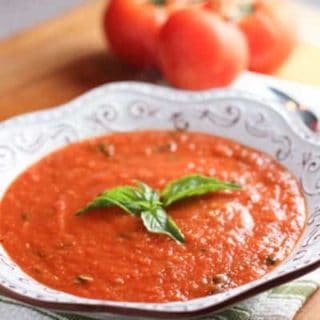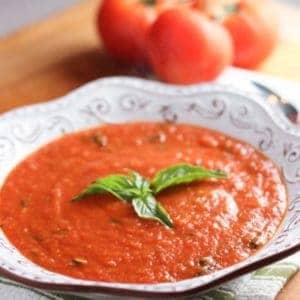 Ingredients
3

cups

yellow onion

diced

1/4

cup

garlic

chopped (about one whole head)

2

tablespoons

plus 1/3 cup Extra Virgin Olive Oil - use a good one

1

teaspoon

red chile flakes

1

tablespoon

sugar

1

cup

good white wine

4

28 ounce

cans Authentic Marzano Tomatoes

such as Cento

1

cup

packed basil leaves - sliced in chiffonade style
Instructions
Saute onion, garlic and chili flakes in two tablespoons olive oil. Add a pinch or two of salt and cook until soft, about 10-12 minutes.

Add wine and simmer, reducing liquid until almost dry.

Add tomatoes, 1/3 cup olive oil and sugar.

Bring back to a low simmer.

Add basil. Salt and pepper to taste. Cook another 10 minutes or so until basil is soft.

Puree the sauce until smooth. (You can use a blender for best results but an immersion blender will work just as well.)

Serve with additional basil for garnish.
Nutrition
Calories:
123
kcal
|
Carbohydrates:
12
g
|
Protein:
1
g
|
Fat:
4
g
|
Sodium:
12
mg
|
Potassium:
174
mg
|
Fiber:
1
g
|
Sugar:
5
g
|
Vitamin A:
100
IU
|
Vitamin C:
7.7
mg
|
Calcium:
32
mg
|
Iron:
0.4
mg