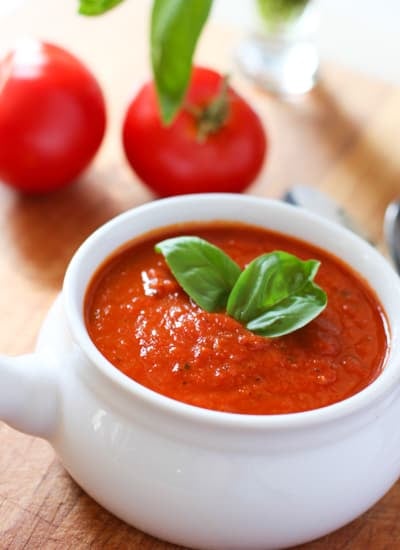 #Paleo and #Whole30 Compliant
Here is one of my secret diet weapons!  Tomato and Roasted Red Pepper soup.  Coming in at only 80 calories a cup.  (That is exactly a cup in the photo by the way).  It's hearty and healthy and great with a half a turkey sammie for lunch.
I am the queen of dieting, a crown I wear proudly.  Proud now because I've lost about 25 pounds…can I hear a hell ya!  It's been slow and steady.  A few here, a few there – gain a few, lose a few. (Full Disclosure:  I had a rather icky surgery that helped me lose a few,  but for the most part this weight loss was all about me and the desire to get healthy).
I have never been a junk food eater.  No drive thru's  for this chub-O.  I've always liked my food fresh and consider myself a total food snob.  So whats with all the weight then?   The more I drilled down on why I have struggled with weight, the answer became pretty clear.   I was eating too much cheese, eating out to often and drinking too much vino.  Suddenly 'my age' was becoming a factor.  I wasn't moving enough and although my food was fresh it was too high in calorie.  More veggies!  More fruit!  Less cheese…less crackers, less 'healthy snacks' and less wine…ugh, ugh and triple ugh!
My weekend diet was out of control.  Mr. Laughing Spatula and I tear up the Seattle food scene.  We start at 2:00 and go until we can't take it anymore!  By Sunday night I was a bloated mess and would start my dieting all over again.  Grueling!  So what is it they always say….moderation is the key?  Yes, I still love my restaurants but we are trying to incorporate other activities beside a pub crawl into our weekends.  We are not always perfect, but somehow it's working.  Occasionally, we just have to say no….I really hate no.  Such a four year old.  (Need I mention Mr. L.S.  has dropped about 25 pounds over the last couple years and has kept it off.  So right now…we are kinda pretty…for 'our age'. 🙂
I wish I had a before and after pic to share – well actually I have tons of 'before' but not too many 'after'.  As soon as I recover from this icky surgery, I'll doll myself up and show myself off!  (BTW –  I had lower lumbar back fusion surgery to correct a slipped disc.  I will do anything to play golf again – really – I will.  I do love that game and the clothes are so cute!)
Enough of this fat talk….back to the recipe at hand!  Make a double batch if you can, it freezes really well.  Once you make it the first time, you most likely won't even need a recipe the next time…it's that basic and easy!
More soup for you?  Check out these Top Fab Four Soups!
Skinny Tomato and Roasted Red Pepper Soup!
Ingredients
1

tablespoon

olive oil

1

onion - chopped

2

cloves

garlic - chopped

1 12

oz

jar roasted red peppers - drained

2 28

oz

cans chopped tomatoes

I used San Marzano style

1 -2

cups

chicken broth .

start with a cup - if you want it thinner add more

1/4

teaspoon

red chili flakes - adjust to your taste

1

teaspoons

handful chopped fresh basil or 2 dried

more fresh basil for garnish
Instructions
In large soup pot or dutch oven add olive oil, and onion Heat to medium and sauté until onions are translucent and soft. Add garlic and sauté another 2 minutes.

Add drained peppers and canned tomatoes. Simmer 10 minutes and season with salt and pepper.

Add 1 cup chicken stock, red chili flakes and basil - heat to a simmer.

Puree the soup until smooth using an immersion type blender or transfer to a regular blender or food processor (you will have to do that in a couple batches). Re-heat soup. Add more broth if desired. Check for seasoning and adjust. Serve with fresh basil garnish.

NOTE: This is also good with a little cream. Before blending, add 1/3 cup whole cream for a smoother texture. Adjust your calorie count accordingly.

Other stuff thats yummy: