This Mongolian Beef & Peppers is to die for! We made this on a Friday night when we really wanted takeout, but we needed something that fit in our healthy diet .This is fresh, easy to make, and the beef is so hearty! Admit it, no other protein does it quite like beef. Beef tastes amazing, and that taste belongs on my table.
This post is a collaboration with Beef. It's What's For Dinner. on behalf of the Beef Checkoff. We received compensation, but all opinions are my own and as always- our recipes are tried, true, and always simple & delicious.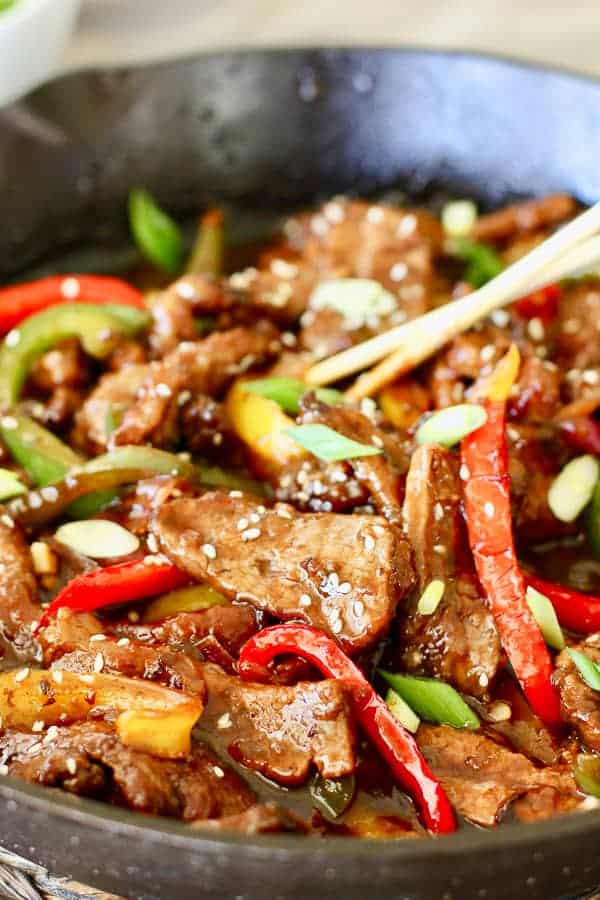 You'll start with prepping your veggies; We used three kinds of bell peppers to really give this dish loads of color, along with fresh chopped garlic and ginger.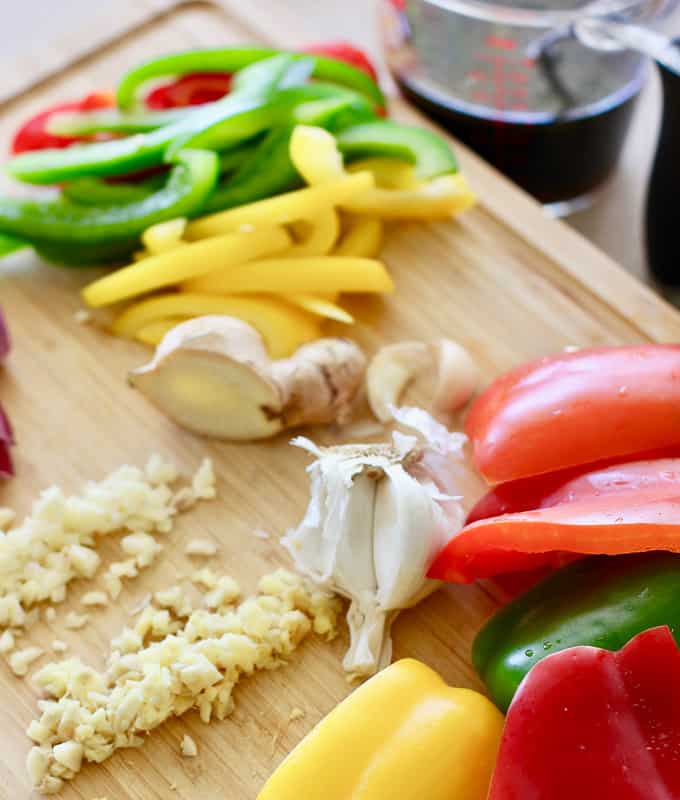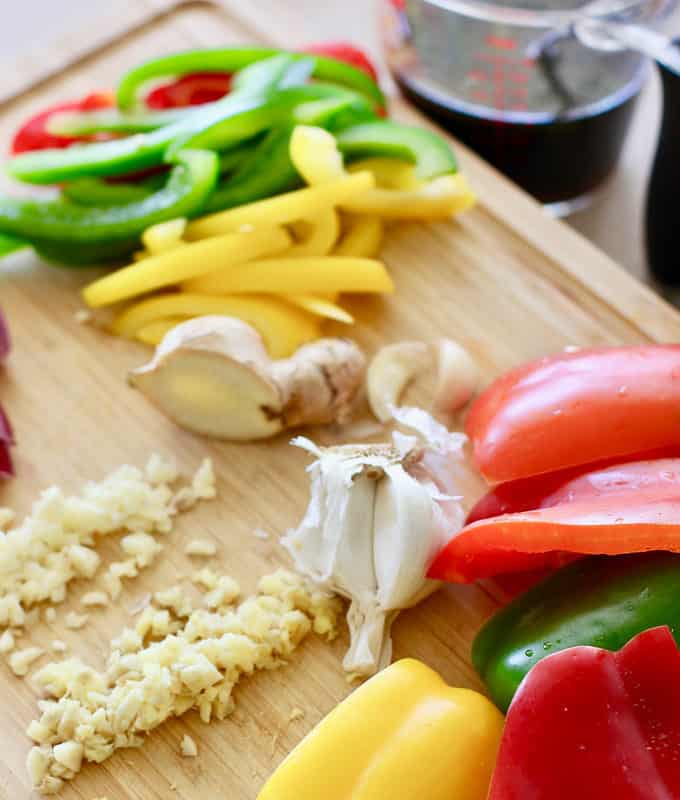 The key to making this delicious dish is the beef. We used FLANK STEAK.
When you start with such a delicious high-quality protein like beef, the culinary possibilities are endless! You can sear it, grill it, roast it, use it as an ingredient or make it an entrée, the list goes on and on.
 For this Mongolian Beef & Peppers,we'll be stir frying itto give it a nice, crispy finish.Slice your Flank Steak into 1/4 inch pieces. Toss in cornstarch, which will help keep it crispy. You can combine the cornstarch and beef in a large plastic bag, or simply mix on a plate or bowl. The cornstarch adds a nice brown sear that really enhances the flavor of this already flavorful protein.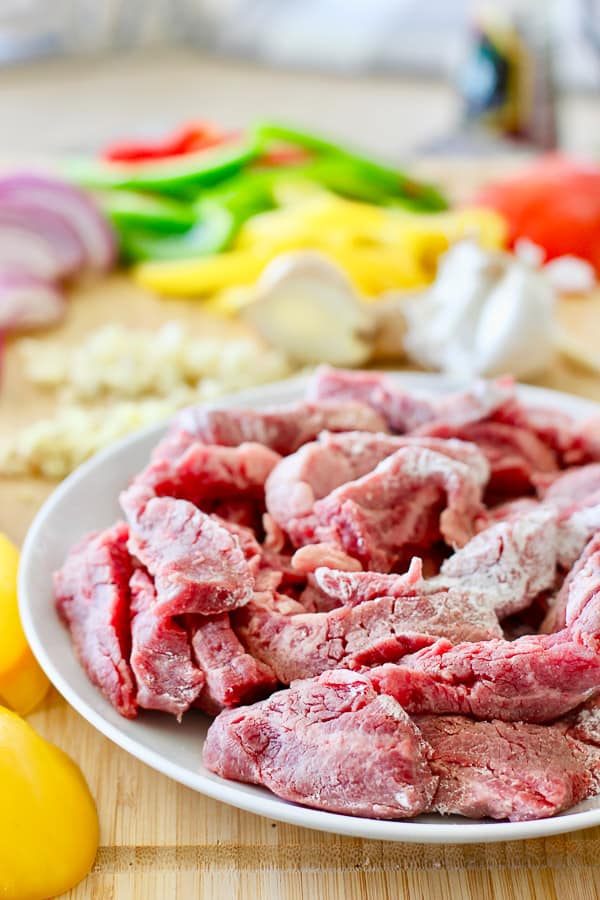 Next, we'll make our sauce. The creme de la creme of this dish is the beef, but second is this delicious sauce; a match made in heaven! A little brown sugar, some soy, a little honey, and some other added ingredients give you a deep, rich savory & sweet flavor.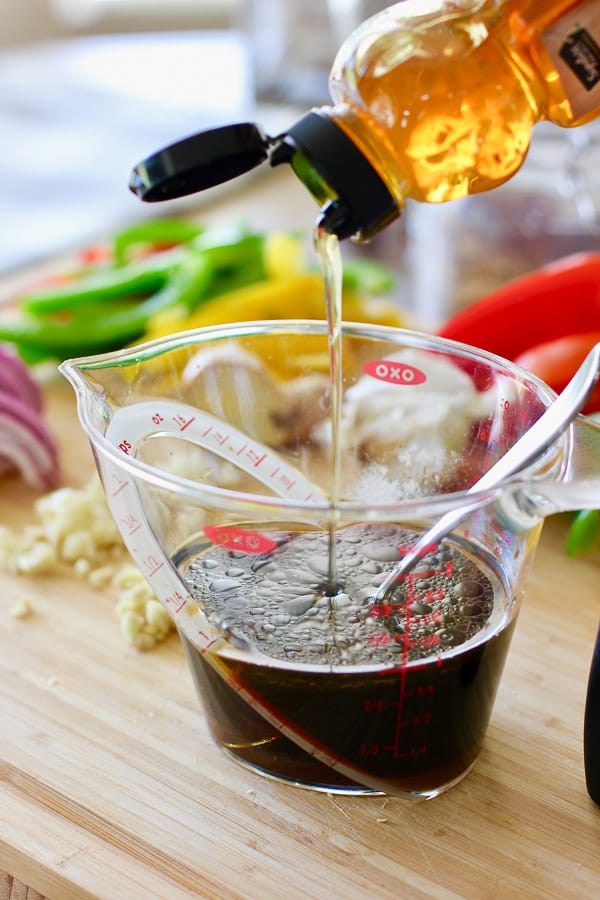 Annnnnd now we've reached it; the moment we've all been waiting for; the ceremonial searing of the beef! This is where ALL the delicious flavor of this awesome dish come together. Add oil to your pan, sear your beef, and just watch as delicious beef browns and sautés delightfully in your pan. It's like music to my foodie ears!
How do I get my beef crispy for this Mongolian Beef and Pepper recipe without overcooking it?
The trick is to do this in two batches. If you over crowdyour pan you not get the nice brown finish that really enhances the beef. We love a cast iron skillet for this as helps aid in the browning process. Make sure your pan is heated to medium heat. Use a high smoke point oil, like vegetable or avocado. Do not use olive oil as it has a very low smoke point. Sear it quickly and turn. It does not have to be fully cooked as it will continue to cook in the sauce.
Once the beef has reached a nice brown color, remove it from the pan and set it aside.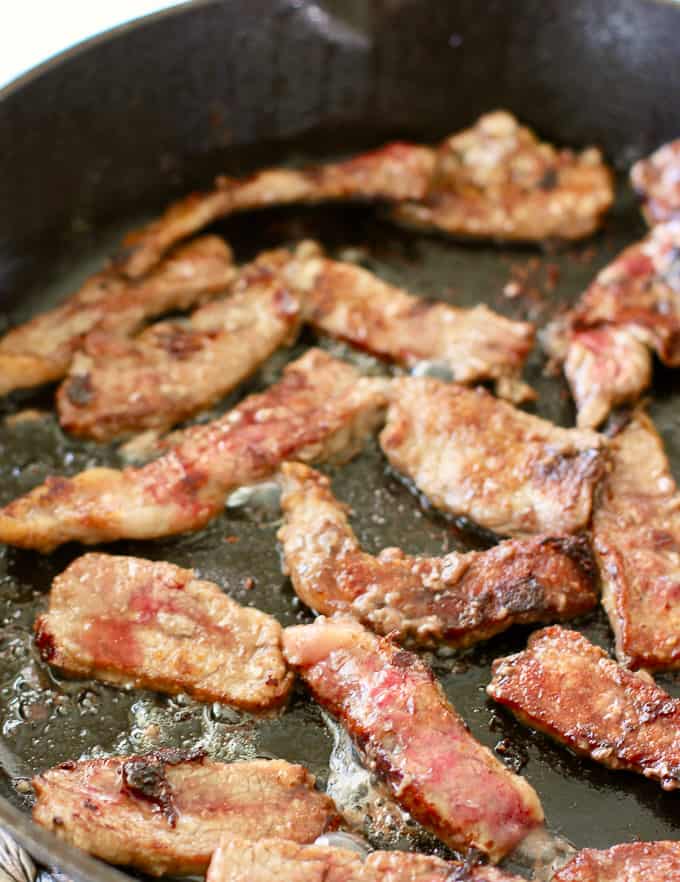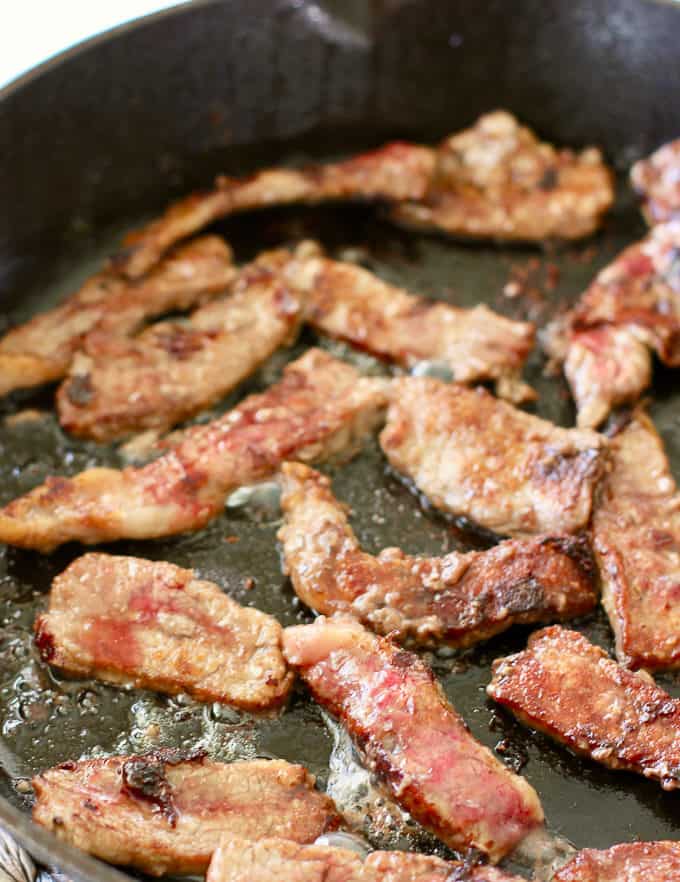 After you've set your beef aside, you'll want to stir-fry  your veggies for about 3-4 minutes or just until just crisp & tender.
Add your beef back to the pan, and pour the sauce mixture over. Simmer for about 3-4 minutes, or until the sauce is thick and bubbly.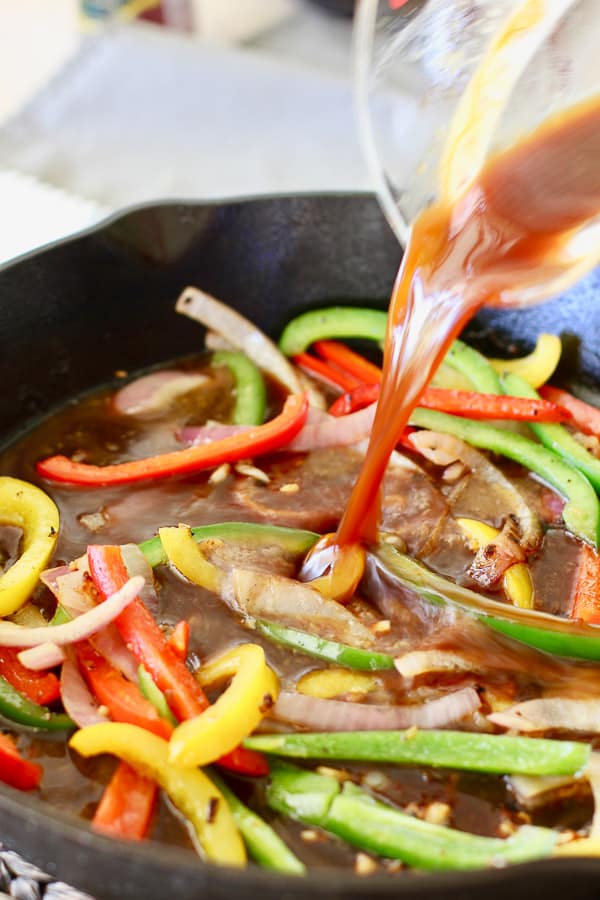 Top your Mongolian Beef and Peppers with sesame seeds & enjoy! We served ours alongside Oven Baked Rice and it was SO delicious. This beefy, sweet and savory meal is just so perfect for a night in.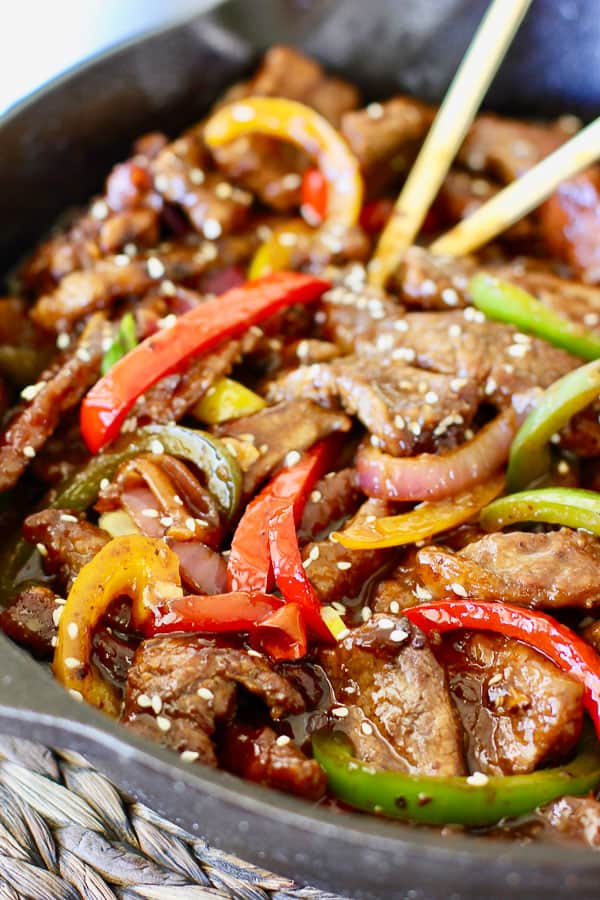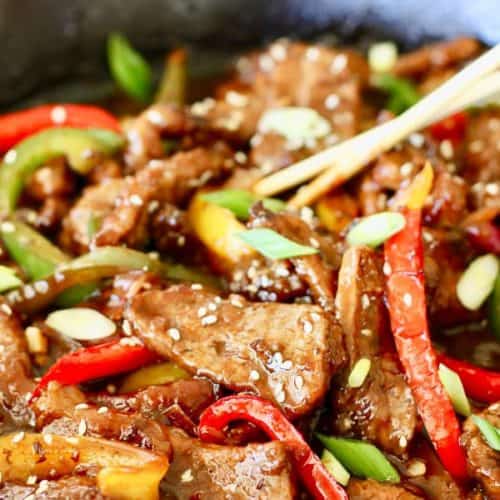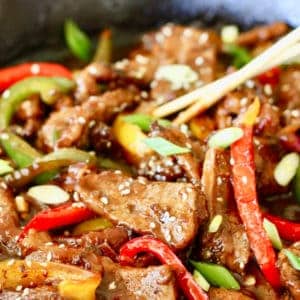 Mongolian Beef and Peppers
This easy and delicious Mongolian Beef and Peppers makes a great weeknight meal. Served along side rice it's a complete dinner!
Print
Pin
Rate
Ingredients
1 1/2

pounds

Flank Steak, sliced thinly

place in freezer for 15 minutes before slicing

1/4

cup

cornstarch

2

tablespoons

vegetable oil

4

cloves

garlic, minced

2

teaspoons

fresh ginger, minced

or ½ teaspoon ground ginger can be substituted

1 1/2

cup

bell peppers, sliced

variety of green yellow and red

1

cup

onion, halved and sliced
For Sauce
1

tablespoon

sesame oil

1/2

cup

soy sauce, low sodium is preferred

1/3

cup

water

2

tablespoons

honey

1/3

cup

brown sugar

2

teaspoons

cornstarch
Instructions
Place beef in freezer for 15 minutes.

Meanwhile, prepare veggies, garlic and ginger. Setaside. 

Thinly slice beef in about 1/4 inch slices. Toss with 1/4 cup cornstarch. Set aside.

Combine all marinade ingredients in medium bowl or measuring cup. Whisk to remove lumps from cornstarch. Set aside.

Heat large skillet to medium high heat. We prefer cast iron but any heavy duty skillet will do.

Add 1 tablespoon vegetable oil.  (do not use olive oil as it has a low smoking point).  Quickly stir fry half of the sliced beef.  2-3 minutes on each side until brown.  Repeat.  Remove from pan and set aside.

Reduce heat to medium. Add peppers and onions. Cook for about 3-4 minutes until crisp tender. Add garlic and ginger. Cook until fragrant about 3 minutes.

Add beef back to skillet. Pour in marinade. Simmer until beef is fully cooked and sauce has thickened. About 4 minutes.

Serve with rice or over rice is desired.
Nutrition
Calories:
476
kcal
|
Carbohydrates:
45
g
|
Protein:
39
g
|
Fat:
19
g
|
Saturated Fat:
9
g
|
Cholesterol:
102
mg
|
Sodium:
1164
mg
|
Potassium:
850
mg
|
Fiber:
2
g
|
Sugar:
31
g
|
Vitamin A:
1750
IU
|
Vitamin C:
75.2
mg
|
Calcium:
75
mg
|
Iron:
3.8
mg