How to make perfect Quinoa and Rice every time!  I mean every time!  Once you try this you will never go back to watching the pot and hoping for the best!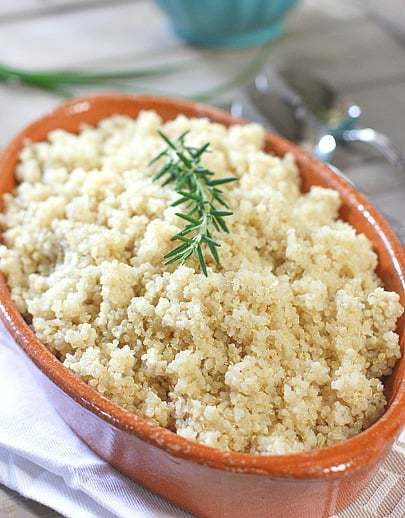 For all my cooking prowess, I can not make a good pot of rice or quinoa on the stove top.  I am a pot stirrer.  I need to go to pot stirring anonymous.  'Hello, my name is Kathi and I can't stop stirring the pot'.  Seriously, it's like I know I'm not supposed to do it,  but I can't stop!  So when I ran across a recipe for oven baked brown rice I got pretty excited.
Then I thought, (I do that sometimes), if you can bake brown rice, why not white rice, why not quinoa! I am now 6 months sober of my pot stirring ways.
I am posting quinoa, but this recipe works for white rice and brown rice as well.  (increase cook time for brown rice to one hour).   It is basically the same quantity and yield you use for your stove top only in a baking dish.  The formula is 2 to 1.  Two parts water, one part grain.  Let me break it down for those of you who are like me, and can't do math.  2 cups water, one cup grain.
The tricks to Oven Baking Quinoa and Rice
The trick is heating up your water in the microwave before adding to your grain.  Just nuke it for 2 minutes, it doesn't need to be a rolling boil or anything.  Just hot.  Hint:  I use my measuring cup to heat the water in.   Pour the hot water over your quinoa or rice, add some salt, pepper and butter if you want…stir. Cover tightly with foil and bake!
Let it sit for 5 minutes before removing the foil.  This is important.  It will look a little wet if you don't let it steam for a few minutes.
I always rinse my grains before using.    These are processed in plants where there is dust and bugs and stuff.  I prefer my protein on the side, thank you very much.  Also quinoa can have a bitter taste if you don't rinse.  NOTE: I recently bought pre-rinsed quinoa!  Saves a step!
Step one:
Measure and rinse your grain.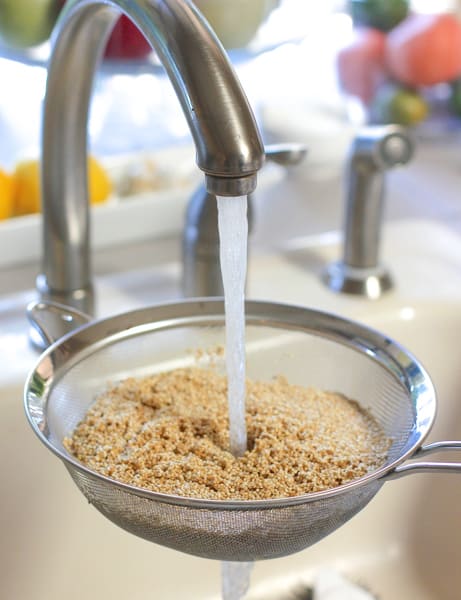 Step two:
Add rinsed grain to baking dish and pour in hot water.  Add salt, pepper, butter.   This is a great time to add some fresh chopped veggies or herbs as well!
Step three:
Cover with foil.  Bake at 375 for 25 minutes. (increase cook time to one hour for brown rice).  Remove from oven.  Let sit for 5 minutes.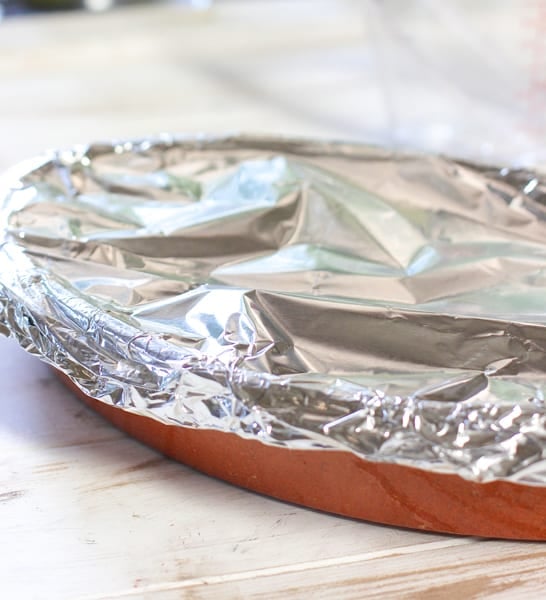 Let rest covered for 5 minutes.  Carefully remove foil, theres lots of steam in there! And you have  perfectly cooked rice or quinoa!  How cool is this?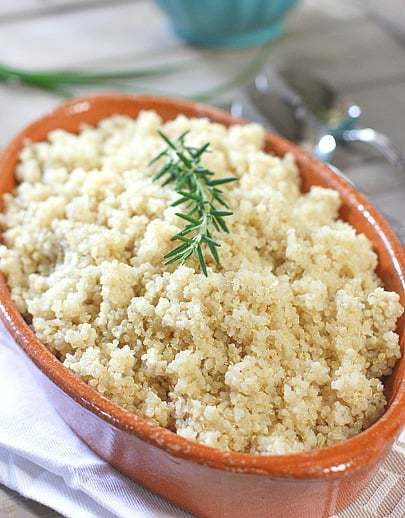 So now that you have all this cooked up grains … what are you going to do with them?  Here are a couple of my faves!
To breaking free of pot watching!
Clink,
Kathi
How to Oven Bake Quinoa, White or Brown Rice!
How to cook quinoa or rice perfectly every time by baking it in the oven! Once you try this you will never go back to the stove top method.
Print
Pin
Rate
Ingredients
1

cup

quinoa

white or brown rice

2

cups

water or broth

1

tablespoon

butter or olive oil

optional

1/2

teaspoons

salt

1/4

teaspoon

pepper
Instructions
Preheat oven to 375 degrees

Rinse quinoa under cool water in a fine mesh strainer until water runs clear. (quinoa has a coating on it that can be bitter).

Heat 2 cups water or broth in microwave for 2 minutes. (I just use my measuring cup).

Add quinoa (or rice) to 8 x 8 baking dish. (9 x 9 will work as well).

Pour hot liquid over the grain.

Add salt, pepper and butter if using.

Cover tightly with foil

Bake quinoa or white rice for 25 minutes.

Bake brown rice for one hour.

Remove - LET REST 5 MINUTES.

Carefully remove foil - its hot in there!
Notes
Nutrition information is for one serving of quinoa.
Nutrition
Calories:
121
kcal
|
Carbohydrates:
18
g
|
Protein:
4
g
|
Fat:
3
g
|
Saturated Fat:
1
g
|
Cholesterol:
5
mg
|
Sodium:
216
mg
|
Potassium:
159
mg
|
Fiber:
1
g
|
Vitamin A:
60
IU
|
Calcium:
16
mg
|
Iron:
1.3
mg