How to make Homemade Orangecello!  This beautiful liquor makes a fabulous gift when put in a pretty bottle but save some for the cook!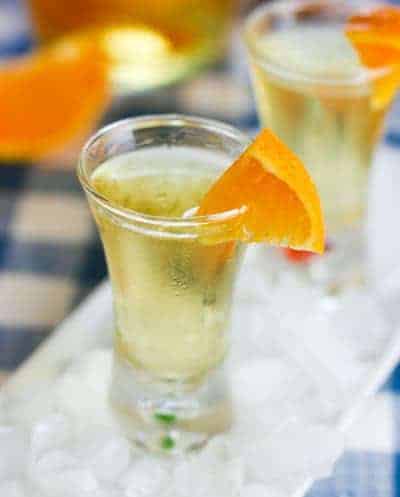 Oh pretty little glass of boozy deliciousness!
Meet Orangecello
…. her BFF is Lemoncello and I love them both equally!  I suppose you could 'cello' about any fruit?  (see how cool I am…I just call it 'cello now..thats how close we are – me and my 'cello…mmmmm).  Limecello would be divine!
Basically, if you can skin fruit and pour vodka in a jar, you can make some homemade 'cello…..oh, and boil water…you have to be able to boil water…for the simple syrup…which  also requires measuring sugar.
So lets recap:  If you can peel fruit, boil water and measure – then you can make 'cello…
NOTE: Add the simple syrup to your taste….this is the part I like best…you have to taste it to see if it's juuuussssstttt right!  and mine was just right…like really was!  I tasted it lots though….just to be sure.  I like the boozy flavor so I use half a batch of the simple syrup.  But if you want sweeter with less alcohol (then I probably don't know you)…but if you do, then add the whole batch of syrup…(just don't call me, because we are not friends.)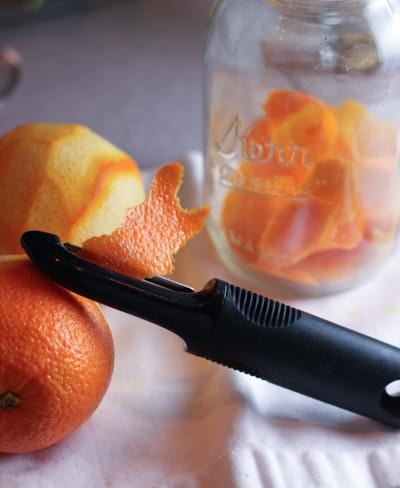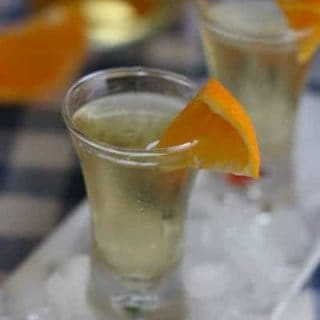 Homemade Orangecello
An easy big flavored homemade boozy drink! Orangecello...Limoncello's cousin :).
Course:
Booze!, holiday, homemade gifts
Ingredients
7

medium navel oranges

1

bottle vodka

750ml

2 1/2

cups

water

1 1/2

cups

sugar
Instructions
Using a vegetable peeler, remove the peel from the oranges in long strips (reserve the oranges for another use). Using a small sharp knife, trim away the white pith from the orange peels; discard the pith. Put the orange peels in a 2-quart pitcher or large glass bowl. Pour the vodka over the peels and cover with plastic wrap. Steep the orange peels in the vodka for a minimum of one week at room temp. (the longer the better!) Give the jar a shake every few days.

After your vodka has reached it's preferred oranginess....In a medium saucepan, combine the water and sugar over medium heat. Bring to a boil, reduce the heat, and simmer for 5 minutes, stirring occasionally, until the sugar has dissolved. Remove the pan from the heat and allow the syrup to cool, about 20 minutes. Pour the syrup over the vodka mixture. (use as much or as little simple syrup as you like) Cover and let stand at room temperature overnight. Strain the orangecello through a mesh strainer. Discard the peels. Transfer the orangecello to bottles. Seal the bottles and refrigerate until cold, at least 4 hours and up to 1 month.
Recipe Notes
This makes about 6-9 cups of Orangcello depending on how much simple syrup you add.
Nutrition Facts
Homemade Orangecello
Amount Per Serving
Calories 63
% Daily Value*
Sodium 1mg0%
Potassium 66mg2%
Carbohydrates 16g5%
Vitamin A 85IU2%
Vitamin C 19.6mg24%
Calcium 15mg2%
* Percent Daily Values are based on a 2000 calorie diet.