So easy and so yummy!  You can apply this same technique to most veggies that you love.
Brussel Sprouts are a trending food these days and I had not had them for years but they are just popping up everywhere!
Come to find out the husband loves them…go figure. You think after 30 years you know someone, then wham!  Brussel Sprouts!…go figure?  It's a crazy world…
Ingredients
1 pound fresh Brussel Sprouts
Olive Oil
Salt and Pepper
Preheat the oven to 400 degrees.  Line a baking sheet with foil for easy clean up.
Cut the ends off the sprouts off and let the leaves fall off where they may.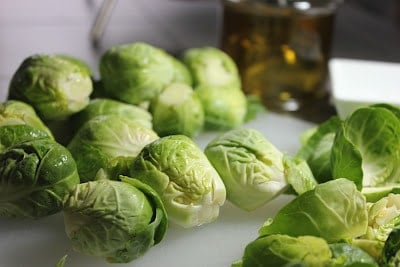 Toss with some olive oil (be a little generous), sprinkle with salt and pepper.
Bake for about 25 minutes until tender and serve!
Had the leftovers for lunch the next day and they were yummy chilled!