Blueberry and Cream Cheese French Toast Casserole! – With the easiest homemade blueberry sauce ever!
I've been thinking about this recipe for some time and I was saving it for special.  Special is here!  Why is special here?  Well …ummmm,  because it's spring time in Seattle!  (that sounds like a good enough reason to me!).  It's the first dry day in like forever and I'm feeling all carby and stuff.   I'm not sure what that means, but if carby is a feeling…I'm having it.  These particular carbs come with fruit…it's all about balance ya know.
Kinda rockin' the pour shots today :).  Pour on the egg…pour on the fresh and easy blueberry sauce…pour on the sunshine!  I'll be lacing up my tennies and walking off all the taste testing I did, thats for sure.  Feeling carboriffic today!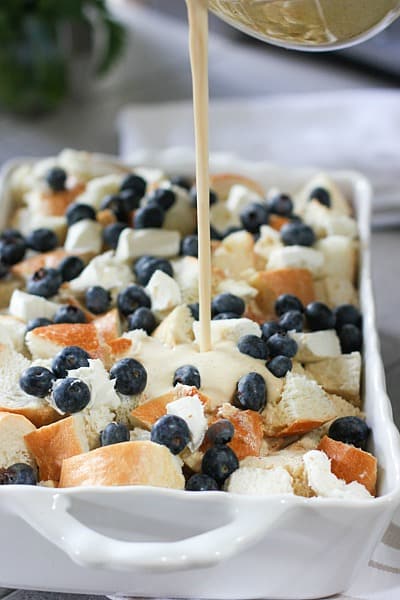 Tips on making this Blueberry French Toast Casserole with Fresh Blueberry Sauce:
It takes 10 minutes to throw together.  It does have to sit a bit.  Three hours to overnight.
Freeze the cream cheese for 20 minutes to make cutting into cubes easier.
Feeds 8-10 people.
Comes with a blueberry sauce recipe that takes only 10 minutes, is super simple and makes enough to out last the last bite of this casserole …thats always a problem with sauce isn't it?  Never enough.  But I got ya covered on this one!
We used fresh bluebs, but frozen is okay.  (If using frozen, just toss them in 2 tablespoons of flour,  so they don't bleed all over  your pretty little casserole.  After tossing them in the flour, shake off the excess).
We sprinkled it with raw sugar so the top was all crunchy…yum.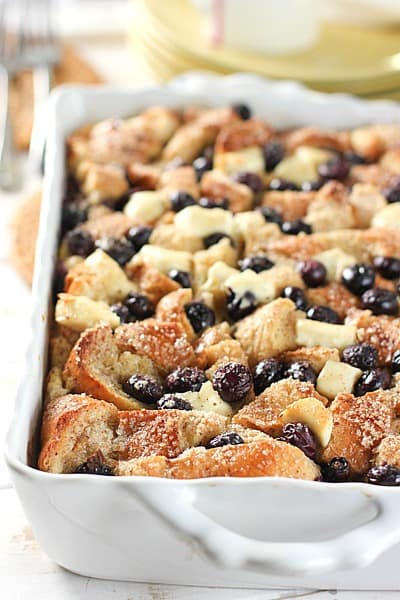 To Carbs!
Clink!
Kathi
If  your feeling like a savory brunch casserole…try our Eggs Benedict Casserole.  All the flavors of your favorite beni with half the work!
or Mexican Breakfast Casserole – Corn tortillas soaked in eggs and cream with sausage and chilies!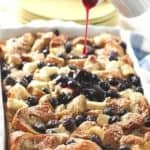 Blueberry and Cream Cheese French Toast Casserole
An overnight breakfast or brunch casserole that comes together quickly along with an easy recipe for Blueberry syrup!
Ingredients
For Casserole
1

large loaf french bread

one day old is best

6

eggs

2

cups

half and half

2

teaspoons

cinnamon

2

teaspoons

vanilla extract

1/2

teaspoon

salt

1

cup

fresh blueberries

or frozen blueberries that have been tossed in 1 tablespoon of flour to keep them from bleeding

1 8

oz

package cream cheese

cubed. (for easier cutting put in freezer for 15 minutes)

1/4

cup

raw sugar for sprinkling on top
Blueberry Sauce
2

cups

water

1

cup

sugar

4

tablespoons

cornstarch

2

cups

blueberries
Instructions
Butter a 9 x 13 casserole dish.

Cut french bread into 2 inch cubes and set aside.

In large bowl, combine eggs, half and half, cinnamon, vanilla and salt and whisk until completely mixed.

Put one half of bread cubes in prepared dish.

Top with half cream cheese cubes and half blueberries.

Add remaining bread cubes and top with remaining cream cheese and blueberries.

Pour egg mixture over bread cubes. Pressing mixture down so completely soaked by egg mixture.

Cover with plastic wrap and store in refrigerator.

Soak for 3 hours to overnight.

Preheat oven to 375 degrees.

Remove plastic wrap and sprinkle casserole with raw sugar.

Cover casserole with foil and bake for 30 minutes.

Remove foil and bake an additional 20-30 minutes or until center is firm.

Cool slightly and serve with blueberry sauce.

Blueberry Sauce

In small saucepan, combine sugar, water and cornstarch until simmering.

Add blueberries and simmer for 10 minutes.

Cool slightly before serving or store in refrigerator for up to 3 days.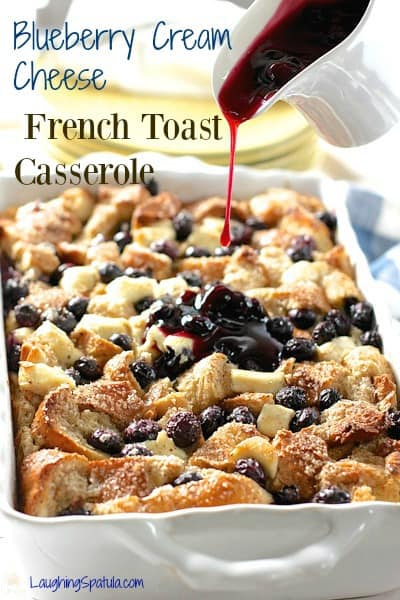 Other stuff thats yummy: